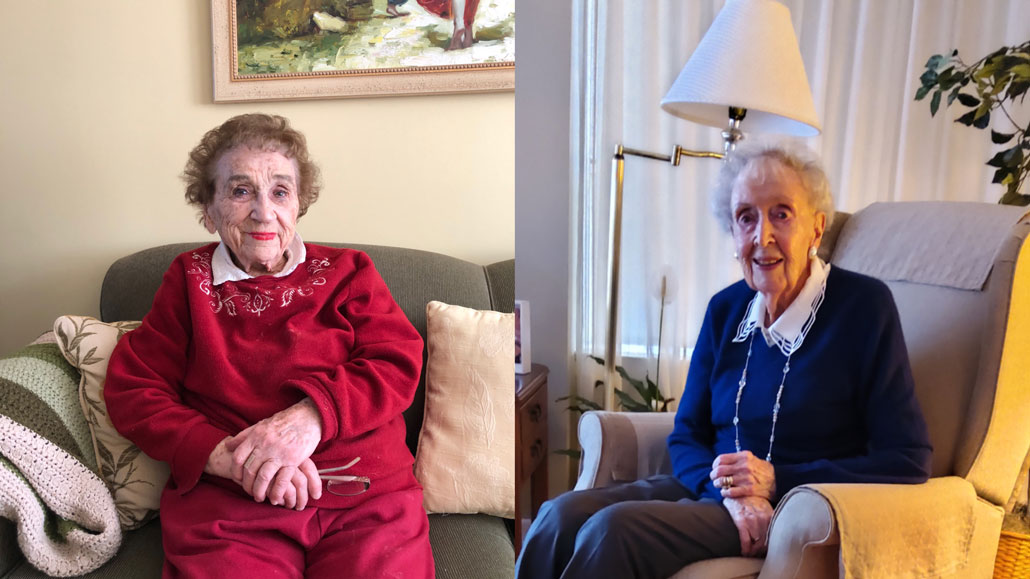 If you want to visit Leasiders Margaret Cerre or Loretta McCann, you'll have to check their social calendars. At 100+ years young, they're sharp, cheerful, and witty. And very, very busy.
Loretta McCann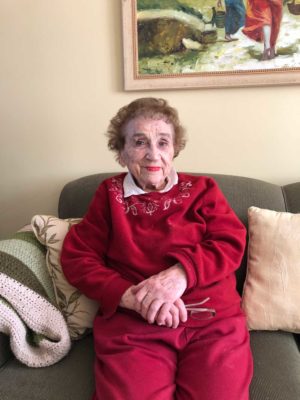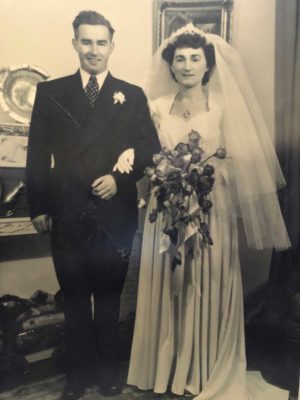 Born into the Filion family in Cornwall, Loretta grew up in a bilingual family and, at 18, moved to Toronto to work as a French translator.
She met husband Philip McCann at a bowling alley, and while she jokes that her father, a Canadiens fan, had to give her permission to marry a Leafs fan, it was more than a hockey match made in heaven.
The couple had four kids, Paul, Denise, Peter, and Danny, who all attended St. Anselm Catholic School.
The kids played Leaside hockey and baseball. "I loved going to their games," she says.
During school hours, Loretta played bridge with a club at the Leaside Library.
She was employed for two years at the snack bar at Leaside Arena, earning $1 an hour (and $1.05 in her second year), and afterwards worked 17 years with the federal government.
These days, Loretta is busy. She plays bridge three days a week, reads and goes for walks three days, and on Sundays hosts family members. 
She loves her walks, visiting valu-mart, the Dollarama, and Epi Breads, where she will drop in for a coffee and end up staying and chatting for up to a couple of hours.
With five grandchildren and three great-grandchildren, she counts herself very lucky.
The secret to her longevity? Loretta says that she doesn't stress the small things. When others would be shocked with dirty dishes in her sink, she knew they would be there later. ("If I'm tired, I'm going to bed!")
She is also very aware of the need for a good diet and a balance of social life and quiet time.
Margaret Cerre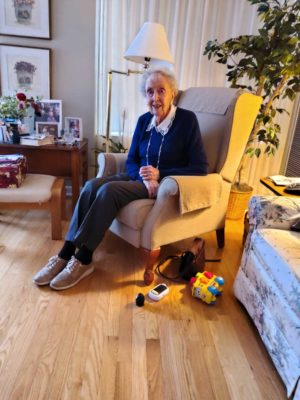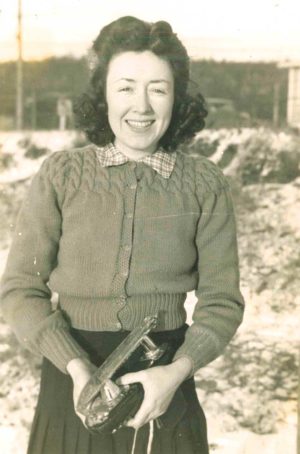 Margaret Cerre was born into the Shea family in Sudbury and worked for the Bank of Commerce during the war while "the boys went to school and the girls worked."
She married Torontonian Charlie Cerre, who was teaching and coaching hockey in Sudbury. In 1951, when Charlie was asked to transfer back to Toronto, the couple agreed to move for one year. Sixty-nine years later, Margaret is still here.
A "helpful" relative found them lodging in a pickle factory in Port Credit. With three kids, one on the way, a horrible smell, and Charlie working late, it's small wonder the arrangement lasted only one week.
The family rented in East York for one year with Charlie often looking over the bridge to Leaside and asking why anyone would "ever buy on that stupid hill with a railway."
That stupid hill still remains home.
On Leacrest Road, the couple raised Mary, Anne, Paul, John, and Kate, who all attended St. Anselm's.
Outside of the home, Margaret swam, curled, skated, cooked for the Good Shepherd, delivered Meals on Wheels, and once took a course in millinery. "Anything to get out of the house," she jokes. The millinery course had her children complaining that "she had hat forms in the ovens while other kids' moms had chocolate cake." 
Margaret now belongs to a book club and plays bridge. One of the problems with the bridge club, she notes with a smile, is that, "people keep dying off and we have to find new players."
Her children drop in frequently to visit and take her shopping. Margaret loves the time with them and jokes, that she'd "be afraid to complain, they might stop waiting on me!" With six grandkids and four great-grandchildren, she has a loving and much-loved family.
She believes that her life of staying fit probably contributed to her almost 101 years.
With their sprightly nature, Loretta McCann and Margaret Cerre's not-so-secret secrets are clearly working.