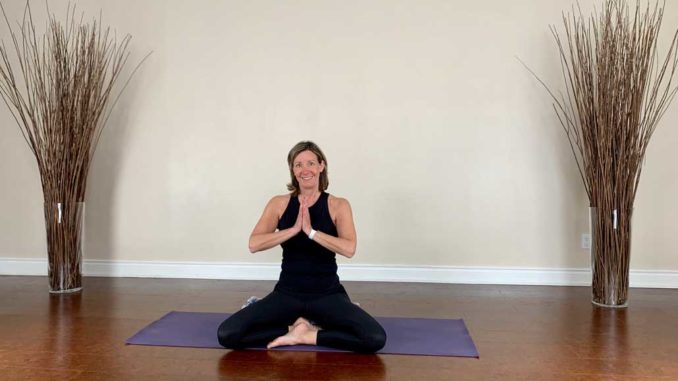 Like many people facing the new reality under the COVID-19 pandemic, I wondered how I could maintain my active life. I've been taking yoga lessons for 15 years and look forward to its many benefits each week.
What would happen now, I wondered, to my favourite studio? At a time when most yoga studios were closing, Prashanta Yoga introduced a "Nama-Stay at Home" program.
Owner and instructor Christine Dennis, in speaking with her class on March 15, decided to try a virtual program to allow her loyal students to stay at home but still participate in their regular yoga classes. She was also determined to keep her team of expert instructors employed. The first option was live streaming the classes on YouTube. But after two days of experiencing some transmission difficulties, Christine switched to pre-recording classes during the day and then uploading them to the internet and YouTube.
She soon discovered that it was easier to upload the classes at night when traffic on the internet is lighter. But this makes for a "time-consuming and impossible undertaking" for her, considering that she does all the recording, editing and uploading herself, and gets up every two hours at night for the uploading.
Prashanta Yoga's classes are limited to eight students to allow for individual attention from instructors, and students pre-register for eight-week sessions, motivating them to "commit to a program of self-care." An online system for cancelling classes and booking make-ups is now being used to book the online classes. Students are able to book four classes for each of their pre-registered classes, thus allowing them to experience a variety of instructors and styles. The system also sends students links to scheduled classes 30 minutes before the start time, which then stay live for two hours afterwards, so that students can choose a convenient time.
With the majority of the pre-registered students taking part in the program, there are about 120 classes available online every week, including many repeats of popular choices.
The project has been a steep learning curve for Christine in terms of purchasing sound and lighting equipment, back-up devices, cables and microphones, and dealing with new challenges in filming every day. She also sanitizes the studio after each teacher's session. Luckily, there is no commute time needed as she lives above the studio in her eco-friendly building.
Christine's efforts have paid off. The teachers initially were a bit shy in front of the camera, but soon enough "they found their natural rhythm and sense of humour" and often add breathing exercises and thoughtful tips about coping with the current situation.
The students regularly thank Christine and her team for providing an oasis during this difficult time. They also appreciate the excellent videos and the flexibility of the schedule, helping them to fill their time and giving them a break for self-care.
The studio, says Christine, was very fortunate to avoid a complete shutdown by offering online classes. "For the most part, our students have embraced their classes as a part of their days in isolation. In fact, many students have requested that online classes be part of our offering once we reopen." Namaste!
For more info, visit the website at www.prashantayoga.com.