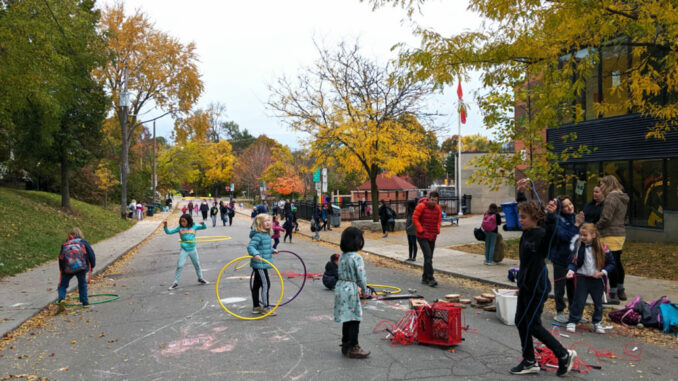 The upcoming school year will soon be upon us and with it come the perennial concerns about traffic and road safety around schools. School streets, a road safety intervention embraced in the UK and Europe (Paris has over 180, London counts more than 500), have yet to take off in North America. But Leaside, with four neighbourhood schools serving primary, junior and middle school students, holds great potential to be an early adopter.
What are "school streets"?
A school street is a street adjacent to a school that is closed to vehicular traffic for a designated period around arrival and dismissal times. Think of it like a street party closure for 30 minutes in the morning and afternoon on school days. Barricades and signs go up. Residents are notified in advance and have car access to driveways if needed but there is no through traffic. Emergency vehicle access is preserved as is the case for any street event closure. While a school street is in effect, families can walk, wheel and roll to school along the roadway, congregate to play and socialize, without worrying about cars.
More safety, less pollution
Where school streets have been piloted in Canada, including Toronto, the benefits are notable. Perception of safety increased as did the number of children and caregivers walking, biking or rolling to school. With a decrease in traffic, air quality around schools improved. And school streets dovetail nicely with other programs that encourage active modes of travel, such as a walking school buses and bike trains organized by parent volunteers.
School streets can also help Toronto meet its climate action goal of 75% of trips of 5 km or less being walked, cycled or via transit by 2030. Data for Leaside show that 75% of motor vehicle trips start and end within 2 km of the neighbourhood and the majority of a.m. peak car travel is an average of 1.6 km. Imagine the improvements to road safety and our health by eliminating three-quarters of those trips!
Another spin-off benefit is the increase in children's confidence and autonomy when they can get to/from school on their own. Parents are right to be concerned about safety, and school streets help with that. At the pilot on Mountview Avenue in Toronto, all children said they preferred the street car-free, and 97% of people surveyed felt safe during the pilot compared to only 23% before.
Bringing school streets to Leaside
How do we get school streets to Leaside? Parents, caregivers, teachers and students need to work together to get the ball rolling. If your school has an "eco-team," this is a great project for them. Research shows that having your school principal's support is key and you'll need to work with the community, parent council, school trustee and councillor as well as city staff to come up with a viable proposal and implementation plan. Best practices say to start small, with a pop-up or pilot, then evaluate, adjust and expand.
Interested in learning more? Guidelines and case studies are available online through 880 Cities and Ontario Active School Travel, which also offers an online webinar.