What started as a community voicing their concerns about the safety of Overlea Bridge has resulted in the city adopting residents' recommendations for the bridge's complete overhaul.
Charles H. Hiscott Bridge, aka the Overlea Bridge, is the second most used bridge in the city, connecting the neighbourhoods of Thorncliffe Park and Flemingdon Park.
It's also a bridge with narrow walkways, poor drainage resulting in icy and slippery surfaces, poor lighting, low railings on the ravine side, unprotected bike lanes and high-speed vehicular traffic.
The bridge is most frequently used by students from Thorncliffe accessing both Valley Park Middle School and Marc Garneau Collegiate.
In 2020, with the guidance and assistance of teachers, local politicians, community associations, cycling groups and environmental organizations, students of Marc Garneau launched the Reimagine Overlea campaign.
The campaign, aimed at redesigning the bridge, caught the attention of the media and garnered meetings with city officials.
In March, 2021, staff, students and parents deputed to the City of Toronto's Infrastructure and Environment Committee with the ReImagine Overlea group presenting their studies and requests for much-needed improvements to the bridge.
At a public meeting this past March, the City of Toronto presented a set of plans for doing just that. The comprehensive proposal, titled The Overlea Boulevard Renewal Project, encompasses many of the same goals of the ReImagine campaign.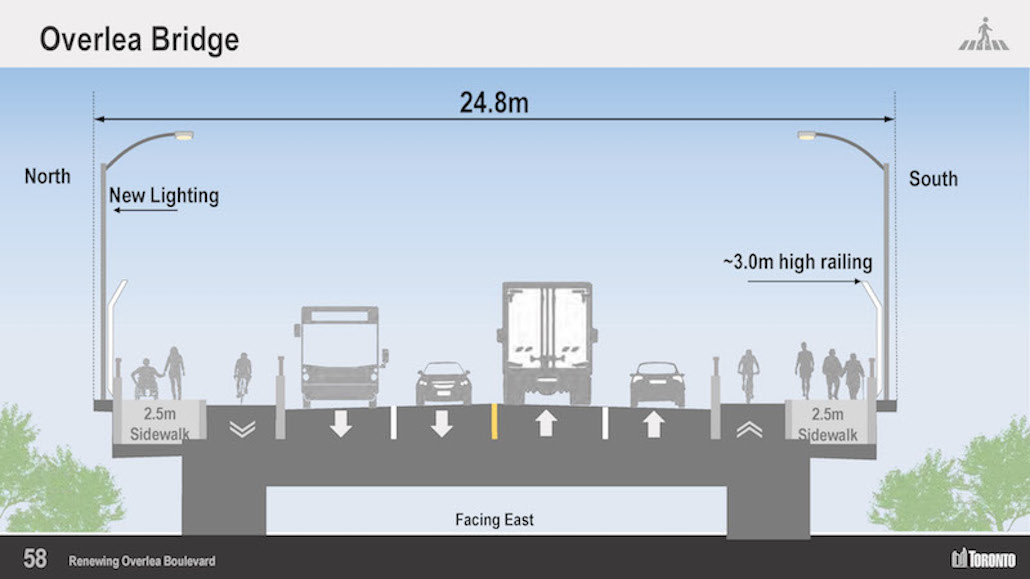 The plans aim to improve safety for all bridge users, to maintain roadways for driving, transit, deliveries and emergency services, and to enhance the public realm for local residents and visitors.
Redesign proposals include widening sidewalks from the current narrow 1.5 metres to the city standard of at least 2.1 metres.
The city also proposes widening the bridge deck to 24.8 metres, creating space for new cycling lanes.
Railings would be raised to 3 metres high while public art would be added to improve the streetscape.
Tim Langford, a teacher at Marc Garneau and key guide in the ReImagine Overlea campaign, is especially encouraged by the plans to incorporate safe bike lanes.
"The plans prioritize the safety of area residents who use active transportation. Increasingly, people are making the choice to get out of their cars. It makes economic sense, it makes sense for personal health, and it makes sense for the environment."
While the City plans are still in the public consultation phase, Marc Garneau student Hafeez Alavi is pleased with the proposed designs.
"The cycle tracks and wider sidewalks will allow more youth to bike and walk to their local school, which is really important to life-long habits, encouraging sustainability and reducing climate change.
I think it's important we started the conversation; that we realized that this bridge wasn't working. It needs to work for everyone and the plan does just that, and so I commend the transportation staff for an excellent design."
Construction is slated to begin in 2024/2025.