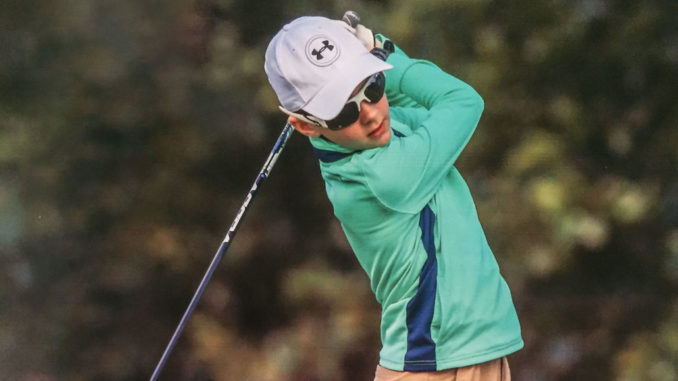 To be a successful golfer, one must be focused, hard-working, even-keeled, confident, persistent, poised, and patient.
These are not always traits one would associate with a 10-year-old.
But Lucas Gilbart is not your average 10-year-old. Lucas is a bright, reflective kid who is as passionate about the game of golf as he is about the environment, school, the multiple other sports he plays, and his family. He's a Grade 5 student who is mature beyond his years but whose 10-year-old playful self still shines through in his enthusiasm and curiosity.
This summer, the St. Anselm student will be playing in the U.S. Kids Golf World Championship at the prestigious Pinehurst Resort in North Carolina. Lucas qualified for the championship this past fall with a win in the U.S. Kids Niagara Golf Series. Lucas will approach the championship as he has every other tournament, with his mind focused and ready to work.
You might assume that a 10-year-old golfer would hail from a family of golfers. But Lucas's parents, Mike and Jennifer, are not golfers, however they provided Lucas, along with his younger sister, Ava, with an array of sports equipment as toddlers. Lucas, they say, dragged his plastic golf set with him everywhere, and at the age of 5, his parents took him to a driving range where he would never want to leave. By the age of 6, Lucas was playing games, and by 8, he'd begun to work with a golf instructor and entered his first tournament. He now has a junior membership at the Summit Golf Club and practises at the Tour Experience Golf facility in the off-season.
His instructor, former professional golfer Sean Burke, comments that from his initial meeting with Lucas, he "could tell (Lucas) had something special. His ability to understand concepts, his work ethic and competitiveness have played a major role in Lucas's development." While Lucas improves as a player each year, His coach also emphasizes the goal of ensuring the young golfer still loves the game.
Lucas does love golf but is also an avid participant in hockey, soccer, skiing, mountain biking, tennis, baseball, swimming, and track and field. He also plays piano and is passionate about the environment. His family participates in an annual tree planting event at Warden Woods, and after witnessing the threat to marine life in Florida, Lucas educated himself about red tide, the growth of harmful algal blooms in coastal waters. Living near Serena Gundy Park means that Lucas, along with family and friends, can often be found playing on the trails and splashing in the creek.
With his dad as his caddy in tournaments and his sister and mom cheering him on, Lucas's family is now very familiar with the game. Seven-year-old Ava has also taken up the sport and played in tournaments.
Lucas has a vast display of trophies, plaques, and ribbons in his bedroom as well as a display case which houses golf balls from memorable tournaments along with ones from his first hole-in-one, his first eagle, etc.
Despite his early success, the young golfer saves his competitive side for the golf course. He has watched golfers both in person and on TV and says that his favourite player is Jordan Spieth because of his ability to retain his calm and poise even after a bad shot.
With a supportive family at Lucas's side, a strong sense of commitment to the environment, and a solid work ethic, this young athlete will be one to watch on the golf circuit for many years to come.