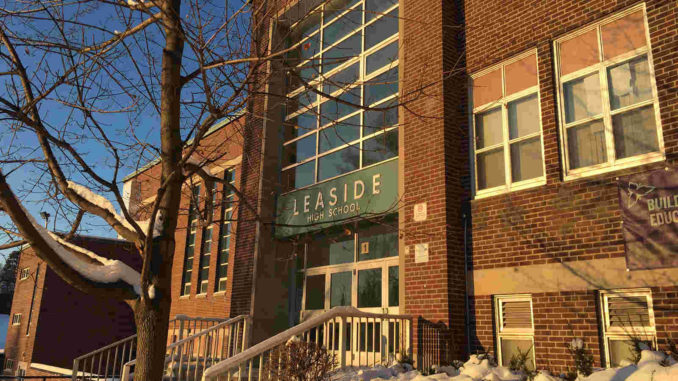 Transitions can be difficult and stressful. Do you remember how you felt when you began a new job or moved to a new home? Leaside students, moving from middle school to high school, can also experience anxieties. After all, not only do they face greater academic expectations but also expectations of being more independent and self-directed. To succeed, our students need to absorb a lot of new information and develop many new skills quickly.
Leaside staff recognize their role in encouraging this to happen. To this end, they offered a new improved orientation program to provide information to Grade 9 students and to help ensure a smooth transition to secondary school life. Orientation was not to be just one event – but a series that continues throughout the term.
In September Leaside Grade 9s attended an introductory assembly. This was followed by visiting a carousel of booths organized with staff members and student ambassadors sharing their knowledge about various clubs, councils and teams. There are so many different groups for them to choose from – at least one should spark an interest. Here is a sample: Anime club, Environmental club, Gender Sexuality Alliance, Reach for the Top, Dragon Boat, Drama club, school newspaper, downhill skiing, golf, computer programming, and many more.
The next event was a Grade 9 scavenger hunt. Students were divided into teams, comprising teachers, student leaders from higher grades, and, of course new, students. These teams travelled to 17 stations located throughout the school, providing different information. Each student carried a "passport" featuring a series of questions that could be answered at each station. A successful visit to a station earned a passport stamp.
Here are some examples. Do you know the answers?
• What department offices are located on the first floor?
• What is the purpose of the Resource Room?
• How many major sports can you compete in each year?
• Which teachers are teaching civics this term, and which are teaching geography?
• Where would you go if you missed the announcements?
At the end of the scavenger hunt the teachers accompanied the students to the auditorium where Leaside students presented a series of skits focusing on learning skills important for success.
On October 11, all 300 Grade 9 students, student leaders and 20 staff participated in a full day outing at Green Acres. Throughout the day, students took part in a series of activities that encouraged a sense of community, school spirit, and opportunities to get to know other students. The day helped develop communication skills, team building, goal setting, critical thinking and problem solving. The activities required that teams work together to succeed and complete each element. According to Grade 12 student Shams Medhi, "The day was awesome; we had so much fun!"
In December, Leaside High will hold an After Grade 8 open house. Motivational speaker Nick Foley will address our Grade 9 students and Grade 8 students from our feeder schools. Nick motivates and empowers young people to make a difference by propagating good through action. He speaks of integrity, good citizenship, self-esteem and inclusion. He spoke to students last year and his presentation was spectacular.
Following Nick's presentation, our Grade 9s will become the leaders for the Grade 8s and the planned transition activities for the next year. New leaders in the making!
I would like to commend the planning committee for their sensitivity and creativity to this important part of the lives of our 13 and 14 year olds. As these young teens transition to Leaside High I know that they will be well served.
Gerri Gershon is the Trustee, Don Valley West, for the Toronto District School Board