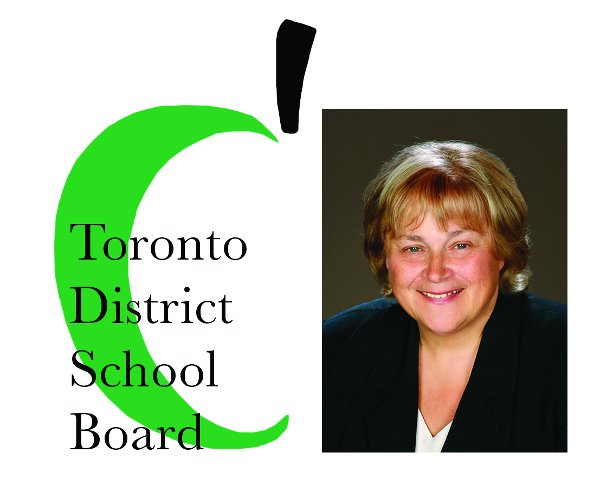 Our neighborhood schools have a "HUGE- really huge" quality rating. And I say this not because I am partial to hyperbole like Donald Trump, but because I am a long-time trustee and I have had some unique experiences.
As former president of both the Ontario and Canadian School Boards Associations, I have visited schools across Canada and around the world. The reputations of our local schools are true. They are innovative, comprehensive and tuned-in to learning in the 21st century. Here are some small examples:
Shams Mehdi, a Leaside High School student, has been chosen from all the schools in the city (about 600) to represent students as a TDSB Student Trustee. Along with one other student, and adult trustees, he'll debate important educational issues. It's a tremendous accomplishment and we wish him well.
When I speak of Leaside to others, social justice learning comes to mind. Leaside is a leader in LBTGQ issues and has an effective and active Gay Straight Alliance Committee. Students can also choose a course on genocide where they learn about hatred and discrimination so they might better serve the world. Parents would also be impressed at the mock United Nations assembly held yearly, through which students demonstrate their high levels of global awareness.
When I think of Northlea Elementary and Middle School the first thing that comes to mind is music. Northlea students have consistently won acclaim in the Kiwanis Festivals competing against hundreds of schools. Of course the school has many other accomplishments, among them the magnifique French Immersion program, parent involvement leadership, intramural sports and special education programs.
Rolph Road Elementary School has a strong focus on environmental issues. Its walk-to-school initiatives (originally led by Danny and Ayeh Dubiner) have attracted the attention of schools across the city. A water filling station was installed in the school so students can keep hydrated and forgo plastic bottles. The kids support all sorts of important causes, such as Cuts for Cancer and The Heart and Stroke Foundation, and locally-initiated campaigns like Jump for Georgia and Sarah's Food Drive.
Bessborough Drive Elementary and Middle School is renowned for its STEM initiatives. For those not familiar with STEM, it is a highly effective approach to teaching, which integrates science, technology, engineering and math. At the middle school level, outstanding teachers such as Neil Casey lead the way. Lest you think that Bessborough is all computers and pulleys, did you see the boot camp taking place in their fields? As a parent-sponsored enrichment initiative, all students were out on the artificial turf, jogging, sprinting, leaping and making their way through obstacle courses. Not a piece of cake!
Along with strong academic scores, Bennington Height Elementary School students enjoy a variety of programs and special events such as Scientists in the School, the recorder club, hockey, a holiday bazaar and the "Checkout Challenge" from the Margaret Atwood Library. (She attended the school.)
So as you see, excellence prevails in our neighbourhood schools. The diversity of opportunities and accomplishments is HUGE!
Gerri Gershon is the Trustee, Don Valley West, for the Toronto District School Board