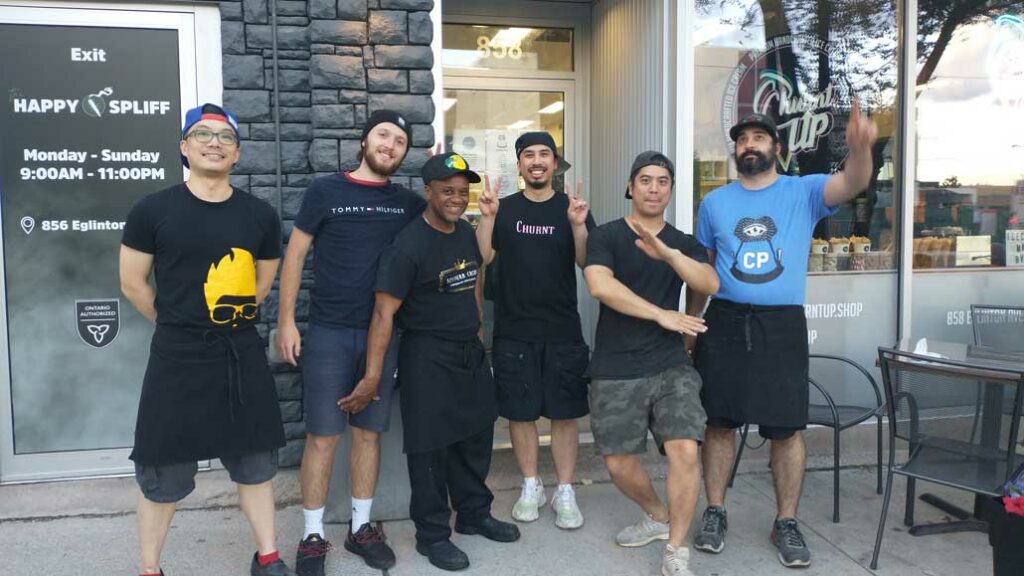 If you're a foodie, you're probably familiar with the rise of food halls, those gastro-palaces showcasing a smorgasbord of culinary delights from a variety of restaurants and chefs.
Leaside boasts its own food hall: East York Eats at 858 Eglinton Ave. East, between Laird and Sutherland, celebrated its first anniversary in June. The six featured eateries are independently owned businesses working together to produce, as they say, "fresh eats and sweet treats," and offering takeout, delivery, dine-in and patio options.
Conspiracy Pizza
Dan Rios of Conspiracy Pizza fame is the brainchild behind the food hall. You may recognize the Conspiracy name from the original partnership, starting in 2017, with Adam Skelly and Rios on Wicksteed. They enjoyed coming up with conspiracy-inspired names for their pizzas with a wide range of ingredients. The Grassy Knoll may not have been a top seller (it did feature a lot of kale) but everyone got the reference. In 2019, Dan bought out Adam, but remained on Wicksteed until December 2020. He jumped at the chance to sign a lease for a large space at 858 Eglinton Ave. East to be able to stay in the neighbourhood. He also wanted to keep the Conspiracy name after the move and build its brand. He employs eight delivery drivers, paying them a fair wage, enabling them to keep their tips and on busy nights, there can be six or seven people working on the line. Celiacs like me are pleased that he's offering gluten free options. Vegans can be accommodated as well. It's all here – the classics, the interesting – and yes, he also has his own smoker out back.
Phamily Eats
Peter Pham grew up around food in Montreal where his mother ran a restaurant, and travelled to Hong Kong for a time to cook as well. But burnt out from that stressful life, he returned to Canada and worked in construction while making the patties and pot pies he loves in his condo on the weekends. An article published in BlogTO mentioning his side business generated 1,500 orders for patties! His normal weekly business was 20 orders, or 300 patties. Dan Rios came to the rescue.
Through his friend Roger Li, Rios had tried and loved the patties. While waiting for his new premises to be renovated, Dan helped Peter get those patties out the door and set up a proper patty and pot pie business. Peter offers pot pies – chicken and short rib, frozen or fresh, and patties – vegan, spicy or mild beef – as well as a home-made hot sauce.
Churnt Up
Vincent Lao took chef training at George Brown Community College before co-owning a popular burrito franchise for about 10 years. Then, one balmy February day, he wanted ice cream, and there was none to be found that met his standards – premium handcrafted, small batches, high quality ingredients. Much to his surprise, he could buy a small ice cream machine for about $100, so he promptly bought one and started playing with ice cream. His first organized ventures were at dance workshops (Vince is also a dancer and hip hop choreographer). His ice cream was a hit. By coincidence, Vince also had a part-time job at Adamson BBQ, where he met Dan at Conspiracy, and Dan started to sell Vincent's ice cream at Conspiracy Pizza. But what to call the new ice cream venture? Because of his hip hop background, the words "turnt up," a slang term for getting excited, combined with the word "churned" for the ice cream-making process, produced the business name Churnt Up.
Bao is Life
Roger Li first tasted pork belly buns in 2013 at a downtown eatery. He couldn't figure out how to make something that tasted right to him, until a friend with a Taiwanese background showed him how they were made, by steaming rather than baking, and that got him going. By 2016, he had started making his bao (bread) as a catering company, mostly cooking from home, but using commissary kitchens for larger events. His day job was at a bank, but friends always said he was miserable there, and should do something else. In 2017, he was working for Dan at Conspiracy Pizza, but left to travel. When he returned, he was driving for Uber, among other things, and happened to show up at Conspiracy. A conversation about delivery morphed into a discussion about turning Roger's bao-making into an independent business. And the name? Vince Lao plays basketball, and as they were tossing around possible names for Roger's business, they were thinking about "ball is life" – which then became Bao is Life.
Midnight Cookie
In the cold winter of 2021, Emily Banks and her boyfriend, Alon Steinbach, moved to Toronto, Emily's hometown from Tel Aviv, where they had been working. They were having no luck finding any sort of late-night sweet treats or snacks. Even though Emily's business skills are in digital strategy, she is also an enthusiastic home baker. Starting in her mother's kitchen, she and her boyfriend spent two months perfecting cookie bases they could use to get specialty cookies from order to destination, still warm, in under an hour. She used social media to get the word out, which worked so well that the home oven was no longer large enough to accommodate the orders. Just by chance, Emily's mother drove by 858 Eglinton Ave. East and saw a sign advertising a food hall. Emily phoned, talked with Dan, and thus was born Midnight Cookie, with a large commercial oven. These are cookies you can order at 2 a.m. or 3 a.m. on the weekend, and have them freshly baked and delivered to you, warm, usually within the hour. Chocolate chunk, M&M, Caramilk, "Just the Dough" are only a few of the yummy offerings.
Southern Crown Caribbean Smokehouse
This is the only business in the food hall with two owners. Kyle McClure grew up in the southern states, while Barrington Graham was a child in Jamaica. As an adult in Canada, Barrington owned a Caribbean restaurant for a number of years, while Kyle started with an apprenticeship with the Millcroft Inn before working as a chef for over 20 years. For the past decade, the two of them worked for a large fine-dining company, and continue to do so. Southern Crown came about because they both had down-time during the pandemic. This has become their "passion project" and "something we're evolving." They started with a location in Riverside, as well as popups in the city and in Caledon. Riverside is no more, but the popups will continue through to the fall. And how did they end up with East York Eats? The connection this time is through Peter Pham. They share the same meat supplier, and Peter suggested this location might work for them. Their smoker is outside the back of the building They also have a face cord of Ontario hardwood within reach to keep the smoker going. And the name? Joking around, they talked about Barrington's mother's Sunday church hat, which was described as a crown. From Sunday crown – of course, with a few beers, the name came – Southern Crown.
All the businesses participate in www.leasidelocal.com, supporting the Thorncliffe Food Bank and Ukraine Relief Efforts through the Canada-Ukraine Foundation.