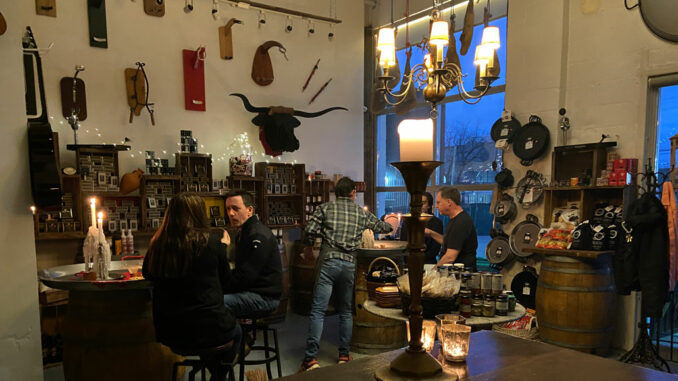 Did you ever imagine that acorn nuts could transform something ordinary into something extraordinary? With the zealous consumption of mature fallen acorns, from October to January, heritage Iberian pigs create a ham that when dry-cured is so divine it melts in your mouth.
Three researchers from the Faculty of Economics and Business Sciences at the University of Córdoba in Spain concluded that government and businesses are increasingly promoting tourism related to Iberian ham.
Lucky for Leasiders, rather than hopping on a plane to Spain, we can enjoy Iberian ham at a new café and food shop, Lola & Miguel, at Unit 102, 28 Industrial Street.
Like Toronto's castle, Casa Loma, with its secret passages and surprises in its back corridors, Lola & Miguel's features numerous unexpected spaces and a warm welcoming ambience in its converted warehouse space.
Owner and head chef Michael Tkaczuk enthuses, "Finding this space permitted me to move my food import business, Serrano Foods, and bring my dream of a café and food store to fruition close to my residence here in Leaside.
"The space is amazing with nooks that house our quirky vintage espresso machine, a bar where drop-ins can enjoy an espresso or beverage, corner tables for patrons to enjoy tapas nights or share a paella dish. The high ceiling permits me to display food products, local art and some quirky items like a 1920s chandelier collected on my many business trips through Spain."
He added, "As my assistant and I prepare and plate dishes for in-house diners, in our open kitchen, each dish is presented on our bar, a vintage wood version salvaged from an Ontario bar during a renovation."
There is more to this story. Just ask Tkaczuk when you visit his shop. He says that each item is delivered to guests, with a generous side of information about the dish, offered by waitstaff or the chef-owner himself.
"For now," he adds, "we're offering intimate café dining Thursday and Friday evenings, which can be pre-booked on our website. Guests can 'walk on the wild side' if they choose our Padron Peppers (Pimiento de Padrons), a mild dish except one in 10 peppers is on the extreme heat side."
A food store, open 10 a.m. to 5p.m. Tuesday to Saturday, complements café dining, and customers can also enjoy an espresso and light snacks at the bar or a corner table, plus there are plans to beef up the breakfast and lunch menu.
Lola & Miguel's Spanish food products feature Torres chips (bet you can't eat just one truffle-flavoured chip), tinned specialty smoked seafood, olives and Bomba paella rice, grown in the Iberian Peninsula since the Middle Ages.
The food import business is housed down the hall, along with a loft platform providing an inspiring space for Tkaczuk's artist daughter to create her paintings. Stay tuned for an art show and sale of local artists' work in late spring, with details posted on Lola & Miguel's website: https://lolaandmiguel.com.