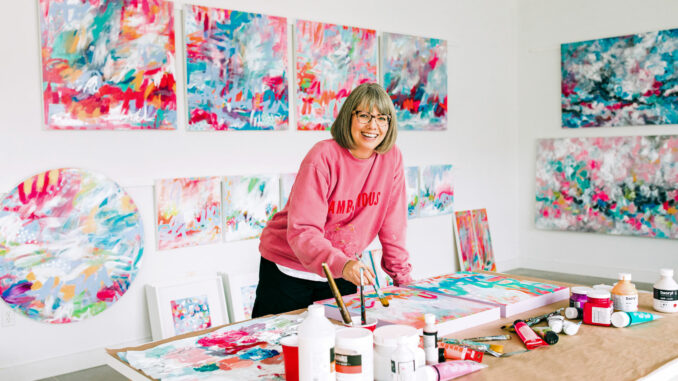 Being a full time artist can be a dream come true for passionate artists.
Leaside's Sara Purves is well on her way to realizing that dream. Until then, Sara explained how she has crafted a creative balance between her fine art and her work as a graphic artist. "I've always been self-employed and working from home. Like many businesses, my clients can reach me Monday to Friday 9 to 5. That's when I concentrate on my client design work. Most weekends are dedicated to painting."
Her academic route certainly checks all the boxes. She attended OCAD (now OCADU), where she studied environmental design, and when she was young, she studied at the Claude Watson School for the Arts public school.
She began her entrepreneurial career a few decades ago and decided early on that "I only wanted to work with clients who were making a positive difference in the world. So, I work predominantly with healthcare and non-profit organizations. I regularly work with clients' public relations, communications and marketing departments and understand timelines, budget concerns and approval processes. My goal is to be my clients' creative partner."
Sara revealed a big challenge with the art side of her business. "A common dilemma for artists is which, if any, art shows to participate in. There is the cost of entry, often in the thousands, plus the transportation, set-up and take-down for each show. Then the important task of which pieces to display and often contending with the weather."
Four years ago, Sara set up her first booth at the Toronto Outdoor Art Fair, held at Nathan Phillips Square. It was a memorable experience, she said, but somewhat difficult to set up, plus she had to contend with torrential rain on the Saturday. Still, the event was a big success for her. She sold a number of pieces and received the seal of approval from Tiffany Pratt of HGTV. Then, she was interviewed live on CTV news.
"I count myself lucky that I can rely on my family during show times," she said. "My dad builds frames, assists with transportation, set-up and take-down. My sister photographs my art and works the booth with me making things much easier and enjoyable."
She confided, "Covid was a challenging time for artists like myself. All the art shows were cancelled, and galleries closed. I took a leap and opened a pop-up at Shops at Don Mills. Wonderfully, many Leasiders visited and purchased art. The pop-up was meant to be just for a few months, but I stayed until the end of last December. Surprisingly, my online presence also flourished as new and loyal clients purchased my art to use as their background during Zoom calls. This boosted my Instagram following and art sales. Many new clients commented that my bright colours lifted their spirit and my story of becoming an artist inspired them."
Sara dreams of working from her ideal studio – "a place with lots of windows and space where I can display and work on multiple paintings at the same time without worrying about getting paint on the floor, the deck, the fence and the dog and cat, who often wander through and get their paws covered. A hazard of living with a home-based artist."
You can enjoy Sara's art at: https://sarapurves.com/ and https://rubinered.ca.