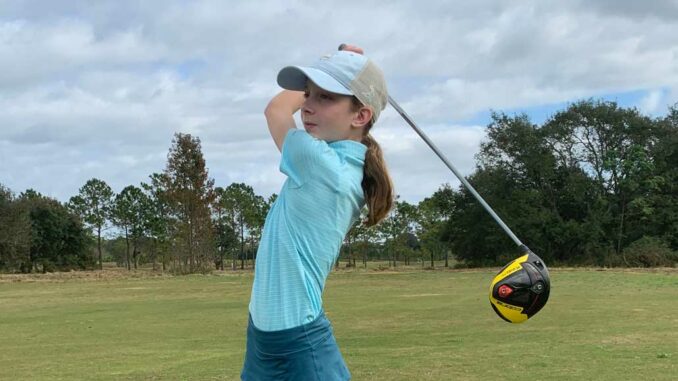 In 2021 when Leasider Ava Gilbert was in Grade 5, she qualified to play on her school's high school golf team.
That's right. High school. The then 10-year-old competed against players as old as 17.
Because Ava Gilbart is just that good.
Gilbart's dad Mike describes her as "curious, creative, intelligent, very loving, caring and gentle," but also as "very determined in her endeavours."
It's clear her determination and positivity are fueling her success.
Gilbart cites Canadian golfer Brooke Henderson as her favourite golfer, remarking that Henderson always has a smile on her face and is confident and positive during her tournaments.
With this confidence and a massive amount of skill, Gilbart has had an astounding history of success as a golfer since she began playing tournaments as an 8-year-old.
She has qualified and played in the U.S. Kids World Golf Championships in Pinehurst, North Carolina three times, played in the Golf Ontario U13 Championship as an 11-year-old and finished first in the 2021 Maple Leaf Junior Golf Tour at the Turnberry Golf Club.
This past summer, Gilbart qualified to play in the prestigious Drive, Chip & Putt (DCP) National Finals at the Augusta National Golf Club, to be played on April 2nd this year.
In order to qualify, players must advance through three rounds of play, winning the final event to make it to the Augusta National.
This year there were thousands of kids competing in the event from all over the US and Canada. Out of those thousands, Gilbart is one of only 10 who qualified in her age group.
Her coach, Sean Burke, comments that "one of (Gilbart's) biggest strengths is how athletic she is and that translates to her golf swing. She has one of the most natural and athletic swings I've seen for a junior golfer."
She is indeed very athletic. Away from the golf course, Gilbart plays tennis, soccer, and basketball, swims and runs cross-country for her school.
In the spring of 2022, Gilbart might have faced a setback when she broke her wrist. The cast was removed in June. Her ability to rebound from that injury speaks to her confidence, positive attitude and overall fitness level.
Not only did Gilbart return to play, she competed in the first of the three rounds of qualifying tournaments for the DCP finals that very month.
She advanced through that round and went on to compete in August and September, winning the final round of competition in Scioto, Ohio to secure her place in the finals.
Gilbart is thrilled to have qualified to play in Augusta. "I am most excited to compete with the other girls from all over the USA. I am excited to chip and putt on the Augusta greens, and I want to try the Georgia peach ice cream sandwich, as I hear it is amazing."
Coach Burke notes that "Ava is very much a carefree and relaxed player when you see her, but once she's put into a competitive environment, her intensity and fierce nature definitely comes out."
Watch for this fierce competitor in the Drive, Chip & Putt National Finals at the Augusta National Golf Club on April 2nd on the Golf Channel.