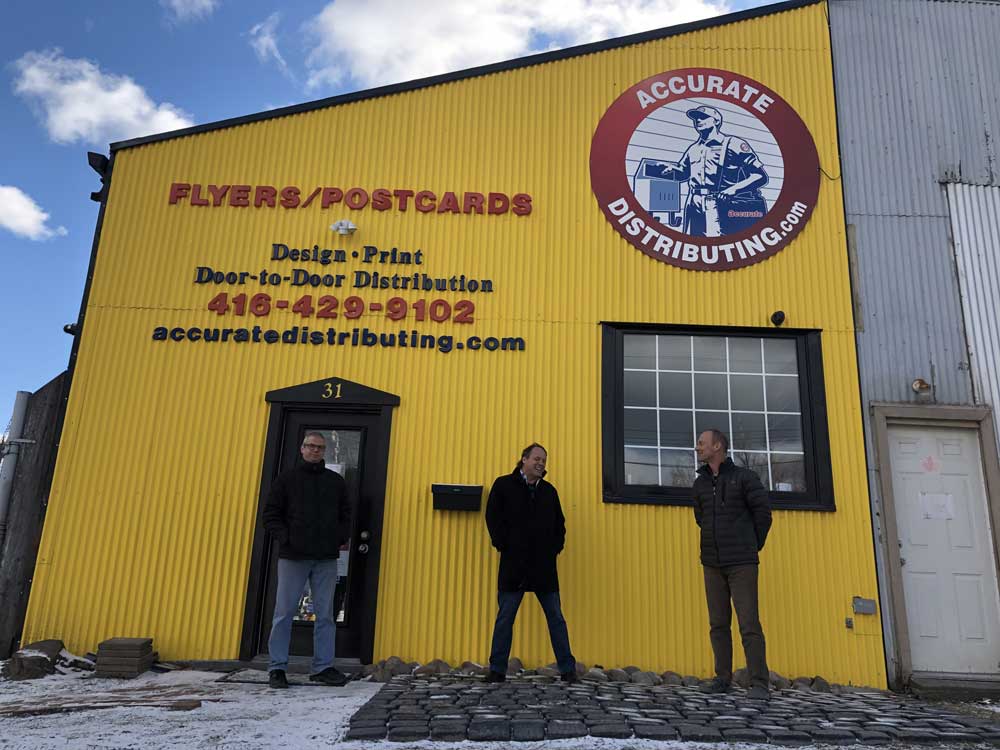 What can you do about your widget?
After years, months, weeks of effort, you've finally finished your widget.
It does twice as much as any other widgets available, costs half as much, and the quality is much better. All your neighbours will surely want one!
Now what?
In the age of the internet, most people would probably say create a website and tell everybody about your brilliant invention.
But the customers for your widget aren't in Timbuktu; they're your neighbours in Leaside and the GTA. How do you tell them the good news?
Richard Bergeron knows.
He owns and operates Accurate Distributing, a flyer and distribution company that has been in business in Leaside for more than 75 years.
And in the age of the internet, they are busy.
What Richard's company does is produce and deliver leaflets, magazines, newsletters, postcards and flyers to your doorstep. Actual, physical ink-on-paper words and images that are in your mailbox or on your doorstep.
The idea is popular with widget-makers of all kinds.
"The reason is printing-on-demand is really fast," Bergeron says. "Everybody needs it yesterday. When they see they can get it with one-stop-shop convenience, you see why 80% of our business is repeat!"
Founded in 1930, Accurate Distributing established a reputation for reliability that has lasted three quarters of a century. Richard Bergeron added the speed and capacity of his former company, A&R Advertising, when he merged the two organizations in 1990.
Today, Accurate services an active client list of 2,000 customers throughout the GTA and surrounding areas – Brampton to Markham and Mississauga to the Pickering town line.
The largest number of customers come from the real estate industry, followed by private schools, churches, dentists, and construction companies.
Also on the Accurate client list are such notable institutions as the Canadian Breast Cancer Society, Heart and Stroke Foundation, and City of Toronto.
Like every other small business, Accurate Distributing has suffered from the pandemic.
"It sure affected our business," he says, "like it did most businesses out there. We had to move to a new facility at 31 Commercial Road. It was a big saving for us," he said.
"The real reason for the move was the unpredictability of this pandemic and mostly the reactions people have to it."
The new location was chosen specifically to meet their requirements.
"When I saw the location at 31 Commercial, I knew it would involve a lot of work and money," Bergeron says. "But it seemed like a great location, so I thought the investment would make sense," he added.
The time of Covid has changed the business. But the enterprise continues, and still provides jobs for 10 full-time and 40 part-time staff.
"In the old days we distributed for most city councillors and we did the IDOMO catalogues for years, Bergeron says. "Those disappeared. Then we did a lot of construction, pizza stores, Asian food outlets and really all kinds of stores.
"Today we do a lot of realtor postcards, construction, schools, hydro, hair and health places. All kinds really."
So, the methods for talking to your neighbour have changed a little. But they still exist, and they still work.
Get busy on that widget.
Note: We are proud to have Accurate as our local door-to-door distributor since the outset of Leaside Life.