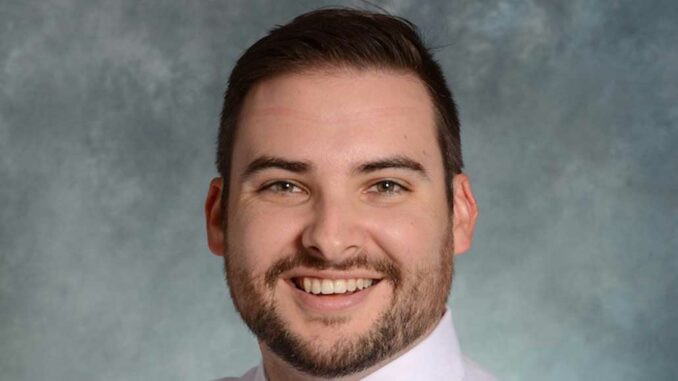 When asked how Holland Bloorview Kids Rehabilitation Hospital keeps spirits bright over the holidays, Jordan Cullum, outreach coordinator for the Dear Everybody program, didn't hesitate. "Some clients spend their entire holidays at Holland Bloorview. The staff, especially the therapeutic clowns, seem to find a sixth gear and the whole atmosphere is full of magical holiday cheer. Although I was always an out-client, I enjoyed the holiday joy, and every year it continues to brighten everyone's day."
Jordan is passionate about his full-time position with the Dear Everybody program, especially when his role entails speaking with various student groups and community organizations. As the face of the program, whose tagline is 'It's time to end ableism. Start by talking about it,' Jordan's enthusiasm for raising awareness and reducing ableism through these discussions is inspiring.
Jordan has spina bifida. "I require an AFO, an ankle foot orthosis brace, to walk. My lived experience since I was a child has equipped me to design and deliver presentations and facilitate discussions on how language and interactions at school, in workplaces and other community settings can model and encourage inclusion and reduce ableism."
When asked what advice Jordan has for crafting and initiating conversations, he commented, "I realize it can be confusing for people to choose and use appropriate language when attempting to learn about disabilities or asking if any assistance is desired or required."
Language is continually morphing and changing. Decades ago, common euphemisms for disabilities included words and phrases like "exceptionalities" or "special needs." Although well intentioned, when used such words reinforce stereotypes. A 2017 research document (link below) offers advice on how to avoid reinforcing stigma, stereotypes and ableist language. It raises awareness and provides guidelines for appropriate language.
After talking about ableist language, Jordan was quick to add that "the groups I speak with are typically eager to learn about disabilities, the experiences of people living with disabilities and how best to broach the subject of disability and beneficial supports or hindrances to daily living and working."
In addition to enjoying his involvement with the Dear Everyone program, Jordan mentioned casually that something else keeps his personal time and holidays bright. "I am both a fan and a sledge hockey athlete, having played sledge hockey for almost 20 years. I got into it because I grew up watching hockey, my favourite sport. Now I play for the Halton Peel Cruisers in a recreational league. It's so great to have the opportunity to play a sport that's adapted for people with a disability. Adding to my hockey delight was being in a commercial with 'Sid the Kid'."
A quick LinkedIn search revealed in Jordan's words more about his hockey journey: "I was a member of the Men's National Sledge Hockey Team for two seasons 2006-07 and 2010-11. I was also a member of the national development sledge hockey team, taking a leadership role as an assistant captain for multiple seasons 2012-14 and 2015-16."
Like Jordan and his Holland Bloorview colleagues, we can all contribute to making the holidays bright for children.
Learn more: https://deareverybody.hollandbloorview.ca
Home Imagine Everybody:
https://www.humber.ca/makingaccessiblemedia/modules/01/transript/Inclusive_Language_Guide_Aug2019.pdf