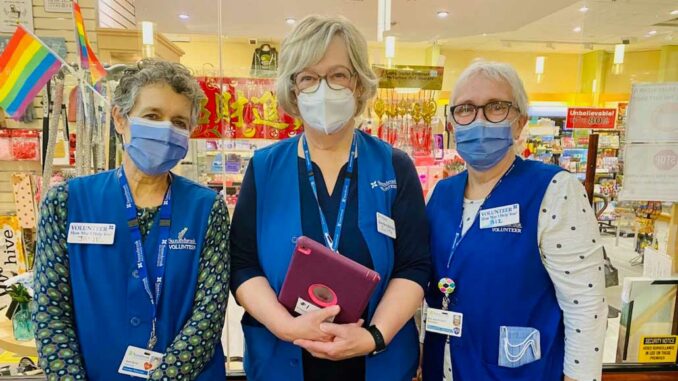 Judith Manson describes herself as a "Sunnybrook lifer." If you're looking for her, she can usually be found around the Courtesy Desk on M1 most Thursday mornings. Whether you're lost because you've not spent much time at Sunnybrook, or are from out of town, she knows the quickest and best routes to anywhere – including for people supposed to be at the Holland site on Wellesley at Yonge. She's good at problem solving, can think on her feet and "knows where stuff is."
As Judith says, "It pleases me to use my nursing skills" by also being a faculty advisor for the Community Health Nursing Practice in the Collaborative Nursing Degree Program involving Toronto Metropolitan University, Centennial College and George Brown College. (Whew – quite the title!) The past few years have been a struggle for staff and students, thanks to Covid.
Finally, she's getting to actually see the students in person, and they are getting the opportunity to be in acute care externships with this year's placements.
She earned her RN (Registered Nurse) at what was then Ryerson Polytechnic Institute (now Toronto Metropolitan University). Once married, and then with two children, she worked part-time at Sunnybrook, but also started taking courses towards her BScN (Bachelor of Science in Nursing) – which she obtained 15 years after starting.
In Judith's 30 years of working at Sunnybrook, she juggled time on the medical floor in the family practice unit, then went full-time in family practice until retiring in 2017 as the patient care manager. She started her volunteer position as soon as she retired.
Judith is one of the current roster of about 500 volunteers at Sunnybrook. Pre-pandemic there were some 1,000 active volunteers at any given time.
And what of Judith as a long-time Leasider? She grew up on Parkhurst as the daughter of Jack and Isabelle McCarthy. Her father held positions at Queen's Park, but also took time to get involved in local issues – starting with a neighbourhood fight against two parking lots proposed on Donegall Drive (one at Millwood and the other at Fleming) that would have taken down 17 homes on Donegall). The Fallis family were neighbours, and Judith babysat for them.
Judith and her friends enjoyed being close to Bayview, with exclamations of "Let's do Bayview" on many a Saturday. She ended up marrying a North Leasider from Tanager Avenue. They lived for a few years on Merton before moving to his family home to raise their sons. Judith was one of the founders of the South Leaside Monday Group. At Leaside Presbyterian Church, she is an Elder Emeritus, on the Worship Committee, arranges flowers, and was the chair of their reopening committee.
If you're interested in volunteering at Sunnybrook for three or four hours a week, want to help contribute to a positive patient/visitor experience, and even if you don't have a medical background, Sunnybrook would welcome you: www.sunnybrook.ca/volunteer.