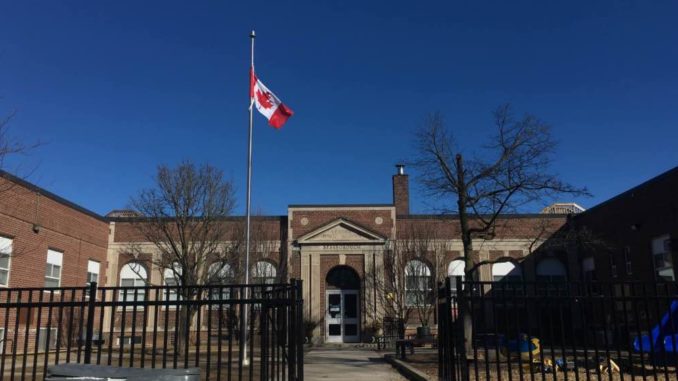 With Grade 7 at Bessborough now 50 years in my rear-view mirror (ouch!), some of my experiences back then are obscured in the mists of history. But one aspect of my time in Grade 7 remains crystal clear in my memory as if it were yesterday. No, I'm not referring to the time in shop class when I set my beautifully lathed toothpick holder on fire while attempting to apply a "burnt" finish with a blow torch, though I certainly recall that event all too well. No, I'm talking about school dances, and in particular, the Halloween dance in 1971, my very first school dance.
We'd all been told about the famous school dances, but actually experiencing one for the first time was a high point in my Bessborough years. Just to set the scene, the dances were held in the gym amidst the basketball hoops and the climbing ladders that, when not in use, swung in tightly against the south wall. Even with considerable decorating efforts, there was never any doubt that we were in the gymnasium. But that didn't bother us. The dance ran from 4 to 6 p.m. The windows were covered over with brown paper and the lights were turned off to at least simulate an evening dance. On the mezzanine level of the gym at least two overhead projectors were set up, the acetate sheets replaced with bowls of coloured water. During the dance, volunteers would project the bowls of coloured water onto the far wall while using a straw to blow bubbles. It was our Grade 7 version of psychedelic, though "weird" might also describe it.
Of course, we never had live music. Rather, a disc jockey would be engaged to spin records and offer up hip commentary between and even during songs. 1971 was a big year in music. Maggie May, Gypsys, Tramps, and Thieves, Me & Bobby McGee, Joy to World, the Theme from Shaft, and many other great songs reverberated throughout the gym.
I remember arriving for my very first dance in October 1971 as the well-known ritual played out. The boys plastered themselves against one wall and the girls against the other. It was quite dim, even dark, but when my eyes adjusted, I could just make out a few brave figures dancing. The DJ always started with up-tempo songs to get us all warmed up. Now, I should explain that I had no idea how to dance. How would I know? I was 11-years-old at my first dance. So, I just watched what the wily Grade 8 veterans were doing and tried my best to copy them. I have to say that really didn't work out so well. My twin brother Tim recently remembered that I moved like I was being tasered. Now that I'm older, of course I'm a much better dancer. Yeah right.
But the highlight of the dance was when the DJ "slowed things down" and played quiet love songs (think How Can You Mend A Broken Heart, etc.). We'd all heard about "slow dancing" but to witness it, and then actually partake in it, well, it was a lot for an 11-year-old to process. Needless to say, the dance floor was packed during slow dances. It was always a big letdown when the slow song ended and the next fast song blasted out of the speakers. Couples reluctantly separated and it was back to my "being-tasered" impression.
But you could always count on the dance ending with a slow song. Most often in my memory, it was Stairway to Heaven, one of the longest slow songs of that year. By that stage in the dance, even when the song picked up to a frenzied pace near the end, everyone on the dance floor simply stayed in their slow-dance clutch. Then the cruel lights would turn on and it would all be over. Yes, I remember those Bessborough dances like it was yesterday.