In recent years, the City of Toronto has received a significant influx of new development applications for properties in Ward 15 – Don Valley West. There are currently nine active development proposals at the Bayview and Eglinton intersection – eight of which are for high-rise towers with proposed heights ranging from 25 to 46 storeys.
In 2018, City Council approved the Yonge-Eglinton Secondary Plan, which designated Bayview and Eglinton as a mid-rise building area with a prescribed height limit of 8-12 storeys. However, upon the required review and approval by the province, the Minister of Municipal Affairs and Housing significantly increased the permitted building heights to a range of 25-35 storeys. This provincial overhaul of the Secondary Plan has resulted in the number of high-rise residential and mixed-use development applications active in Leaside today.
In March, I attended each of the community consultation meetings held for the above applications, to hear directly from local residents. During these meetings, residents from across Leaside raised concerns related to the capacity of local infrastructure and amenities, such as schools, green spaces, and our transportation network. It is imperative that infrastructure keep pace with new development in high-growth neighbourhoods – this is an issue I am continuing to raise at each and every consultation meeting and on the floor of City Council.
This spring, I successfully moved a motion that directs the City to work with the province and healthcare stakeholders to keep valuable healthcare services in our neighbourhoods. For example, the application for 586 Eglinton Avenue East proposes to demolish an existing medical office building that provides services to local residents – including many seniors.
Unfortunately, seven of the applications listed above have been appealed to the province's Ontario Land Tribunal (OLT) – in many cases, before the required community consultation meeting. Many residents will know that I have been a long-time critic of the OLT, which is the unelected, unaccountable body that makes the final decision on planning appeals in Toronto. When developers appeal to the OLT, they are effectively circumventing the City's planning review process and the final decision on these applications is taken out of City Council's hands.
The Leaside Residents Association, Broadway Area Residents Association, South Eglinton Davisville Residents' Association, and Bayview Broadway Good Planning Inc. are actively involved in many of the major development applications in this area and are a fantastic resource for residents who are looking to get involved. More information on these and all active applications in Ward 15 can be found on my Development Map.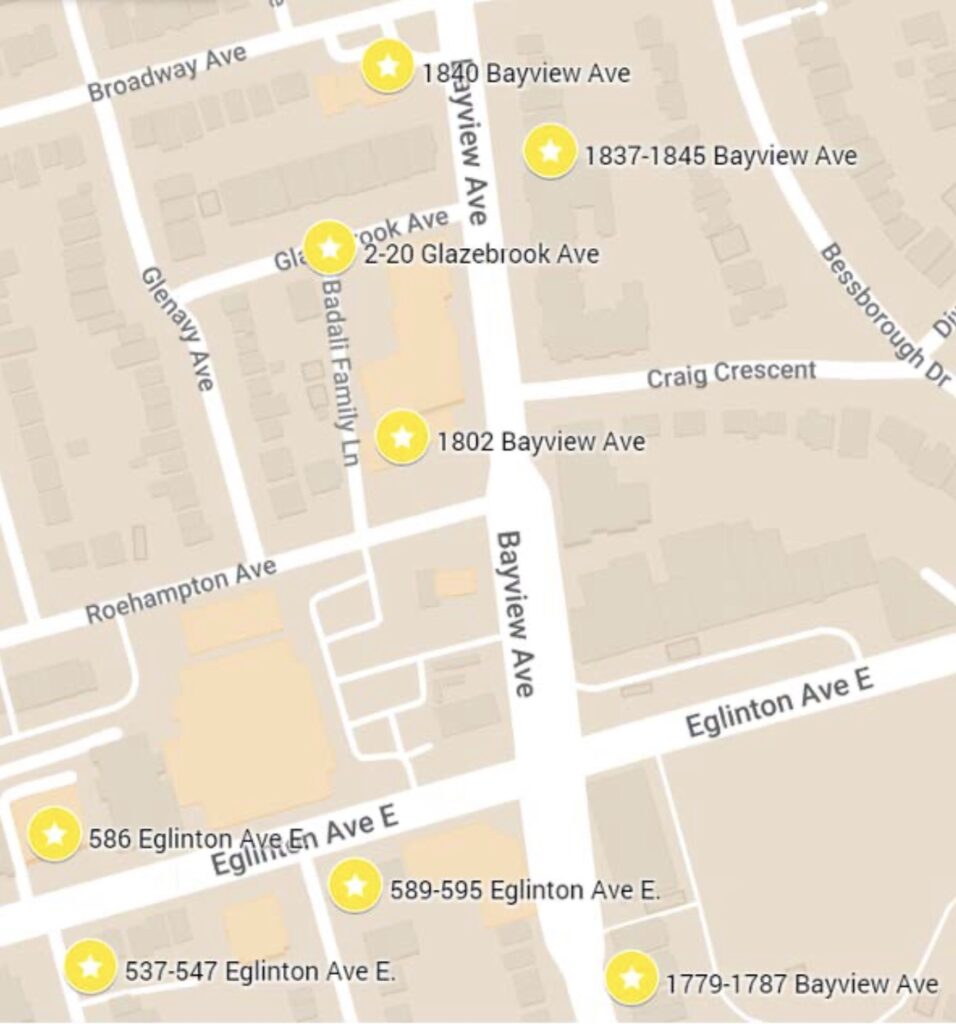 | | | |
| --- | --- | --- |
| Address | Height | Status |
| 1802 Bayview Avenue | 46 storeys | New application |
| 589-595 Eglinton Avenue East & 61-67 Mann Avenue | 35 storeys | OLT Appeal |
| 1779-1787 Bayview Avenue | 35 storeys | OLT Appeal |
| 1840 Bayview Avenue | 34 storeys | OLT Appeal |
| 2-20 Glazebrook Avenue | 34-storeys | OLT Appeal |
| 1837-1845 Bayview Avenue | 32 storeys | OLT Appeal |
| 586 Eglinton Avenue East | 32 storeys | OLT Appeal |
| 537-547 Eglinton Avenue East | 25 storeys | OLT Appeal |