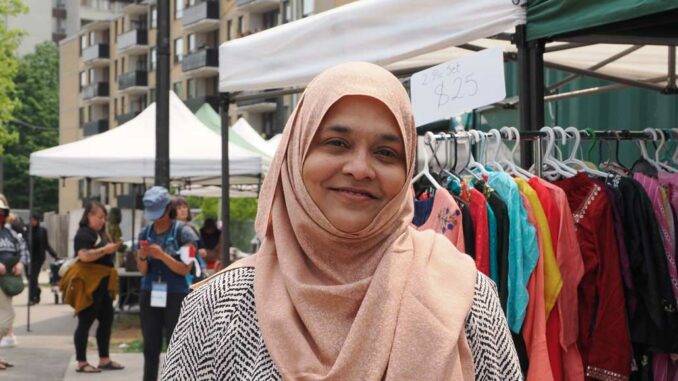 As a staunch supporter of the '3 I's' that contribute to the collective economic and social well-being of Leaside – individuals with ideas and initiative – I was immediately captivated when I received a flyer from community connector Geoff Kettel about the Thorncliffe Community Market (affectionately known as "the Bazaar"). This lively market, held every Friday night from 3 p.m. to sunset at R.V. Burgess Park (from May 19 to Oct. 13 this year) promised a diverse range of offerings, including clothing, jewelry, food, tandoor bread-baking, and activities for children. Spearheaded by the Thorncliffe Park Women's Committee (TPWC), this market initiative has become a shining example of community collaboration.
Being an advocate for entrepreneurial endeavours, I couldn't resist the temptation to visit this bustling pop-up market located behind the library at 48 Thorncliffe Park Dr. After attending the market for three consecutive Fridays and witnessing an international delegation tour the market as part of the 11th International Public Markets Conference – the largest global conference for public market professionals – held in Toronto from June 8-10, it became evident to me that the placemaking efforts led by Executive Director Sabina Ali and her dedicated colleagues are making a significant impact both locally and globally, and most, including Sabina, are volunteers.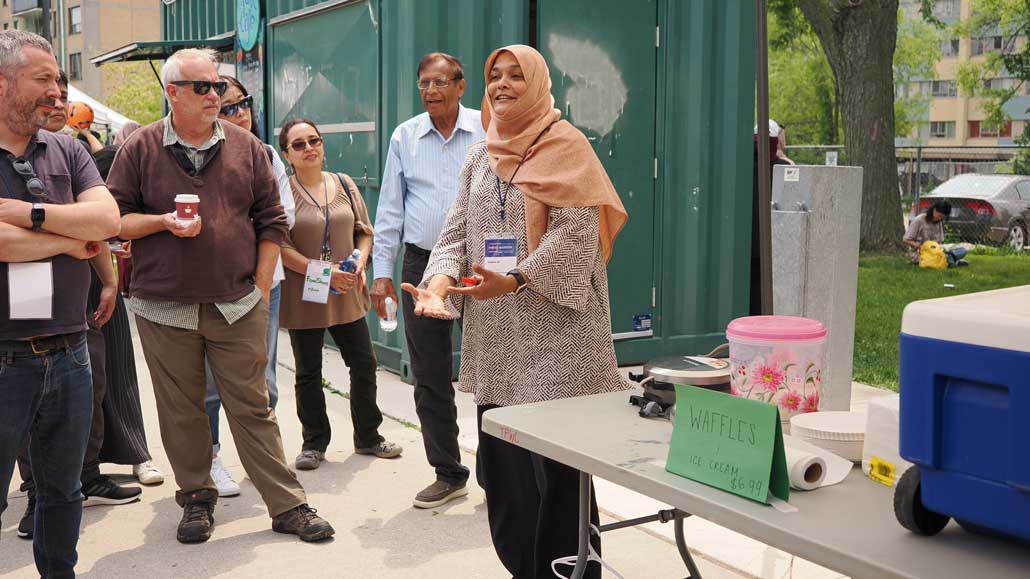 Empowering local entrepreneurs
Thorncliffe Park has warmly embraced numerous waves of immigration to Toronto, earning its reputation as an 'arrival city' celebrated for its diversity. However, despite its rapid growth compared to the rest of the city, the investment in this vibrant community has not kept pace with its expansion. Over the past 15 years, the TPWC has worked diligently to overcome these challenges by spearheading a remarkable community market initiative that has brought about transformative positive change. Today, the Thorncliffe Community Market initiative serves as a central meeting point for residents and has become a catalyst for community engagement, development, and investment in R.V. Burgess Park.
One of the key impacts of this community market initiative is the empowerment of local entrepreneurs. The TPWC has provided a platform for small-scale businesses to showcase their products and services to a wider audience. From unique handmade crafts to delightful homemade delicacies, the market has flourished as a hub of entrepreneurship. By supporting these local vendors, the community market has successfully stimulated economic activity within Thorncliffe Park, fostering financial independence and self-sustainability among its residents.
"It's a model for what our public parks can be – old-fashioned town squares where neighbors meet one another and become, well, neighbours. Even better, it is legal; the parks department has issued a permit for the weekly bazaars. And best, six women make this happen every week. Sometimes, things work in this city."—The Miracle of R.V. Burgess Park, Toronto Star, Catherine Porter.
Neighbours gather, share stories, and forge new friendships as they explore the diverse offerings of the market. The success of the market has inspired the TPWC to collaborate with Leaside organizations, businesses, and all three levels of government to further enhance the park's infrastructure and amenities. Improvements such as seating areas, landscaping, and lighting have transformed a previously tired plot of land into a vibrant hub of activity, greatly improving the quality of life for residents and visitors while instilling a strong sense of community pride.
Sabina shared with me what she believes are two key drivers of TPWC's long-term success. First, grassroots volunteer-driven engagement played a crucial role. "We are all in the same boat… let's make the best of it… organize ourselves and engage with outside communities to bring awareness to the situation because back then in 2007, even residents living in the tall buildings were not allowed to use the green space." Second, rather than focusing solely on "infrastructure" such as equipment and physical structures, the group's primary emphasis was on community engagement and community building (referred to as "placemaking"). They aimed to win 'hearts and minds' first, allowing the software of community relationships to work harmoniously with the hardware of physical improvements.
Volunteers with heart
By providing opportunities for people to gather, communicate, and work together, placemaking and community engagement activities promote social cohesion and strengthen relationships within the neighbourhood, positively impacting the health and well-being of residents. Active participation in shaping the neighbourhood fosters a stronger connection to the place, generating a sense of ownership and pride. These initiatives encourage interaction and collaboration among community members.
Overall, placemaking and community engagement initiatives have the potential to transform neighbourhoods into thriving, inclusive, and resilient communities, benefiting residents in multiple ways. Vibrant and well-designed neighbourhoods attract businesses, investors, and visitors. Placemaking initiatives that focus on creating useful public spaces, supporting local businesses, and organizing community events can contribute to economic development, job creation, and increased property values.
I was truly humbled to spend time with Sabina this past month and witness first-hand the immense impact of organized volunteers and the power of community collaboration. Through her dedication and visionary leadership, she has empowered women entrepreneurs, built a vibrant community market, and forged bridges between Thorncliffe, Leaside and far beyond. Sabina's journey as a newcomer to Canada and what she has accomplished since arriving serves as a source of inspiration, highlighting the potential for positive change that can be achieved when volunteers come together with a shared vision. Her efforts exemplify the transformative power of individuals working collectively to make a difference in their communities.
How about it, Leaside, is it time to launch our own community pop-up market? What would be the distinguishing characteristics (I'm partial to food trucks and bringing back our own 'lite' version of Toronto's International Caravan)? What other placemaking initiatives can you think of that might work for Leaside?