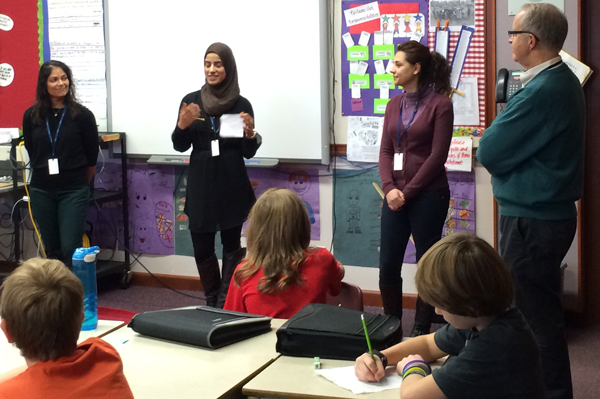 When Syrian refugees land in the Leaside-Thorncliffe Park neighbourhood, they will encounter some young residents who understand the hardships and challenges they have faced thanks to an innovative program at Northlea School in Jennifer Waddell's sixth grade class.
Leasider Bill Pashby, chair of the board of the Thorncliffe Neighbourhood Office (TNO), recently led a small group of new and long-term residents there on a visit to the school where they are studying immigrants and refugees.
The group included Malini Singh, co-ordinator of the school immigration program at TNO, Noura Al-Khafagi, who was born in Iraq and is one of the TNO settlement workers, and Leila Farzaneh, an Iranian chemical engineer now living in Leaside. Ms. Farzaneh currently works as a cashier at a retail outlet on Bayview Ave.
Teacher Waddell welcomed the visit and said the stories the ladies shared with the class went a long way to putting a recognizable face on a term such as "refugee".
"There's nothing like personal anecdotes to bring an idea to life," she said.
One of her students, 11-year-old Grace Murphy, said,  "It was interesting hearing about how and when the ladies came to Canada. "
Pashby said the TNO has three employees ready to meet the planes coming with the refugees and dozens more ready to assist in their first few weeks in Canada.