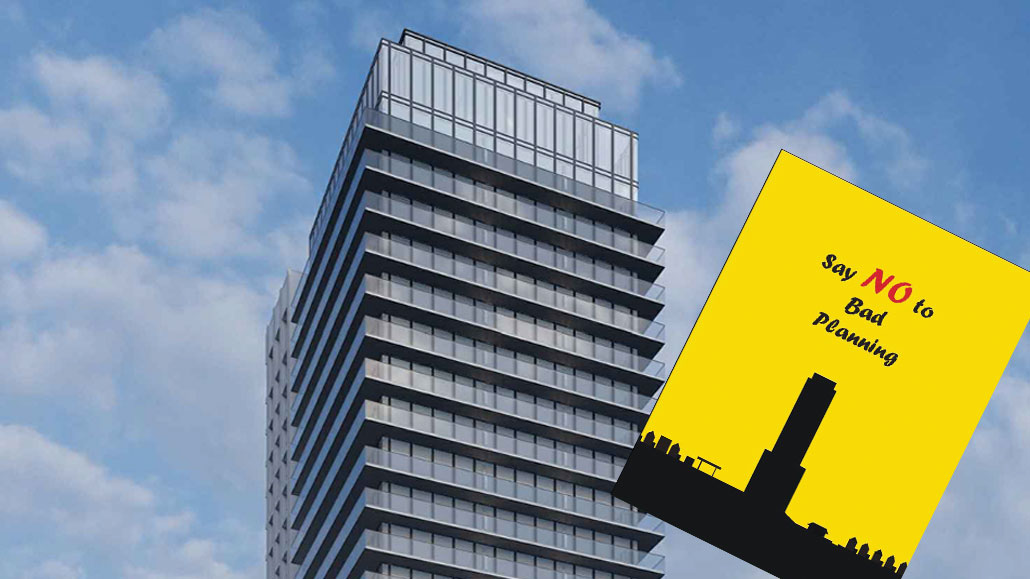 If you want to win, you need to be prepared, and that takes both a plan and resources. "We are working on a plan and now we need people to state their opposition, and invest in our success."
That was the strong message given to those attending the recent meeting of the Bayview Broadway Group (BBG), the residents' group formed in opposition to the 25-storey tower proposal at the southeast corner of Bayview and Broadway.
Participants heard that the group is moving to incorporate as Bayview Broadway Good Planning, Inc., has hired a reputed planning lawyer, and is working to hire a top-notch land use planner. And there may be other experts needed. So, this will cost a couple of six figures – a not insignificant amount of money. The fundraising starts now!
First will be the Case Management Conference (CMC) on August 12. This is to establish who will be a "party" with full legal rights to speak and be involved at all stages of the process, and who will sign on as "participants," who have to submit a written statement 10 days before the CMC. The BBG will file as a party, and they want to demonstrate the widespread opposition to the development as reflected by a large number of participants statements submitted.
The City is expected to file as a party in opposition, but City Planning's final report did not make it to committee in this term of council. Because of the municipal election, their final report will not be brought to a committee and council meeting until early 2023. The CMC will establish the hearing date, expected sometime in 2023, and the hearing is likely to take a week or more.
The BBG has two critical requests of Leaside residents (and those on the west side of Bayview): first, please consider writing and submitting a participant statement elaborating your concerns; second, and importantly, dig deep with your contribution to the BBG cause.
To follow up and get more details on both of these requests, contact .