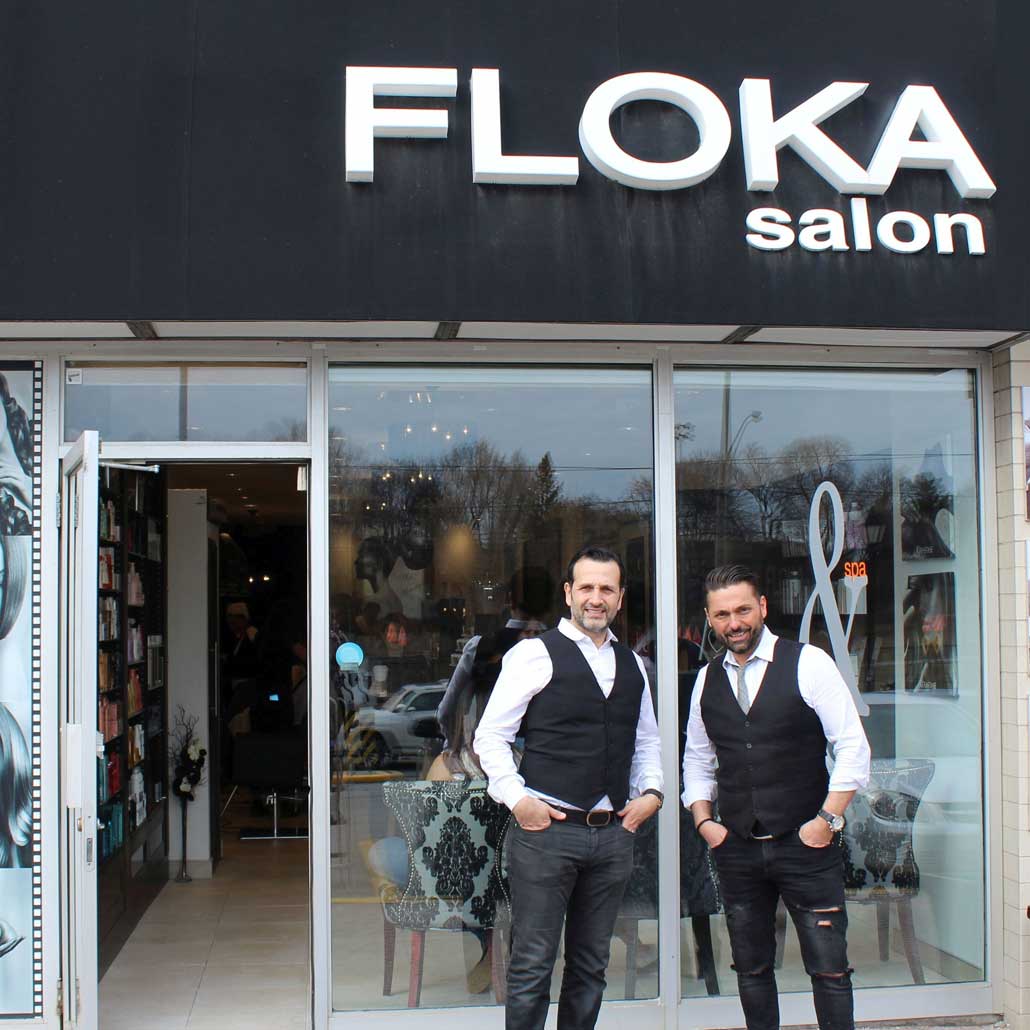 You must have seen the sign for Sunnybrook Plaza mainstay Floka Salon & Spa, but do you know the derivation of the name? Brothers-in-law Bashkim Breznica and Al Kerimi are Albanian, and the word for hair in Albanian is "flok," so Al thought that Floka would be the perfect name for their salon.
Those of you with long memories will remember the salon Altered Image in Floka's space before Bashkim and Al bought the business in June 2005 from its owner, who worked with them for a few months during the transition and then retired.
How did the brothers-in-law find themselves together in Sunnybrook Plaza? Bashkim is Albanian, but grew up in Kosovo, and came to Canada in 1993. Al is also Albanian, but his family, originally from what is now the Republic of North Macedonia, came to Canada before he and his sister, Irene, were born. Irene and Bashkim met at an Albanian community function and married in 1995. Many in Al and Irene's family had been in the hair business for five decades, so it made sense for Al to follow in the family tradition. Bashkim always had a passion for the beauty and fashion industry but didn't actually begin his career until 1996. He worked in various salons for nine years and gained a lot of experience both in styling hair and running a business.
The search for a location for the salon took a lot of research. They wanted to be close enough to downtown, have parking, and be in a location with a close-knit community. It was a bright, sunny day when they first drove into Sunnybrook Plaza. The baseball diamond across Eglinton was full of children with their families. People were out walking their dogs, and the plaza was humming. They knew this was the place.
Sunnybrook Plaza was the ideal location in 2005. But now? The plaza will be redeveloped in the next few years, and they will be forced to move. In the meantime, the continuous upheaval of the Crosslink LRT construction makes it difficult for regular customers to get in and out, and for new ones to even notice the salon exists. The search is on for a new location, preferably in our neighbourhood, but that, as you can imagine, is a challenge – rents are high, and finding parking for staff and customers is difficult. Floka is a large salon, with a number of hair stylists on the main level. The lower level, previously unfinished, was completely renovated to add a spa, washrooms, office, stock room, staff lunch room and laundry room.
Bashkim and Al have a philosophy that "you have to give to get." The salon is generous in supporting local events and charities, including the upcoming Laugh Out Loud in Leaside #10 on March 1. They also have loyal customers – some of whom come from as far west as Niagara and as far north as Sudbury.
They hope the business will continue into the next generation. Bashkim and Irene's daughter, Adelina, is completing her hair styling schooling and will graduate in June. She's already working at Floka.