Spring Into Action
May 26, 2018 @ 8:00 am

-

12:00 pm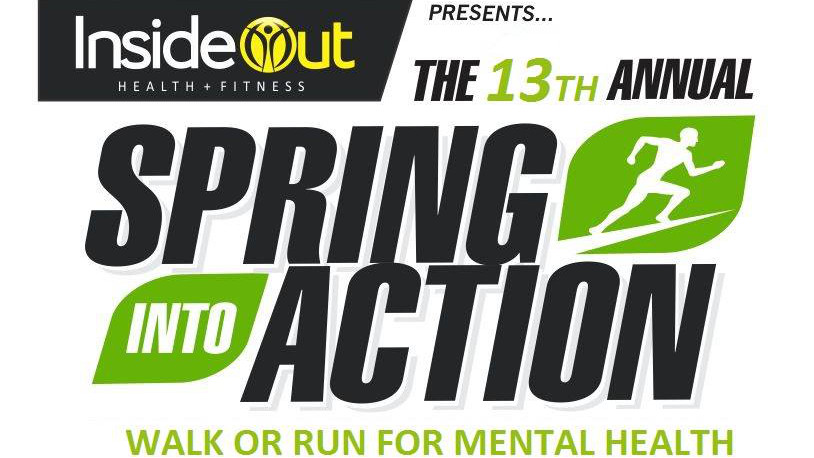 Toronto's 13th annual "Spring Into Action!" Walk or Run for Mental Health is taking place on May 26th, 2018, beginning at 210 Laird (InsideOut Health + Fitness studio) and making its way through beautiful Sunnybrook Park in Toronto, Ontario.
This event is for everyone who is looking to join the movement in bringing the topic of Mental Health more into focus. Our goal is to raise funds to support Mental Health awareness through educating and involving the Community. One in five Canadians will suffer from mental illness at some point in their life. The number one reason why individuals with mental illness do not seek help is because of stigma so often associated with it. InsideOut aims to unite the Community through this annual event and proceeds will be donated to CAMH.
EVENT HIGHLIGHTS:
Starting from InsideOut Studio (210 Laird Dr) the route is through beautiful Sunnybrook Park. Kids activities, stretch station, sunrise yoga wake-up, warm-up, marketplace, photo booth & trophy presentation. Gift bags.
Donations from generous local sponsors are the reason that we are able to hold events like these. If you are interested in sponsoring this event please contact us at:
We welcome all participants from beginners to seasoned athletes or anyone that just wants to lend support. We look forward to sharing this experience with you again this year.
InsideOut Health + Fitness began "Spring into Action!" in 2006 and the event has become a staple springtime community, city and family event and awareness exercise. InsideOut believes in a holistic approach to health and "Spring into Action!" embodies this principle by promoting education, awareness and participation. InsideOut Health + Fitness is proud to help empower people in the community and with your help we can make 2018 the best "Spring into Action!" yet!
(Note: Event Day Times)
8am: Registration/Check-in.
9am: Pre-Event Activity.
9:40am: Walk/Run starts.
12pm Event Ends.
Learn more about "Spring Into Action!" at the following links:
InsideOut Health + Fitness
http://www.insideoutstudio.ca/sia18/