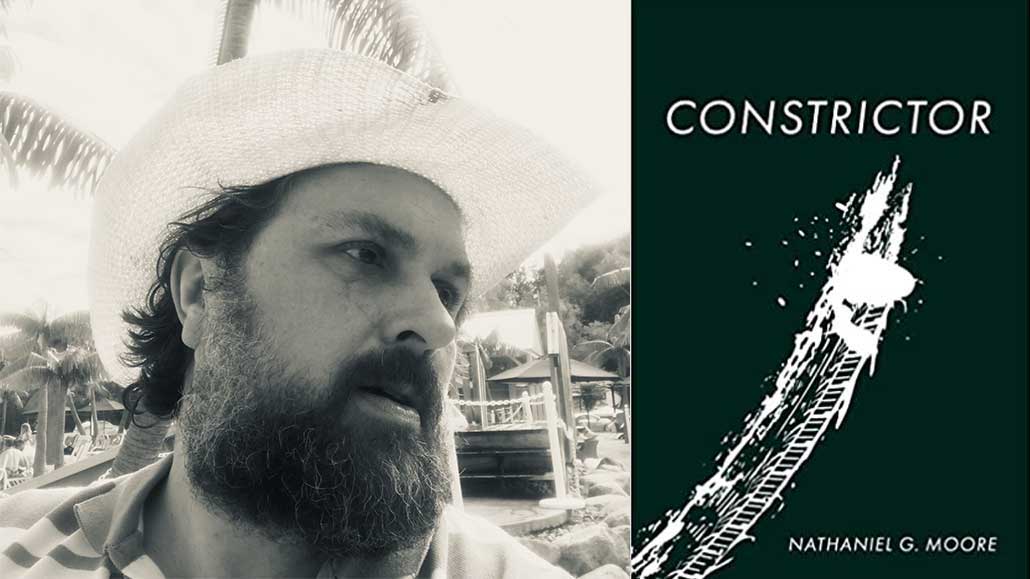 New book of poetry released by former Leasider Nathaniel Moore
Nathaniel Moore, author of 10 books of poetry and fiction, was born in Toronto in 1974 and grew up in North Leaside. His 2014 novel Savage, set in Leaside, won the ReLit Award for best independent novel. Moore has just released his most recent work, a collection of poems, entitled Constrictor, published by Mansfield Press. The collection of 25 poems features a number of Leaside references and takes a realistic and sometimes dark journey. One poem, Duckworth's Pool in North Leaside, alludes early on to the heavier subject matter to come. The final poem, Constrictor, starts out quietly as Moore paints what some consider a typical Leaside, but as the poem unfolds the reader is drawn into a world of trauma, secrets and teenage sexual abuse. For some the poem is not easy to read and in the end notes Moore reminds the readers, that if you know someone who is being sexually abused, to reach out and offer help. And if you are a victim of sexual abuse, to find someone to talk to. Moore currently resides in New Brunswick with his wife and daughter. Constrictor is available on Amazon or from Nathaniel at .
City council works to help small businesses with property tax reduction
Toronto City Council approved a new small business property subclass that will provide a 15 per cent property tax reduction to small businesses. Small business property owners do not need to apply for this tax relief, as all commercial properties will be assessed for eligibility. The new small business property tax subclass will come into effect for the 2022 tax year. It is estimated that property tax reductions will apply to approximately 25,000 small businesses across Toronto, or 60 per cent of all commercial properties. Hopefully this program can offer some relief to local Leaside merchants.
East York Halal Meals on Wheels campaign is looking for new riders
Since the onset of the pandemic, the Bike Brigade community, 1,000+ volunteers, has delivered over 20,000 hot meals and 10,000 food boxes by bike to help address food insecurity in Toronto. The group is looking for new volunteers in the community to help continue this important work. No special bike equipment is needed, meals are packed in a backpack and deliveries are local within the Thorncliffe neighbourhood. To learn more: https://www.bikebrigade.ca.
In Memoriam – RIP Robyn Israel
Our hearts were broken as we learned of the passing of Robyn Israel this past October. In her role as advertising coordinator, Robyn was an integral part of our Leaside Life team from 2017 to 2018. Born in Halifax, Robyn graduated from St. Mary's University and moved to Toronto, where she worked for 20 years in the group benefits industry. She was deeply and passionately involved in the Leaside community, including roles in the South Leaside Monday Group, Bessborough Home and School, and more recently the Leaside Baseball Association. Robyn's infectious spirit, her love and care for her family and community will be missed by many, most especially her husband of 16 years, Jeff, and her two children Cassidy and Connor.
It's cold outside, but colder for some than others!
Each night in Toronto, reportedly some 7,000 people suffer from homelessness. Life without a home is always difficult but as the winter months approach, the burden is deepened by the often incredibly cold days and nights. Our neighbours from Rosedale United Church have been working to collect at least 500 warm jackets to provide to the people of Toronto who do not have the resources to purchase a winter jacket for themselves. Collected jackets will be distributed through the outreach facilities of Fred Victor, Metropolitan United Church, Sanctuary Toronto Ministries and the Roehampton Shelter. Additionally, you can make tax-deductible charitable donations by e-transfer to . For more information: email .