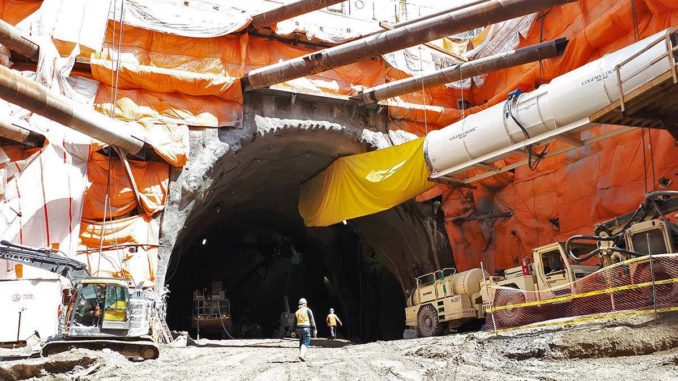 Here we are, entering a new year and a new decade. Looking ahead, we anticipate both changes and challenges: Leaside as a community is strong, but so are the pressures facing us. Leasiders continue to have concerns about traffic problems that take too long to get the attention they deserve. We continue to be confronted by excessive applications from developers for what amount to little (or not so little) cities on Leaside's borders.
Traffic
Although LRT-related road construction and diversions may have lessened in anticipation of the Crosstown's going into service in (we are told) 2021, construction of the Bayview Avenue and Laird Drive stations will still cause congestion. Questions remain: once in operation, will commuter use of the Crosstown really reduce automobile traffic through Leaside? Will the TTC cut surface transit and local bus routes serving our community? Readers of my columns know that the Leaside Property Owners' Association has been in communication with the TTC and Councillor Jaye Robinson to protect our access to public transit. These conversations will continue in 2020.
With any luck, 2020 will see some progress in neighbourhood-wide traffic calming. The efforts of residents Rosa Spizzirri and Judy McKenna this year led to a real improvement in street safety, with speed reduction to 30 kph on all Leaside streets other than Bayview, Eglinton, and Laird. Councillor Robinson's successful motion at North York Community Council to initiate a Traffic Management Plan will, I hope, result in implementing at least the key elements of the LPOA's traffic calming plan.
Development
As for property development, we can expect pressures to continue, especially along Eglinton Avenue. During 2020, both Sunnybrook Plaza at Bayview and the "Upper East Village" at Brentcliffe Road will be under construction. Talks involving RioCan, the City, and the LPOA about the Canadian Tire site at Eglinton and Laird Drive are already happening. In future years the massive Celestica property at Don Mills Road will be transformed, with both infrastructure and traffic-related implications for Leaside.
The Ford government's changes to the Planning Act have made it much harder for citizens to successfully apply local density priorities and protect local neighbourhoods. There are fewer tools in our toolbox as a result.
How to respond most effectively to the constant flow of applications for excessively dense or high buildings? Ratepayer groups such as the LPOA are faced with critical choices: do we try to reduce negative impacts, by entering into mediation? Should we fight each case to the end, whatever 'the end' is? Each case has its differences, but, always, neighbourhood feedback is key.
One does not need 20/20 vision to see that Leasiders have our work cut out for us in 2020!
Big change!
A great change for the better is the transformation of the Leaside Property OWNERS' Association into the Leaside RESIDENTS Association. Although the name change has not yet been formalized, we are now able to legally invite all residents of Leaside who want to be more involved in local issues, or contribute their expertise, to become full members of the association. Are you a tenant? Whether you rent or own property, we enthusiastically encourage you to join the LPOA, and, if you are inclined, to consider joining the board of directors.
As we head into the new decade I'd like to wish all Leasiders a very happy New Year.
The next regular monthly LPOA board meeting is on WEDNESDAY, JANUARY 8, at 7:30 p.m., in the Trace Manes building on Rumsey Road. We invite you to attend and learn what is happening in our community. Visit us online at https://lpoa.ca.