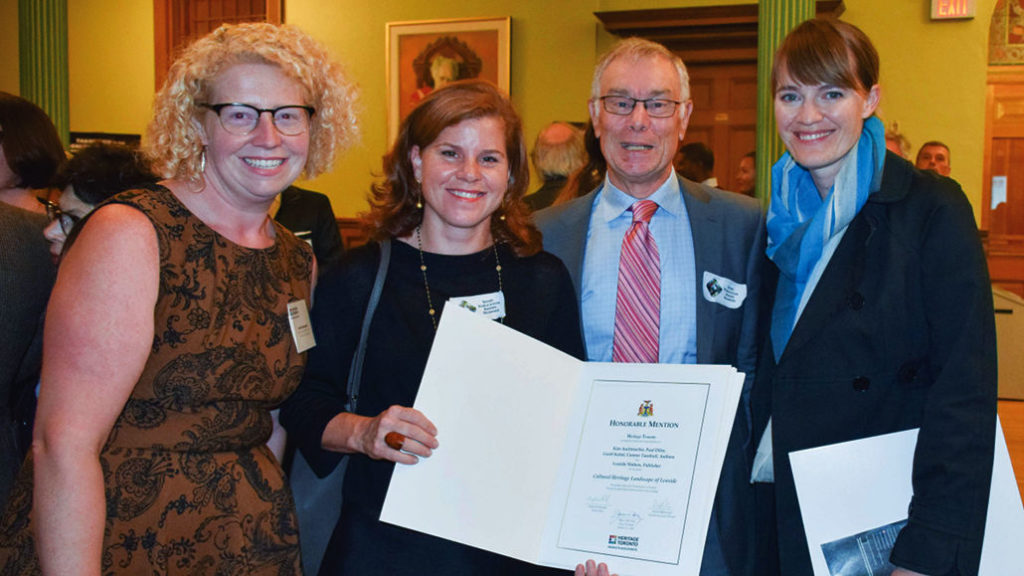 The LPOA AGM is always a good place to catch up on what is happening with planning and development in Leaside. This year's AGM on December 10th was no different. But this year the presentation on the planning challenges facing Leaside and where we are going was a reflective analysis from the perspective of a young American architect – Connor Turnbull – who has been in our midst for the last eight years, but is now (unfortunately for us) leaving shortly to return to the States. (Her presentation was given by me in her absence.)
Leaside has benefited tremendously from the efforts of Connor Turnbull, co-chair Kim Auchinachie, and the team at Leaside Matters, a local volunteer advocacy group started by Connor when she and her husband and two small children moved to Canada. She soon realized what an incredibly interesting place Leaside was – its history and heritage. Leaside Matters was born in 2015 with a mission "to foster the Leaside identity as a distinct and special community and neighbourhood, and to identify and raise awareness of the elements that preserve and enhance that identity."
Leaside Matters organized and inspired many creative activities such as talks, exhibits, merchandise (t-shirts), walks and booklets over the last few years.
The most recent activity was the exhibition of architectural portraits of Leaside's Canada Wire and Cable Company homes at the ArteMbassy last May. Their work has been recognized with awards by organizations like Heritage Toronto and the Architectural Conservancy of Ontario.
Connor gave a presentation – "Opportunity Knocks, But What's the Secret Knock? Thoughtful Evolution and Retaining Place in Leaside, Toronto" – to the National Trust of Canada's annual conference in Fredericton, NB in October. This presentation (posted on the Leaside Matters website) is valuable for its thoughtful analysis and observations and for confirming the assets, challenges and directions for our community from the perspective of an informed and creative newcomer. And it authenticates what those of us who love Leaside know already – that this is a unique community that deserves to be cared for and allowed to evolve in a manner sympathetic to its roots.
As Connor states: "Change is afoot and there is fear that Leaside will change in drastic ways. But we think that there is a thoughtful path available rooted in the DNA of Leaside's design. And we have spent three years working to raise awareness so that Leasiders/the City of Toronto and developers can make educated thoughtful choices."
But this "complete community" is challenged through a "swiss cheese effect" as the vernacular fabric is being eroded. With the new light rail system that bisects the original town of Leaside, there are areas of high-rise development that will bring a tsunami of change.
And even more subtly, the development marketing that goes along with the high-rises is attempting urban semantics through the renaming of Leaside as the Upper East, lower case "l" for leaside. Thank you for all that community building, we will take it from here.
Connor believes that there is an opportunity and that the secret knock is to look to Frederick Todd's plan as a way to evolve thoughtfully. Leasiders have disconnected from, or were never aware of, the roots of their placeness. In particular the interconnectedness to the industrial area. Longo's – the adaptive reuse of a former train shed, a connection back to Leaside's origin as a CNR development – has created a community hub. It has also reconnected the residential area with the industrial.
Considering the scale of the new high-rise neighbourhood to be built at the north end of the industrial area, Connor believes that a potential and important project would be the adaptive reuse of the last Research Enterprises Limited building (20 Research Rd.). This is an opportunity to bring the history of Leaside forward. The building has significance for its architecture, but it is also built to withstand bombing, and with large flexible areas could become a hub for the thousands of new residents, as well as existing residents and businesses.
The secret knock is two-fold. One part belongs to the municipality and the other part to community and civil society: Protection (municipal) and Community and civil society (motivating, education and advocacy).
In closing, Connor suggests to look once more to Frederick Todd for vision:
"We have only to study the history of older cities and note at what enormous cost they have overcome the lack of provision for growth, to realize that the future prosperity and beauty of the city depends in a great measure on the ability to look ahead, and the power to grasp the needs and requirements of the great population it is destined to have." (Frederick Todd, 1903)
So where does the LPOA stand with regard to Connor's two-fold knock about what Leaside needs from government – heritage protection and neighbourhood design guidelines? These are consonant with LPOA directions and recommendations. We look forward to working with Councillor Robinson and City staff to move forward.
Leaside Matters welcomes new volunteers.