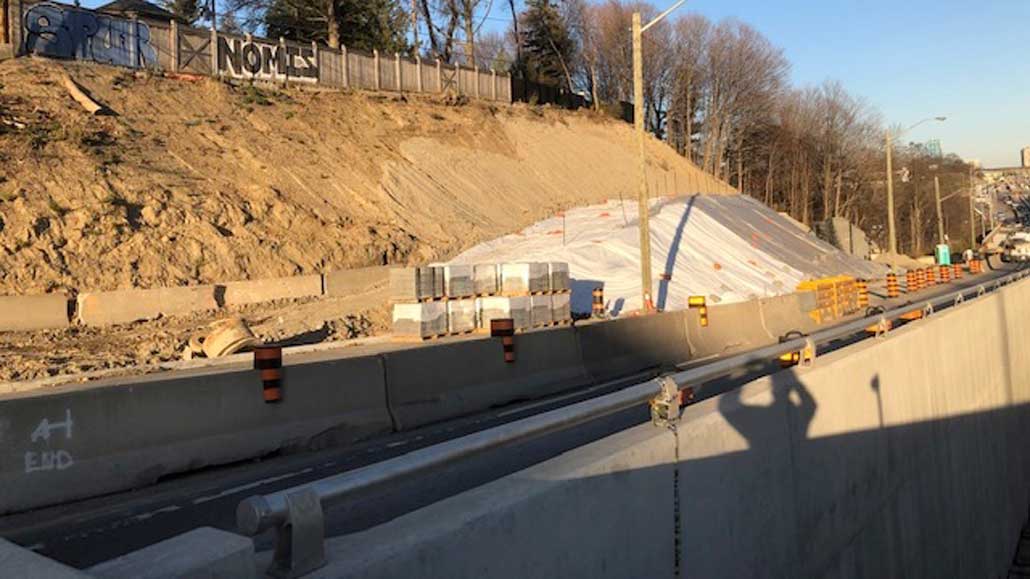 As everyone knows, the top of the ravine slope on Eglinton Avenue East, east of Brentcliffe Road and above the East Portal where the LRT emerges from the tunnel to the west, gave way on October 20, sending a large pile of earth material to the bottom of the slope, deepening the neighbours' ongoing concern from one of grief about the loss of landscape trees to one of panic (were their homes at risk?).
Metrolinx's contractor, Crosslinx, had engineers on site within an hour and Metrolinx has tried to assuage the neighbours' concerns. They say their homes are not at risk, although residents are still advised not to venture into their backyards.
The bi-monthly meeting of the Community Liaison Committee on November 9 was an opportunity for this scribbler to hear more from neighbours about their concerns. Herewith, questions from neighbours (and Metrolinx's responses):
Q. Tarps have been installed on the (bottom) backfilled area of the slope (where it is flat) but not on the part that collapsed. Why not?
A. The tarp covers the infill material at the bottom (to protect from erosion), not to protect the top of slope. (So it appears the top of the slope remains unprotected.)
Q. Is there a target date when Metrolinx will be sharing their plans on how they plan to proceed?
A. No date yet.
Q. Metrolinx continues to mention that trees will be planted "where possible" during restoration. Is Metrolinx working trees into their design and plan, or is this just left up to a last-minute decision?
A. The restoration plans are not finalized.
Q. Did Metrolinx ever consider shifting the alignment of the portal/ROW farther south (and therefore aligned away from the north ravine slope) as there is flat space on the south side?
A. This was not feasible (but no explanation as to why not).
In summary, nothing new was really learned.