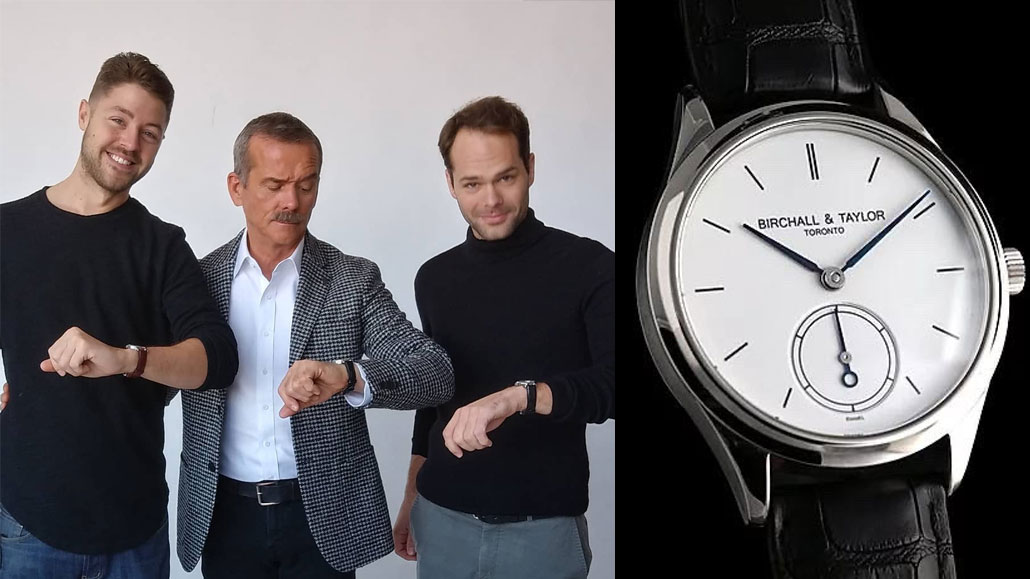 If you attended B-school in the past 20 years you may remember studying the HBR watch industry strategy cases such as "Rebirth of the Swiss watch industry," "Swatch Group: on Internet time," or more recently "Competing against bling [in China]." It's a fascinating industry that has evolved from the original invention of the sundial (circa 1450 BC) to the "wonder of its time," the astronomical clock in 1364, the Foundation of the Genevan Corporation of Watchmakers in 1601, the first wristwatch patent in 1889, the first mass-produced quartz watches in 1970, and the first Apple watch in 2015.
Should you comb through the detailed chronology of the industry (https://www.hautehorlogerie.org/en/encyclopaedia/history-of-watchmaking), the number of innovations due to new knowledge (scientific, technological) blended with experience, globalization and risk-taking has been remarkable, albeit occurring over centuries. The industry has created a great deal of value for its many stakeholders over time, and times change, making way for new opportunities. Strategy Analytics recently reported that Apple sold 30.7 million watches in 2019, outselling the entire Swiss watch industry by 9.6 million units.
Two enterprising individuals bring talent and passion to Leaside
What does all this have to do with Leaside? For starters, there are several lessons for business leaders, city planners and investors who are collectively focused on growing our local economic development platform that can be gleaned from the story I would like to tell about "Le Locle" and the Jura mountains region of Switzerland. Now a UNESCO heritage site, it is often referred to as the centre of Swiss watchmaking and arguably the birthplace of the Swiss watch industry. … However, because of the challenge of "editorial constraint" I must be brief and will focus mainly on the feel-great story that is Canadian luxury watchmakers Brad Taylor and Charles Birchall, who toil away (in microns no less, I witnessed it!) at their new workshop on Research Road right here in Leaside.
Charles Birchall hard at work on a watch component in Leaside.
These two enterprising Canadians with a passion for watchmaking first met in 2012 at the prestigious K&H Watchmaking Competence Center in Le Locle, where they earned their proverbial stripes as qualified Swiss watchmakers after successfully graduating from the 4,000-hour "Fullskill" diploma program in 2015. After a time pursuing separate opportunities overseas and at home, they decided to pursue their watchmaking dream together. Thus Birchall & Taylor was born in March 2017. Birchall notes, "We had always a similar taste in watches and loved talking about design while we were in school." Their website (birchallandtaylor.com) refers to their "intellectual collaboration." This shared expertise combined with their mutual passion drove the innovation required to design their first watch.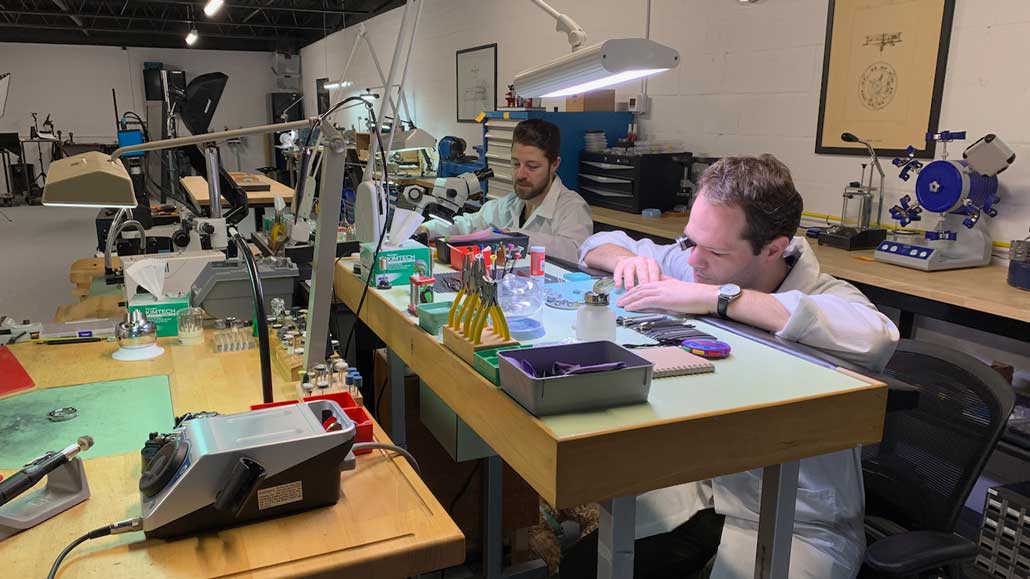 That special watch is referred to as the 'Reference 1' and it "harnesses modern design principles without sacrificing the honesty and technical skill of classical watchmaking." After initially being located in Parkdale, they moved their workshop to Leaside in the fall of 2019. Birchall explained that Leaside was the perfect location because of the light industrial zoning, close to fellow business owners who are happy to offer their help and support them, and very near to where they live. I was able to tour the workshop in early February and witnessed firsthand their attention to detail, how they treat customers, and all the equipment and specialized tools they've built up over the years. Did I mention microns? I was able to watch Birchall working on a single watch hand. It apparently takes over 20 hours of work to finish just a single one.

"Every hand is done by hand. And it takes 20 hours per hand. That's unbelievable."
Once the basics are mastered
We need more innovative and passionate entrepreneurs to choose Leaside as their centre of operation. The Birchall & Taylor logo was inspired by the trillium. In their interpretation, the trillium represents what they believe are the three facets of quality watchmaking: art, craftsmanship and engineering. I wish there were four points on a trillium because I would add "passion," especially if you are going to own the business, and if there were five, I would add "innovation." Taylor noted, "Our innovation is not just in the design and craftsmanship, the real innovation is that we're investing in the concept of local watchmaking in Canada and we are one of the first, if not the first."
There once was a watchmaking school on King St. E. established by Henry Playtner and Edward Beeton in 1890 called the Canadian Horological Institute. The school trained students in the craft of watchmaking and repair but closed in 1913. Since then there is only the French language École Nationale de L'horlogerie in Trois-Rivières. The K&H Watchmaking Competence Centre in Le Locle notes, "Once the student establishes these [watchmaking] foundations, we encourage and guide them to explore their own [unique] technical creativity and innovation. In this way, students develop the skill, knowledge and confidence to face the ever-evolving watchmaking industry. Because times change."
Do you know businesses that would benefit from moving to Leaside? Would you be interested in donating a bit of time to support our local entrepreneurs with your own areas of complementary expertise? Interested to discuss how the Swiss and the Le Locle region came to dominate the watch industry and attract wealth to the region? Let us know at .