Deposited at Library and Archives Canada in Ottawa are two unpublished diary volumes written by Canadian architect, academic and artist Wendell Lawson (1898-1952). The document is important to Leaside for several reasons: Wendell's father was Arthur T. Lawson, one of the founding members of the municipality and its first clerk-treasurer; the diary covers the years 1913 and 1914 – the exact period when Leaside was incorporated as a town; and with few exceptions, all the entries were written soon after young Wendell and his family moved from downtown Toronto to their new house at the southeast corner of Eglinton near Bayview – the current site of Leaside High School. These factors, combined with Wendell's numerous topical references and descriptions, make this a treasure-trove of information about what living in Leaside was like for a young adolescent in the early 20th century. Here are some examples:
The Lawson house
Before moving to Leaside, Wendell and his family lived at 96 St. Vincent St. (south of Grosvenor between Bay and Yonge). Starting in early March, the family – comprising his parents and two brothers, Stuart and Stanton – began gradually moving their belongings to Leaside. During the process, they sometimes stayed overnight at the home of Harvey Fitzsimmons – a member of Leaside's first municipal council and a colleague of Wendell's father. By the end of April, the move was complete as Wendell notes on April 27: "We are living up at Leaside now but sleeping at Mr. Vit[simmons]."
Wendell liked his new home and (foreshadowing his career as an artist and architect) even sketched several pictures of it. As the diary reveals, the house was more rural than urban – consistent with Leaside's farming heritage. It had a barn, stable for horses, hay loft, and garden where Wendell planted beans. It also had a "chicken house" and an orchard. They also had amenities, like telephone access and a maid; and there was even talk of installing a "swimming tank" (pool).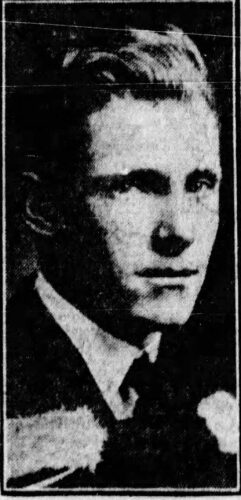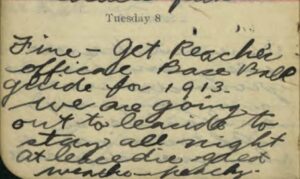 Life in the country
One of only a handful of houses, the Lawson family home was relatively isolated – which meant that Wendell and his brothers had to find ways to entertain themselves. They did so by taking full advantage of their rural surroundings. They were outdoors almost continuously. They climbed trees, picked cherries and apples in nearby orchards and went exploring and swimming in the Don Valley. In winter, Wendell played hockey and went skating and sledding – often on the hills near his house at Bayview and Eglinton, where Leasiders sled and toboggan to this day. In warmer weather, his activities included baseball, cricket, rugby, football, target practice, horseshoes, leap-frog and even walking on stilts – which he made himself. Some of the games he played are obscure today – like "pillow ball," "red line," "man polo," and a game called "Wild Men." He rode a bicycle. He rode a pony. He and his brother Stuart even rode in a cart which they equipped with roller skates and a sail. On Victoria Day and Guy Fawkes Day he shot off firecrackers.
When he wasn't outside playing, Wendell was either busy at school (he attended Brown School on Avenue Rd. near Balmoral), reading popular boys' fiction like Crossbone Island and The Swoop of the Eagle, drawing pictures, or practising his clarinet – which he sometimes played at St Cuthbert's Church on Bayview along with Stuart on the violin. In a world with no radio, no TV, no smartphones or TikTok, young Wendell was rarely bored in the Leaside of 1913.
Topical references
Among the diary's most interesting parts are Wendell's many references to contemporary people, places and events. He writes about going to the CNE and Massey Hall, watching the Toronto Maple Leafs minor-league baseball team play their opening day game against Newark on Toronto Island, marching in the Empire Day parade (May 23) and attending with his father the unveiling of a plaque honouring his late grandfather, Joseph Lawson, at the Carlton Street Methodist Church.
Equally absorbing are Wendell's Leaside references. He records in vivid detail a terrifying experience with a "bush fire" that broke out in the Don Valley near "the corner of Brent Wood and Eglinton" in mid-October. That same month, he describes preparations being made in Leaside for military manoeuvres (which he calls the "sham battle") and his disappointment when they are cancelled due to bad weather. He attends St. Cuthbert's Church in August ("the Little Church on Bay View") and again in December when he and Stuart play in a concert there. He often mentions that Leaside municipal councillor Harvey Fitzsimmons and his wife are frequent visitors to his family home. There is even a possible reference to the famous Kilgour ("Hilgors") estate north of Eglinton. Finally, in one of his most remarkable entries, Wendell records how he went horseback riding on August 7 and encountered "Lee's 100-year-old house." This could refer to the brick house built in 1829 by the area's pioneering settler, John Lea Sr. It might even refer to the log house Lea is said to have built 10 years earlier. Either way, it's a suggestive and intriguing reference.
This article has mentioned only a fraction of the fascinating historical material in Wendell Lawson's diary. Future heritage articles will hopefully contain more.