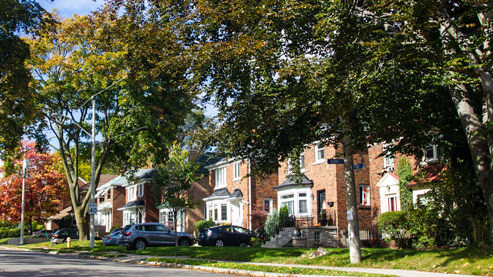 I begin this month's column on a sad note. Tom Rae has died. My LPOA colleague since 1989, Tom was a professional traffic engineer and planner who, before coming to Canada from Scotland, worked throughout the world. He had an international reputation, and generously volunteered his expertise to benefit Leaside. Those of you who have attended our traffic meetings over the years will remember Tom. Always a source of valuable ideas and advice, he is missed terribly by all of us who worked with him. The Leaside Property Owners' Association's condolences go to Tom's family, and we thank them for having shared him with us.
Before Tom fell ill, we had hoped to hold a public traffic meeting in late winter, to present the LPOA's proposed traffic calming designs for our community. I am in conversation with our traffic consultant, Gene Chartier, to plan a revised timetable for the meeting, and will report more in my next column.
Jon Burnside's Town Hall
Councillor Jon Burnside held a Town Hall on February 5th, bringing together City planning, budget and traffic staff plus representatives of the police and Metrolinx. The City was still deeply involved in the budget process, so this was an opportunity for Leasiders to express their opinions on the City budget, but I found it interesting that the attendees seemed much keener to have their say on the planning process and traffic problems than on the financial process.
Does the City even try to anticipate the impacts of constant development? Who pays for the infrastructure upgrades required by the mini-cities being planned all around us? Why are City bylaws so routinely ignored? How is it that, of 400 applications to the Committee of Adjustment, half of them resulted in permission to demolish? Why is there no – or little – coordination of construction projects, to avoid gridlock on our roads? Why has the Laird in Focus study given insufficient importance to traffic impacts on Leaside? Give priority to the Downtown Relief Line. Enforce traffic speed limits. In short, the all too eternal Leaside matters you read about monthly in Leaside Life.
We are not the only area of Toronto with these problems by any means. One does get the sense that there is a growing general dissatisfaction with the way the City "works" and a growing appetite for changes to make the City more accountable to citizens, and more quickly to public concerns.
Our next LPOA board meeting is on WEDNESDAY, MARCH 7th, at 7:30 p.m. at the Trace Manes building. These meetings are always open to the public, and take place on the first Wednesday of each month. We invite you to attend, whether for help or advice on local matters, or just to hear more about what is happening in our community. Contact us anytime via our website, lpoa.ca