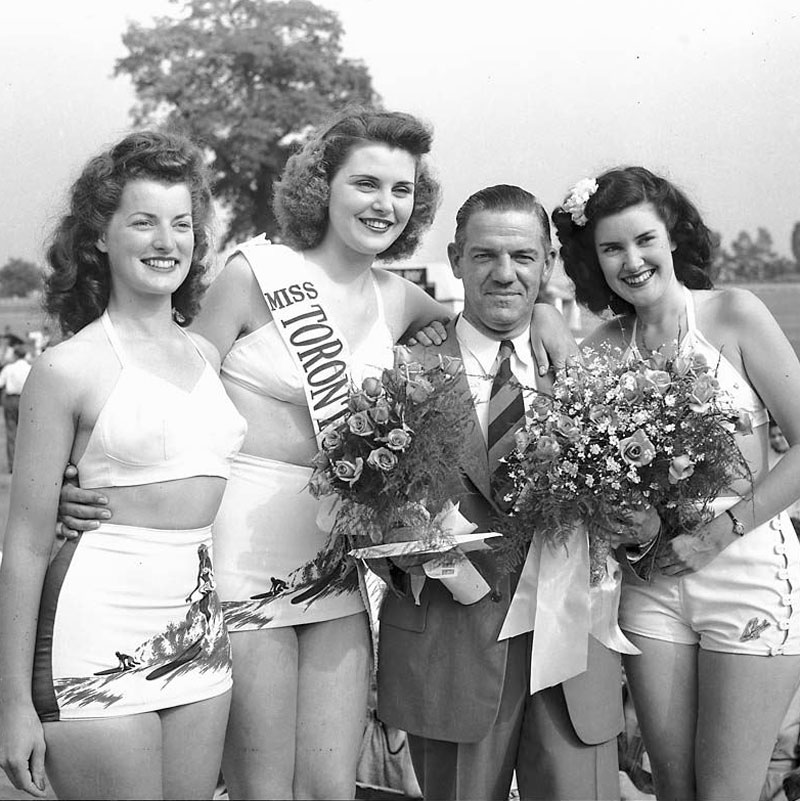 Beauty pageants may seem outdated now. But they were a big deal in the previous century, especially in the years immediately before and after World War II. In Ontario alone, dozens of contests took place annually in which young women competed for the honour of being crowned "Miss War Worker," "Miss Brantford," "Miss Danforth," or even "Miss Motorcade" – not to mention vying for the more prestigious titles of "Miss Toronto" and "Miss Canada."
Leaside was no exception. As part of its annual summer carnival, introduced in the late 1930s, the town held a "Miss Leaside" competition, which lasted until at least 1963.
This was the world 16-year-old Phyllis Webb inhabited when she and her family moved to Leaside in 1942 to live at 101 Laird Drive. As a student at Toronto's Northern Vocational School, Phyllis acted in school plays and later joined a touring company that entertained soldiers at military camps across Ontario. She did this for three years, honing her dancing, acting, singing and deportment skills in the process.
Her love of show business soon led her to enter some of the many regional beauty contests available, where she was an immediate and impressive success. Within the space of just a few years – from 1945 to 1948 – Phyllis participated in more than 20 beauty pageants – including Miss Toronto and Miss Canada. She either won or was a finalist in virtually all of them.
Her victories included being crowned Miss Parkdale (1945), Canada's Sky Queen (1946), Miss Gerrard (1947), Miss Eastern Ontario (1947), and Miss Apple Blossom (1948). When the young Leasider won the Miss Gerrard event, she received a $600 fur coat as a prize. As Miss Sky Queen, she was flown to Montreal for a screen test.
She also competed in the Miss Toronto pageant three times and finished as first runner–up twice – in 1945 and again in 1946. Acknowledging her status as a formidable competitor, the Globe & Mail observed in 1948 that "Phyllis Webb… keeps popping up in beauty contests all over the province, usually near the top."
Throughout this period, Phyllis worked as a stenographer and switchboard operator in Toronto. She also sang with the Leslie Bell Singers – one of the most popular choral groups in Canada at the time.
In 1949, Phyllis married Robert (Don) Richards at Leaside United Church and soon thereafter left the world of beauty pageants – and Leaside – to raise a family and pursue other interests, including being an active member of the Richmond Hill Curling Club and playing guitar in its band.
Over the years, she continued to work for various employers such as Canada's Wonderland, Royal Trust and the McMichael Art Gallery. She and her husband were married for over 50 years when he died in 2001. Phyllis herself passed away in 2015, in Barrie, Ont., at the age of 89 – a life well and successfully lived… fit even for a queen.
This article was guest contributed by Ted DeWelles, Leaside Heritage Preservation Society.