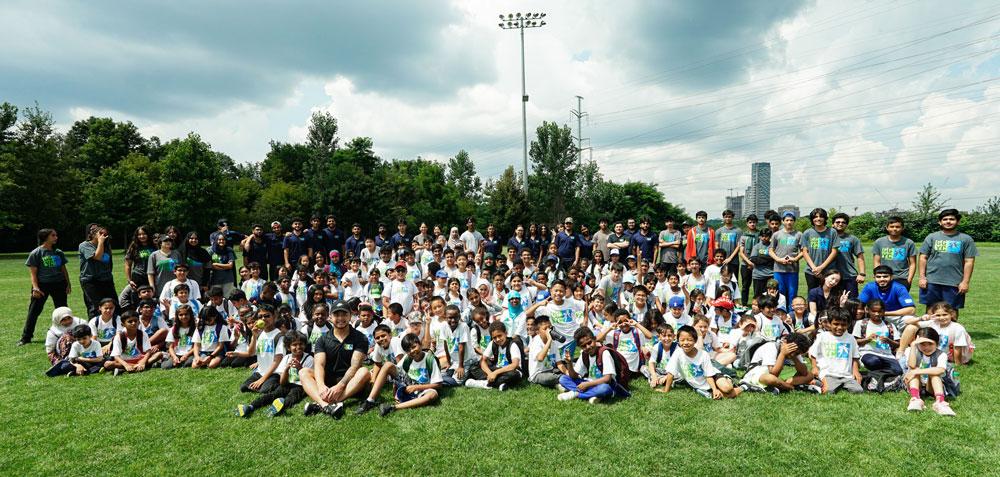 Inequity in access to quality sports facilities and enrichment programs for youth in low-income communities can lead to poorer academic performance and lack of exposure to important life and career pathways.
In 2010, a group of parents, teachers, students and community leaders conceptualized the Go Green Cricket and Sports Field Schoolyard Revitalization Project, to rejuvenate the land behind Valley Park Middle School in Thorncliffe Park to address such needs.
As fundraising efforts began, the group began offering free youth-led programming in 2012, and in 2015, the Go Green Youth Centre (GGYC) opened its new facilities.
The yard at Valley Park now houses a multi-sport cricket field, a multi-sport court, cricket batting cages, an amphitheatre, butterfly meadow, urban forest and demonstration wetland. With the addition of LED sports lights in 2017, the GGYC became Canada's first illuminated cricket field.
With ongoing fundraising and the support of a strong board of directors, the GGYC now offers free year-round programming to children aged 7 and up throughout the school year and, as accredited Camps Ontario Association members, March Break and summer camps.
Free programming includes sports, academic tutoring, media arts, native plant and vegetable gardening, music, dance, cooking and nutrition, computer programming and robotics, financial literacy, visual arts, résumé writing and career planning.
The programs are designed and led by local youth aged 15 to 30. Nearly 400 youth, in fact, have secured paid employment in the past decade with a majority of those having previously been volunteers and campers at GGYC. Tens of thousands of kids have gone through the various programs and continue to do so.
This year alone, 400 kids from 7 to 13 attended summer camp with enthusiastic and skilled volunteers and staff leading them in their daily activities. Leaders in Training (LIT) programs are also offered for 14- and 15-year-olds, many of whom go on to become staff in the program.
The computer coding section of camp this past summer, for example, was led by local postsecondary students who are studying software engineering and electrical engineering. Kids were taught multiple coding languages to create their own games.
During the school year, GGYC has been able to hire more than 80 senior students from neighbouring Marc Garneau High School as tutors. Tutoring is offered in multiple subject areas for students in Grades 2 to 10 from Flemingdon Park and Thorncliffe Park.
GGYC's Executive Director Talha Malik, a graduate of Toronto Metropolitan University's Commerce program, is a former camper who arrived from Pakistan with his family at the age 9. Malik, along with senior manager Michael Ma, is dedicated to, as Malik says, "what works the best for our community needs and how we can do it with our limited resources." The two note the emphasis on safety and "making long-term relationships and memories" through the GGYC programs.
Safi Ur Rehman, one of the cricket coaches, who started as a camper, describes GGYC as a place which gives him "a sense of home."
Not only is GGYC a much-needed inclusive community hub for outstanding multi-sport, tutoring and a myriad of other programming, it's a space where kids feel welcome, have fun, learn and are empowered to become confident, strong leaders in society.