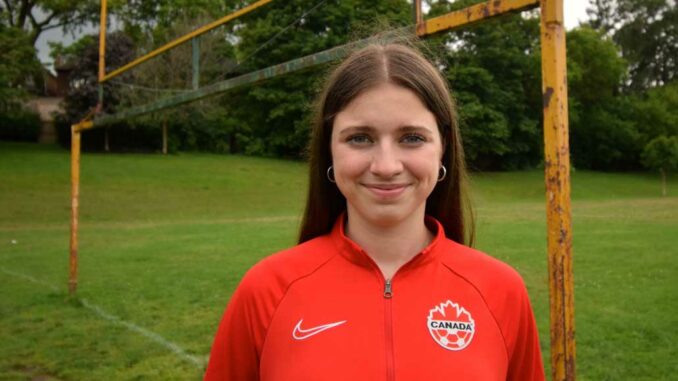 Kayla Briggs certainly isn't the first youngster to run around on the soccer fields of Leaside dreaming of one day playing in the World Cup.
She just happens to be making her dream come true.
Briggs, 18, who began playing the game at age four with the Leaside-East Toronto Soccer Club, is a striker with Canada's Under-20 women's national team. In 12 career games for Canada's U-17 and U-20 teams, she has seven goals and two assists.
That tally includes two goals and one assist at the CONCACAF U-20 Championship in late spring in the heat of the Dominican Republic. Briggs scored in the semi-final against eventual champion Mexico and set up the crucial tying goal late in the second half of the third-place match against Costa Rica as Canada went on to a 5-3 win in extra time to qualify for the 2024 FIFA U-20 Women's World Cup in Colombia in September of next year.
"I'm always excited to put the ball in the back of the net. It's what I love to do," Briggs said in a recent interview on the Leaside High School field where she first played organized soccer.
"But doing it for Canada makes it that much more special. Each time, it's so exciting and I feel so proud."
Briggs, who came off the bench at the start of the second half in that decisive game with Canada down 3-2 to Costa Rica, says those moments are the ones that bring out the best in her.
"I play better under pressure, knowing something is at stake," she says. "The adrenalin. The excitement. The opportunity to qualify. I treated it like a cup final."
A gifted all-round athlete, Briggs played soccer for the Leaside Tigers and AA hockey for the Leaside Flames. But as she entered her teens, she earned a spot on a competitive team at the North Toronto Soccer Club – and had a tough decision to make.
"Playing Leaside soccer and Leaside hockey were a big part of my childhood – my mom (Angie) coaching me in soccer and my dad (Bo) coaching me in hockey," Briggs said. "I always think back about all the coaches, and all the players I played with, especially now as I see my old teammates on social media talking about where they're going to university, which is really cool.
"I loved both sports equally. They were my favourite things to do. But with soccer I got a really good opportunity to join North Toronto Nitros and I knew they would help take me where I wanted to go."
It's definitely turning out that way. From the Nitros, Briggs was invited in January 2022 to join the Ontario National Development Centre, one of the full-time programs across the country run by the Canadian Soccer Association and various provincial associations to develop national team players.
Briggs graduated from Monarch Park Collegiate Institute in June and earned a scholarship to Providence College in Rhode Island, where she will study biology and play Division 1 soccer on a team that includes fellow Canada U-20 members Thaea Mouratidis and Ella McBride.
Looking ahead, Briggs continues to dream – about one day soon playing for Canada's senior women's team on the game's biggest stages, including the FIFA World Cup and the Olympics. And, when that day comes, she knows her family and community will be cheering her on.
"I've had so much support getting to here," Briggs says. "Especially my parents. My dad's the hockey guy, my mom's the soccer lady, but when I chose soccer, my dad was always super supportive, even though he likes hockey better.
"But I think I've changed him to like soccer a bit more now."