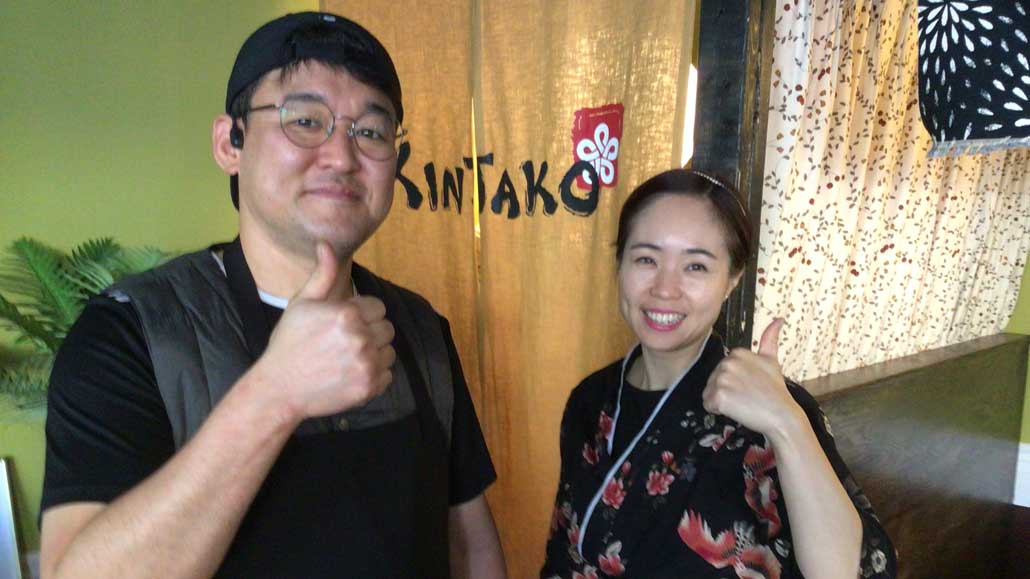 Kintako Sushi Japanese Restaurant has been serving delicious Japanese food at 214 Laird Drive since 2014. They made it through the restaurant lockdowns of the pandemic, so it seemed like a good idea to visit and see how they fared.
Much to my surprise, Kintako has new owners, as of July of this year – Kris and Rosalie Lee, originally from Seoul, Korea. Like the previous owners, they too seem to be enjoying success at this location. When I interviewed them at what was to be a quiet time, mid-afternoon, four separate sets of customers came in – one, for sure a regular, as she knew exactly what she wanted from the menu, and another a new customer, on her second day in a new job in the neighbourhood, who announced as she was leaving, "Thank you. I'll be back."
It also happened to be the day that Kris and Rosalie's daughter, Amy, was spending the day with them as "Take Your Kids To Work Day," for a Grade 9 assignment. It was Amy who encouraged the "thumbs-up" sign from her parents for the photo with this article.
In Korea, Kris originally worked as a construction manager at his father's company. During his military service, he was placed in the kitchen, and discovered that he really enjoyed preparing food, and was good at it. Rosalie says, "We didn't know he was a good cook."
Once their three children were born, they really wanted to leave Korea for an English-speaking country, where there would be good opportunities for this next generation. With her background in daycare, Rosalie got permanent residency for the family in Canada – their first stop in 2014 was Halifax. Kris was able to find restaurant work, and continued to learn more about specialty cooking. He realized that he had a real talent as a sushi chef – "good hand skills, a good sense of taste, an artistic touch, and an ability to do a presentation nicely."
Kris found work at Kintako when the family moved to the Toronto area three years ago. The previous owners decided to sell and move to a franchise north of the city this past summer. Their timing was perfect for Kris and Rosalie, who were looking for a business they could run and own. The previous owners believed in Kris and Rosalie and were willing to sell them the restaurant, along with its name. The "kin" part means "gold," and "tako" is variously "octopus" or "alchemist." Either way, a good omen.
Kintako has proven to be more than just a good business for the Lees. "The neighbours are nice, the neighbourhood is attractive, the customers are gentle and nice, the Laird LRT station is nearby and opening soon, there are new condos nearby, we are proud of Kintako's reputation," says Rosalie. "We believe we can grow here." Rosalie trades being front-of-house some days with being at home in Vaughan other days with their children. On her home days, another woman does restaurant duty. Also important for the business are the two other chefs in the small kitchen – a "kitchen chef" and a "maki man."
Luckily, many of their suppliers deliver regularly, but being open continuously from lunch through dinner, plus the need for other shopping, makes for long days. Kris and Rosalie are only too happy to put in the work to pursue their dream.