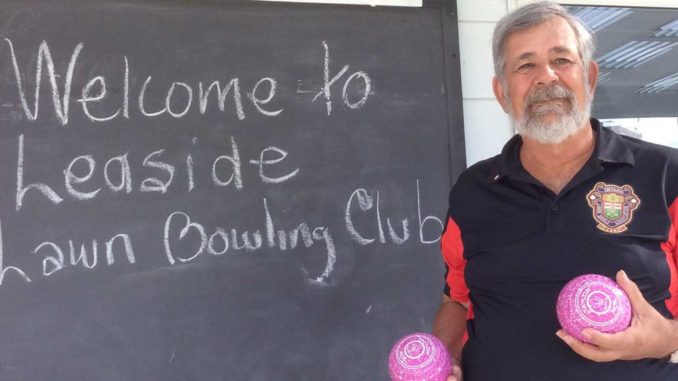 How does a relative novice to lawn bowling become the first member of the Leaside Lawn Bowling Club to become president of the Ontario Lawn Bowls Association?
Phillip Francis grew up in Tasmania, was employed by the Defence Department for 20 years, and then as a civilian in senior administrative and management roles. In 1984, he met Adele, a Canadian working in Sydney. Two years later, they decided to move to Canada if he could find a decent job. His timing was right, and he enjoyed a successful career with major telecommunications companies.
Phillip expected that with retirement he would play a lot of golf. Surgery on his right arm put paid to that idea, but as a left-hander, he figured he had other options. At the time, he and Adele lived at Eglinton and Bayview, close to the Leaside Lawn Bowling facilities behind Leaside High School. He decided to give lawn bowling a try in 2006, and Adele joined him a year later. He insists he is never going to be a great bowler, but he enjoys the sport, and its sociability too. He describes the sport as "low impact and low cost."
Gone are the days when everyone had to play with heavy black bowls. Now, there is wide variety in the weights, the colours, and even in competition, where those playing against each other can choose the style of bowl they prefer.
While he and Adele were enjoying playing with the club, he couldn't let his past experience with management go to waste. He was first elected as a vice-president of the club in 2007, followed by president for four years starting the next year. During his time, the clubhouse was renovated to the tune of approximately $300,000 under the Federal Recreation Infrastructure Program. Various organizations have used the club facilities, with the help of club volunteers, to take part in money-making team-building programs.
The club also helps other not-for-profit organizations with their fundraisers – most notably the Cystic Fibrosis Association.
Phillip was first elected to the board of directors of the Ontario association in 2015 and now starts his two-year term as president. There are 118 clubs in Ontario, with some 6,700 members, and many of Ontario's lawn bowlers are competitive nationally.
Phillip is also busy with another lawn bowls project. What is now known as the Commonwealth Games, originally the Empire Games, held its inaugural event in Hamilton, Ont. in 1930 where lawn bowling was a core sport. Phillip is hoping the 100th anniversary games will return to Canada – with lawn bowling a key event.