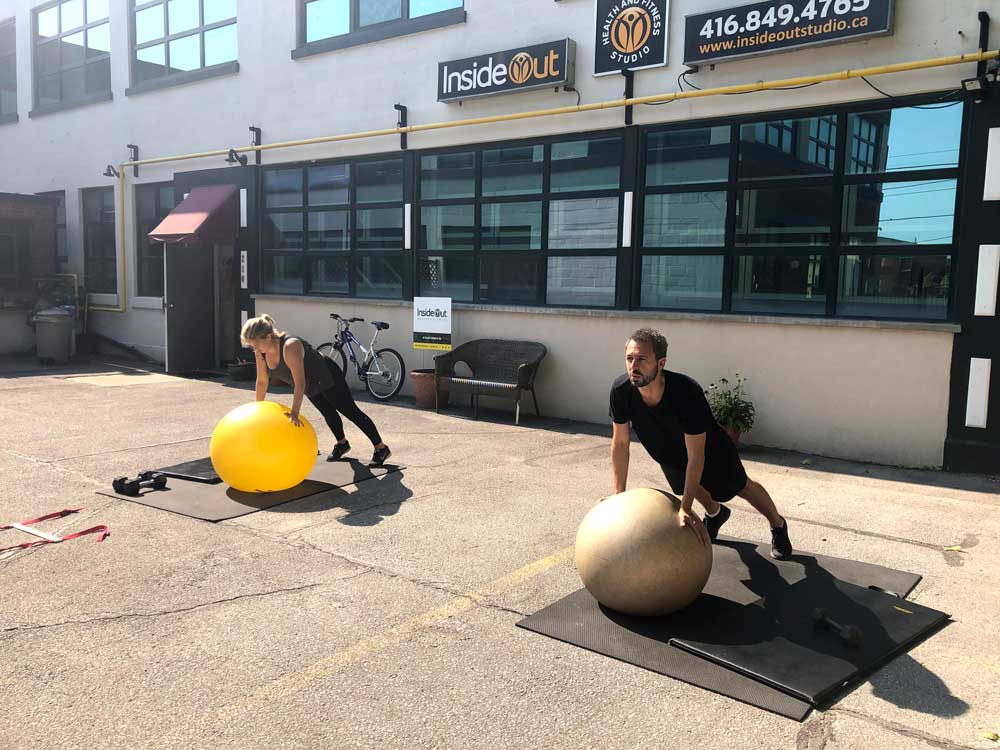 Everyone knows the coronavirus lockdown has been bad for business. And the businesses that suffer most are those offering face-to-face service, like restaurants…and fitness facilities.
But one Leaside business in the most vulnerable business sector has managed not only to weather the storm, but to wring a profit from bad times. Given a lemon, they made – and sold – lemonade.
The local business bucking the trend is InsideOut Health + Fitness, a gym at 210 Laird Drive, and they managed to prosper where others failed by adopting two related business strategies: expanding their range of services to match the special conditions imposed by the lockdown – offering online home-based virtual fitness coaching, for example – and moving some community fitness programs outdoors to the courtyard outside their facility.
So far, it's working. They have added staff, after facing some cutbacks earlier in the year, and have been named one of the top nine fitness facilities in Metro by the Toronto Star. Most important, at a time when staying alive is a triumph, they are still in business 15 years after first opening their doors, which makes them the longest-running gym in Leaside.
InsideOut Founder Barry Samuel says he had already started to shift the focus of the business to online and outdoor programs before the pandemic struck – a move which helped him through the crisis.
"The epidemic made many people afraid to leave their homes, which meant we had to cut expenses and staff," Samuel says. "But we also found we were attracting new clients, people who had been at larger gym facilities."
In general, Leaside businesses have suffered from the pandemic, but not as much as those in other parts of the city, according to Henry Byres, coordinator for the Bayview-Leaside Business Improvement Area.
"This might be due primarily to the creativity and adaptability of our businesses," he says, "and to the loyalty of our local residents. As we came out of lockdown this past spring it was obvious that our customers and clients were glad to be back on Bayview/Laird."
InsideOut founder Samuel was happy to show them the unique services his gym is providing.
"What we offer is all about balance…what is internally important to you and set those priorities and plan out and make those changes," he says.
In 2005, InsideOut first opened its doors on Millwood before relocating to Laird, where Samuel and his team are able to take advantage of the large courtyard in front of the building.
"We are a bit of a hidden secret yet quite visible from the street. We have refined our offerings but maintained our basic philosophy of helping support individuals through coaching and showing them tools like life skills to achieve their overall life and fitness goals. As a result of the pandemic, we have rededicated our focus to having people really think about preventing sickness and being resilient mentally and physically." Find out more at insideoutstudio.ca.