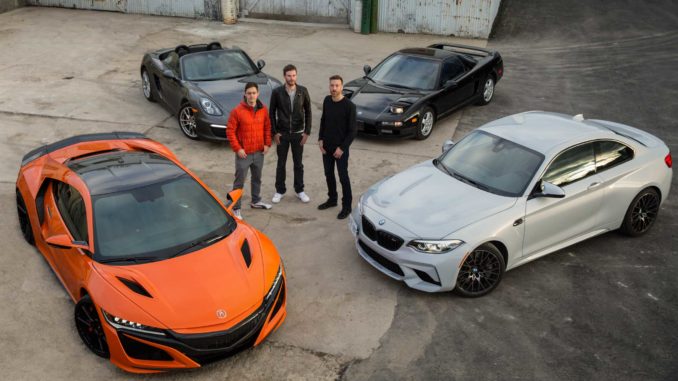 James Bond would love this. If the day ever arrives when 007 loses his Aston Martin, he can still motor in fantastically expensive high-end automobiles – as long as he comes to Leaside.
Perhaps the gorgeous Italian styling of the Alfa Romeo 4C Spider: from zero to "what seems to be the problem, officer" in 4.1 seconds.
Maybe the BMW M2 Competition model, a fuel-injected in-line six-cylinder double turbo-charged marvel of German engineering.
Or a favourite of classic car buffs: the prancing horse on the Ferrari F355, built before emission controls ruined performance, with a V8 engine that takes all of 13 seconds from a standing start to the quarter-mile pole.
For car enthusiasts, all these and more – with new choices arriving regularly – are available to members of a new club in Leaside, RCLUB.
RCLUB is a drivers' paradise offering members the chance to test an ever-changing fleet of luxury cars without paying the ultra-high prices these classics normally command.
Club members can reserve and drive any of the high-end models in the upscale Commercial Rd. clubhouse – part garage, part showroom, part event space. Members also enjoy unique automotive events, and share experiences and continued learning with a passionate, like-minded community.
The club, the inspiration of Adam Westland, Noah Barlow and Igor Denisov, opened this summer with a membership list that's growing.
"We've almost completely sold out the first block and are working towards opening up a few more seats as we build out the winter fleet," Westland says. He is club CEO as well as a co-founder.
Membership costs $9,000 to $15,000 annually, depending on how many days you want to drive the cars. That gives members access to a rotating fleet of vehicles that include a vintage Porsche 911, a 1966 Ford Mustang, an older Acura NSX supercar, and a rare 1988 BMW "Sport Evo" M3, as well as the Alfa, Ferrari and posh BMW.
Potential RCLUB members must be at least 29 years old and have a squeaky-clean driving record. The membership fee includes insurance for drivers using the Club's cars.
Why Leaside?
"Leaside has such a great history with a rich automotive culture that we instantly fell in love with the community. Its central location and proximity to multiple highway exits is also a bonus for blowing out of town before the traffic.
"People are owning less, so we feel this is the right opportunity for them to come in and enjoy the cars without the hassle of ownership. We don't think there's anything else like this in the city," he continued.
The basic idea of the club is an extension – in a much higher tax bracket – of the car-sharing phenomenon that has captured North America.
"Share" is what RCLUB does; it brings together people who share a passion for driving and gives members a chance to drive dream.