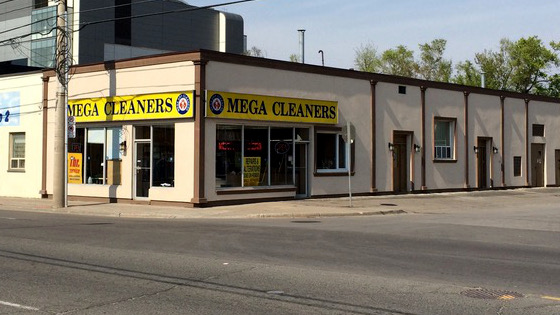 Before the Japanese celebrate the new year, an important end of year ritual is osoji (a.k.a. the major cleanup), which provides the opportunity to welcome the incoming year with a clean slate. Never too early to get a head start, I literally armed myself with a closetful of clothing and headed across the street to Mega Cleaners at Laird and Canvarco.
Fresh off the three-day Toronto Global Forum conference at the Royal York (theme: navigating a world in disruption – technology and geopolitics), I was keen to learn more about what changes might be affecting the reliably traditional dry-cleaning business. Certainly, it's no secret to analysts that revenue and profits in this sector have been declining steadily for the past 20 years. According to Statistics Canada, in 2016 there were 2,491 dry cleaning and laundry services operating in Ontario, which means there was one for every 5,700 residents. In Leaside, we're blessed with 11 dry cleaners, or one for every 1,500 residents. Do Leasiders have more clothes that require that special touch?!?
With 10 employees, Mega Cleaners is a family-run business with 60-plus years of dry cleaning and service expertise across two generations. After graduating with a degree in chemistry from U of T (1995), John Gatsis (now the general manager) assumed the role he was groomed for, working alongside his brother Chris and parents Angelo and Roula. The Gatsis family also operates a "depot" at Danforth and Jones, where items for cleaning are collected and brought to the 3,000-sq. ft. primary facility here in Leaside for cleaning. John's father came up with the name when the city amalgamated the six boroughs into the "mega" city of Toronto. It didn't hurt that mega is a Greek root word meaning large, great and mighty.
Times have changed…
The heyday was in the 1980s
"Thirty years ago it was much cheaper to clean clothes…now the costs are much higher and new regulations are so strict it is a much more challenging environment to operate successfully," John explained. In addition to the cost and regulatory matters, there are several consumer shifts that have also taken their toll. More advanced washers and dryers in the home, technological changes in fabrics that do not require dry cleaning or pressing, a more casual approach to business dressing, and an overall "demonizing" of the industry by environmental agencies, are all factors that the family must contend with. Putting on his chemist hat, John offered to explain to me the chemical intricacies and minutiae of the environmentally-related arguments of water-based dry-cleaning solvents versus traditional (pros and cons), but I politely declined – I'm sure the offer is open for any readers so inclined.
To make matters worse, there is the allure, for consumers at least, of services such as exclusivedrycleaners.ca, the perky start-up that offers to pick up and drop off your dry cleaning for no cost. Sadly, as a "depot" only, they outsource the actual cleaning to facilities' operators such as Mega (squeezing out all profit in the value chain), and there is just no margin in that model for those who have made the capital investment in the actual equipment rather than just focusing on the "last mile" and marketing panache. Added to that is the risk associated with any lost or mixed-up items both for the contractor and the customer. "Death by a thousand cuts" is how John sums up the general outlook for the industry.
Mega's alchemy – the secret that turns lead into gold
So how does a local, family-run business navigate the disruptions of our modern age? Well, quite simply they play to their strengths. As one of the last remaining walk-in laundry plants of size and scale in the surrounding neighbourhood, they are uniquely positioned to offer same day service – "in before 11 a.m., ready by 3 p.m." and "Leaside's clothes stay in Leaside."
When asked about the effects of local development issues, John shrugged off the street closures on Laird and the disruption of new condo construction, replying, "We can't stop the City's effort to intensify Leaside so we have to roll with the punches. Eventually all this construction will subside and we'll get back to a more normal way of living and just maybe…our business will benefit if we outlive the storm." Obviously, he's aware of the incoming 33 Laird development (Organic Garage, pre-school, shops, 127 parking spaces, etc.), which is located just across the street from Mega on Canvarco, and is wondering just what may be in store for the rest of Canvarco (stay tuned…).
Another weapon in the Gatsis family toolkit is their attention to personalized service. As a local family-operated business, the personal accountability is undeniable and there is considerable dependency on word-of-mouth referrals, which doesn't come without consistently meeting expectations: from Roula's expertise overseeing alterations and John's listening to customers when they have unique problems, to gladly putting your cleaned items in an Uber or Lyft for delivery.
Whether or not U of T's chemistry program taught John the hidden secrets that purportedly turned lead into gold, I believe the real alchemy here in keeping the local business afloat is less to do with the technologies of the day and more to do with the fact that being "local" and "family-run" do not necessarily mean you can't compete. In my humble opinion, the secret formula here just might be the very fact that the business is local and family-run. Especially when operating in a great community that has a history of delivering customer loyalty. The fact that they know my name when I walk in the door means something to me.
Cheers! Wishing you and your family a healthy and happy new year. Now let the cleaning begin!
Have you used exclusivedrycleaners.ca? How important is it for you to support local owner-operated businesses so they remain in Leaside? Have you asked your dry cleaner about the changes they have made to help protect the environment? Let us know at .