Freedom. Independence. Confidence. These are the feelings people often recall when you ask what getting their first bike meant to them. And that's precisely what the Carter and Psarras families hoped to inspire in their children when they chose to make cycling a family affair.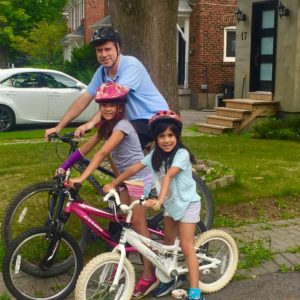 A natural progression
Cycling with kids was a natural progression for the Carters. When James and Sonya moved to North Leaside in 2006, they discovered the Don Valley trail system. As the family grew, the kids were taken along in a bike trailer. "Once the kids could ride by themselves it really opened up where we could go as a family," says James. Clara, who is 7, has been cycling for two and a half years, and has mastered the hill out of Serena Gundy Park. Six-year old Sofia has been riding for just over a year and takes great pride in demonstrating how quickly she can stop when riding fast. The family has done rides of up to 14 kilometres and rented bikes on a recent vacation to Martha's Vineyard so the whole family could tour around.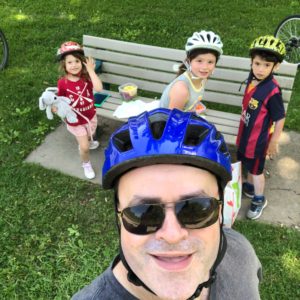 A new obsession
The frustration of his commute downtown prompted Dean Psarras to give cycling to work a try. He soon discovered the nearby Don Valley trail system and the convenience of commuting by bike on residential streets. So when his children were old enough, he wanted them biking too. Audrey, at age 8, already has strong enough bike handling skills to tackle mountain bike trails in E.T. Seton Park and low-traffic residential roads. Six-year old Christopher is always pushing to keep up with his big sister, and four-year old Leah is learning the basics. With the arrival of twins Matthew and Penelope, Dean and his wife Sandy already have a bike trailer for when they are a little older. As Dean notes, "Having the kids out on rides has been great. We've explored our neighbourhood and ridden the trails to Evergreen Brickworks, Edwards Gardens and the Science Centre."
Park. Sidewalk. Road.
In Toronto, children age 13 and younger can ride on the sidewalk and that's where the Carter and Psarras kids mostly ride, with a parent on the road beside them. Being competent riding on the road is an important goal and, eventually, the parents would like to see their children biking to school.  But as Dean explains, "To teach a child to swim, you wouldn't start in the deep-end of the pool." James advises to begin in the park on the grass, moving onto the park trails and then the sidewalk when kids are ready.  Both parents stress the need for courtesy when riding on the sidewalk. Dean says, "Remind your kids to act like a guest on the sidewalk and always give pedestrians the right of way."
Teaching children to ride a bike is not without challenges but these parents see the payoff in acquiring a life skill that will provide options and opportunities throughout their children's lives.