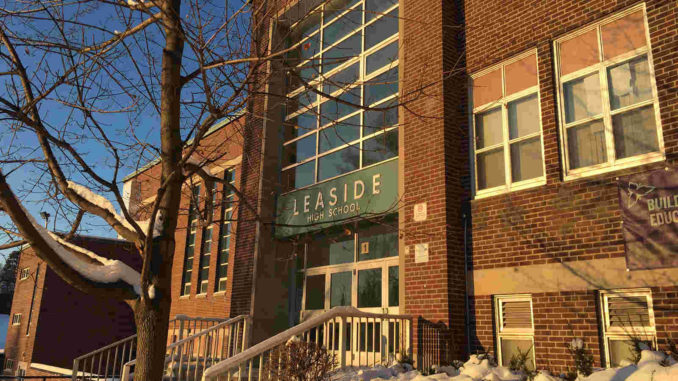 Congratulations to Leaside High School's class of 2023! According to Christina Meyer, guidance counsellor and co-chair of the scholarship committee, the class has done "a great job at navigating their way through high school" and as a group have "risen above the impact of COVID-19 to show their grit, resilience and perseverance." They have also been able to participate in extracurricular activities again and "truly shine …. Through their exceptional volunteer experiences, they have shown that they are a group of caring individuals who will show their true Leaside spirit moving forward in life."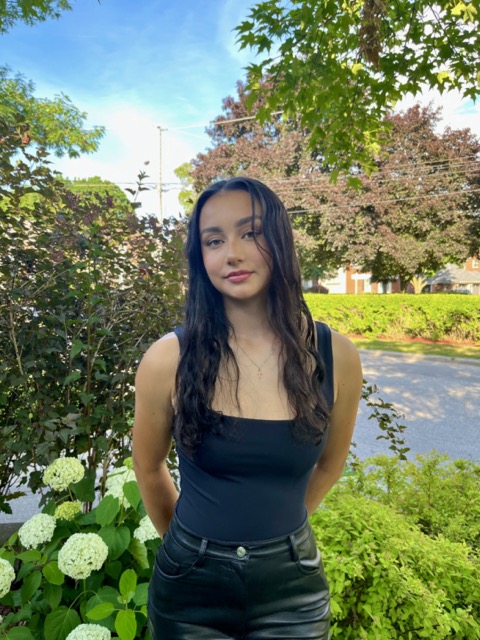 Reilly Cattell started playing rugby on Leaside's team in Grade 9 and felt an "instant connection with the game and community." She is now involved with Team Canada and says she feels passionate about the game because it makes her feel "strong and tenacious" and challenges her to accomplish "self-driven goals."
Reilly, who served as captain this year, points out that the team won the Rugby Sevens championships every year there was a season. Not surprisingly, she was the recipient of three athletic awards this year: Female Athlete of the Year, Rugby MVP and the Eric Liddell Rugby Trophy.
Reilly will play rugby when she attends the University of Western Ontario this fall. With a final average of 94%, she will start out in science and then enter the Ivey Business School in third year, earning a dual degree in science and business, the two areas she hopes to combine in her career.
Her other school activities include serving as vice-president of the Athletic Council, and taking part in the Science Club, Charity Week and ACT, a group that works with neighbourhood charities.
Outside school, Reilly was captain of the Toronto City Rugby Club and was a caregiver and coach for children. This summer, she is working with a group called Top Sports Coach, teaching skills to future athletes and organizing activities.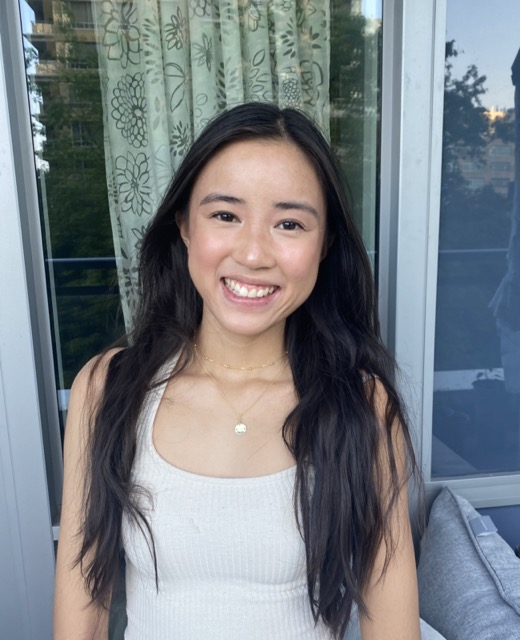 Isabella Ing achieved an impressive Grade 12 average of 96.7% and won the award for the highest mark in biology. She will be attending McMaster University in the fall for life sciences and received an entrance scholarship. She was attracted to McMaster for its science-oriented and diverse culture and plans to pursue a career in pharmacy or health administration after obtaining an MBA.
Isabella credits the supportive and positive staff and students at Leaside with helping her to become more outgoing over the years. Her favourite activity was the All Girls LanceBotics Team where she acted as a builder and mentor, enabling her to develop her collaborative and leadership skills.
These skills were further enhanced by Isabella's experiences working in the food bank and as a tutor with the Neighbourhood Link Support Group. She was also a summer volunteer at the Ontario Science Centre helping with experiments and organizing the children. Last summer she was a camp counsellor at Camp Green Acres in Markham where she supervised campers and was the gold medallist as the best counsellor in her unit. She is returning there this summer.
The camp counsellor experiences had such an impact on Isabella that she changed her career path from engineering to healthcare, a field where she can help others more directly.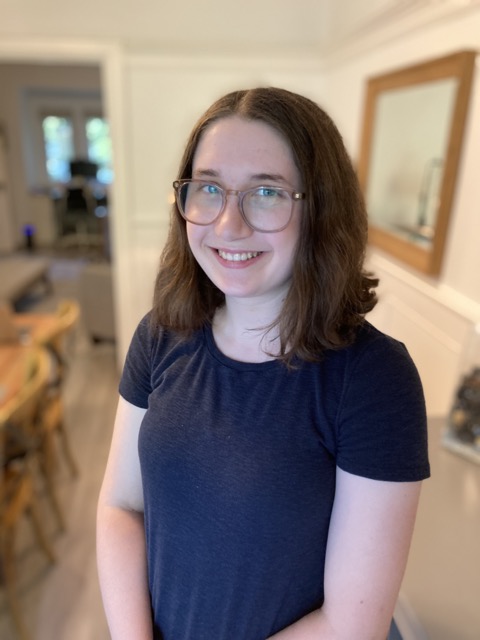 Maura Newman has always wanted a career in cooking and baking. She was inspired by her father's passion for cooking. He encouraged her interest by having her serve as his sous-chef when she was growing up. In Grade 11, she did a co-op placement at Epi Bakehouse on Bayview and the bakery then offered her a part-time job.
While working at Epi, Maura took part in a variety of activities from merchandising and customer service to preparing cookie and scone dough, assisting the baker and making fillings for pies. She enjoyed this experience so much that she decided to take the Baking and Pastry Arts Management Program, a two-year diploma course, at Humber College, this fall. In the future, she hopes to work in a hotel or bakery.
In addition to earning a Grade 12 average of 94%, Maura took part in several activities such as ultimate frisbee, the cooking club, stage crew and the Reach for the Top team. She also plays the guitar and volunteered for Look Good Feel Better and church sales.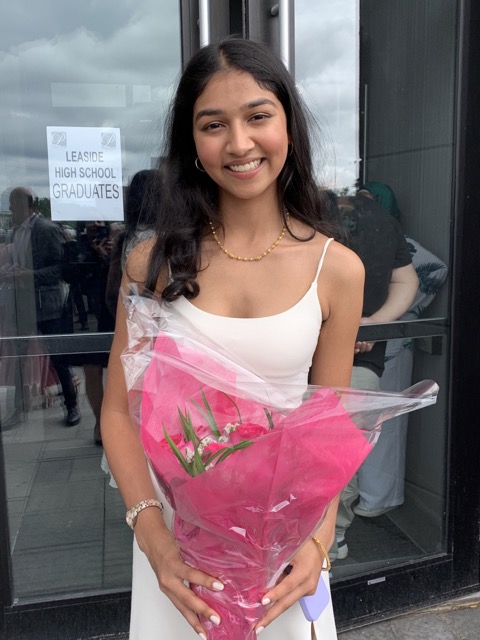 Savita Passi was chosen by her peers as the valedictorian for this year's graduating class because of her outstanding academic record and high level of involvement in extracurricular activities. In her speech, Savita reviewed the highlights of the past four years, commented on the impact of Covid, thanked her teachers and reflected on all the meaningful experiences the class had shared.
Savita is off to Western for business with early acceptance to the Ivey Business School in third year. She received an Entrance Scholarship as a result of her 95.5% average. When she finishes the program, she plans to work in retail and obtain a Master's degree in finance or data analysis.
These career aspirations are closely related to Savita's many extracurricular activities. She was part of the Junior Achievement Club, where students formed and marketed a company, and was an executive member of the Investment Club, which studied investments and simulated a stock market. Savita also had roles as a junior convenor and treasurer on Student Council, worked on the VexRobotics team as a builder and acted as a peer tutor.
Outside school, Savita has completed Grade 8 courses in piano and earned the Bronze Cross and Medallion in swimming as well as participating in Kathak, an Indian Classical Dance Group. Her most memorable summer experience was the SHAD Summer Program in 2021, a STEAM enrichment program at UBC.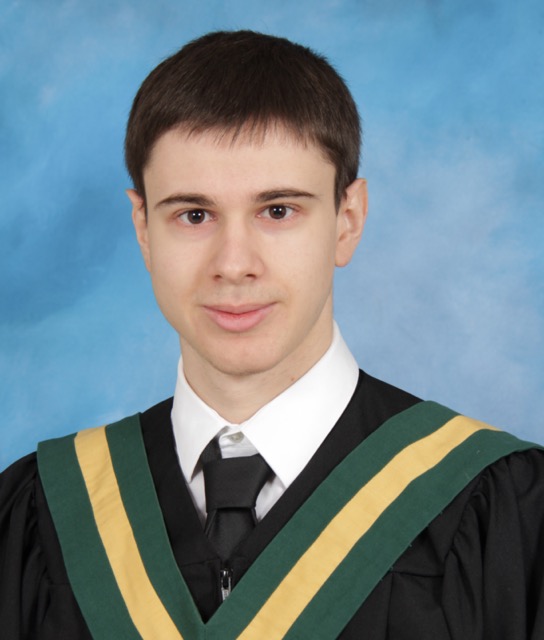 Dimitar Toshev capped off an impressive high school career with an impressive Grade 12 average of 97.4%, the highest average in the class, as a result of which he won both the prestigious Governor-General's Academic Medal (Bronze) and the Norman McLeod Scholarship. He also won awards for the highest marks in Physics, Mathematics and Extended French. In addition to the Honours Certificate of Bilingual Studies, Dimitar earned the DELF certificate granted by the French Ministry of Education for his French skills.
This fall, he will be attending Victoria College at the University of Toronto in Computer Science. He hopes to increase his knowledge of new technologies and pursue a career in that field.
At Leaside, Dimitar was the founder and president of the Chess Club. He managed the weekly meetings, offered lessons and organized tournaments, including one for all grades that attracted 50 participants. He also acted as a peer tutor in math and French.
Outside school, Dimitar's interests include video games and coding. This summer he is participating in coding workshops to create programs for a variety of uses. This activity was sparked by his computer science courses where he enjoyed the cooperative environment of sharing work with others.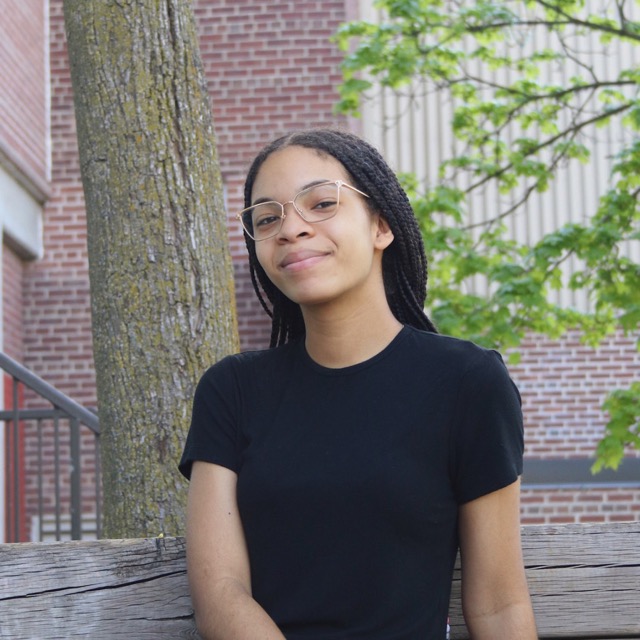 Kamiylah Tynes-McKenzie is on her way to Western to study medical science and hopes to attend medical school with the goal of becoming a neurosurgeon.
Kamiylah was the founder and president of the Black Student Alliance, coordinating and directing meetings and events to raise awareness of Black issues and to empower Black students within Leaside. She was also the founder and president of the Indigenous Student Group, performing a similar role. Kamiylah was the primary coordinator of Leaside's first two Culturefests and in Grade 10 acted as the moderator for a presentation by Indigenous leader, artist and activist Elder Dr. Duke Redbird.
Because of all these accomplishments, Kamiylah received the Black Excellence Award in 2022 for Community Leadership from the TDSB Centre for Black Excellence.
Other school activities include roles as junior convenor and communications officer on the Student Council and basketball playing, while her outside interests include volleyball, dance and music. Another rewarding experience was an internship with CurEthica's Fundraise InternCruise in 2021 where she won the Outstanding Intern Award. Kamiylah also served 1,200 community hours as a volunteer at Michael Garron Hospital, the Flemingdon Library, and her church.
Kamiylah recently received a unique award and mentorship opportunity. First, she received a ONE City Scholarship from the ONE City Education Society for students "who have excelled academically despite facing substantial obstacles." In addition, she is participating in a summer mentorship program at U of T's Temerty Faculty of Medicine to give students of African or Indigenous ancestry a chance to explore health sciences.
We wish all these outstanding Leaside students great success in the future.