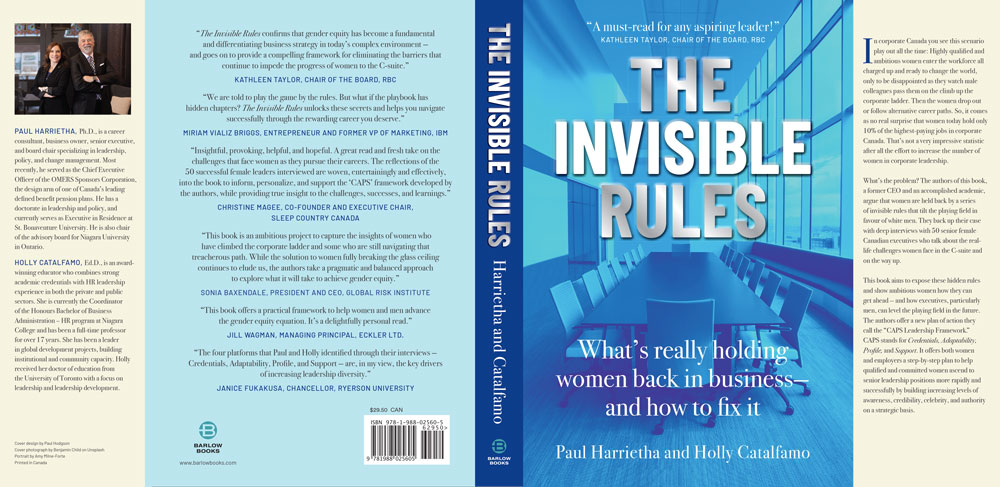 Long-time Leaside resident Paul Harrietha, PhD, has just published The Invisible Rules: What's Really Holding Women Back in Business – And What to Do About It (Barlow, 2021). 
Despite all the positive press and growing corporate commitment to diversity and inclusion these days, the march toward gender equity in Canadian workplaces continues to progress at a snail's pace. At last count, less than four per cent of CEOs at Canada's 100 leading companies are female – and women hold only 10 per cent of the highest paying jobs in corporate Canada. That's hardly equitable. And it's a growing frustration for aspiring female leaders, many of whom continue to abandon conventional employment pipelines for entrepreneurial and non-traditional roles.
Why do women remain so poorly represented in the upper echelons of corporate Canada in 2021? And, more to the point, what should be done about it? 
My co-author, Dr. Holly Catalfamo, and I interviewed 50 female executives from across Canada, including some of the highest-profile leaders in the country. These remarkable leaders graciously shared their stories, challenges, and successes as ambitious women. They talked openly about those invisible rules that had held them back – and offered compelling insights into what corporate Canada is really like for aspiring female leaders. 
Specifically, the leaders identified "four big biases" that simply make it harder for women to compete directly with men for senior leadership positions (or most corporate roles, for that matter): a general need to outperform men on a sustained basis; a need to choose between likability and leadership; the additional demands associated with motherhood and domestic responsibilities; and a subtle tendency for women to judge each other in the workplace. 
Recognizing these persistent challenges, our 50 leaders also shared how they managed to navigate the big biases (and other invisible rules) during their climb up the corporate ladder. Generally, they attribute their success to four highly consistent strategies or factors: strong credentials that give women instant credibility and a voice at the table; adaptability and the ability to balance stereotypical male (assertive) and female (communal) behaviours as needed; the cultivation of a strong profile or personal brand; and considerable levels of family, spousal, organizational, and/or outsourced support, including sponsorship. The resulting CAPS Leadership Framework serves as a road map for any woman looking for career advancement. 
Finally, our leaders offered their thoughts on how to level the playing field for ambitious women, ranging from the conventional to the controversial. Everything from formal quotas to a tangible commitment from the male executives who continue to dominate executive boards and c-suites. In the compelling words of one leader, "Gender equity is not something that women can fix all on their own. If they could, the problem would have been solved a long time ago. It's time for men to make gender equity a business priority. Good intentions aside, nothing gets done when only half of the population wants it to get done."
Paul is the retired CEO at the OMERS Sponsors Corporation. He currently serves as Chair of the Advisory Board for Niagara University in Ontario and is Executive in Residence at St. Bonaventure University in New York State. 
The Invisible Rules ($30) is available in hardcover through most bookstores. An e-version is available through Amazon.