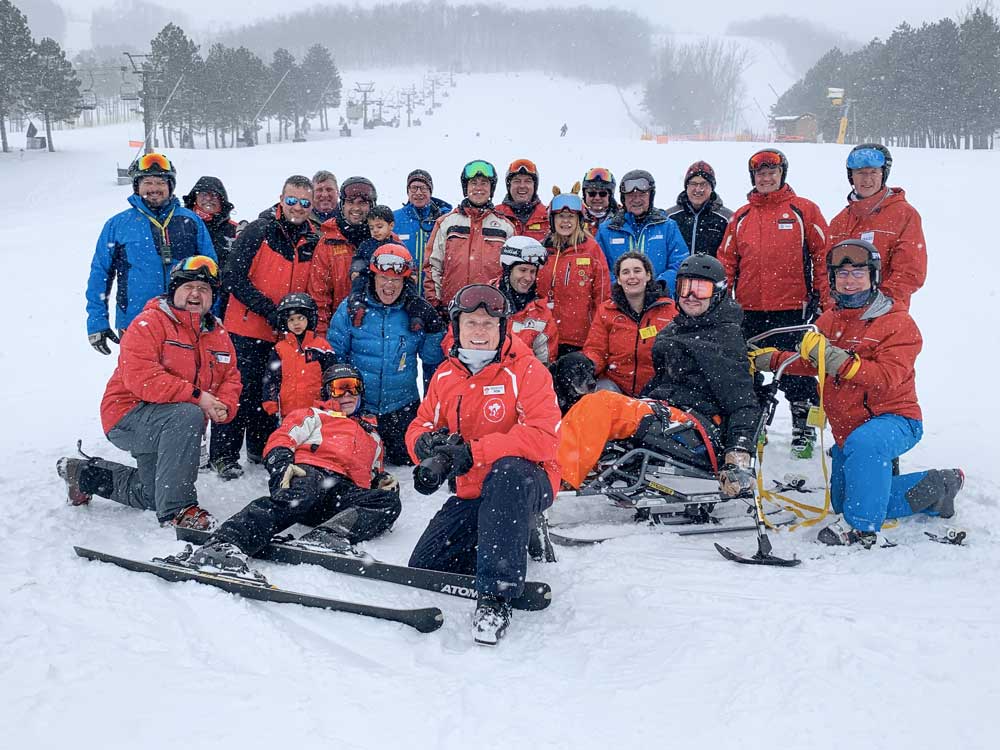 This year, as all charities are experiencing, in-person fundraisers are being cancelled or re-emerging as new events.
Such is the case with Spinal Cord Injury Ontario's (SCIO) popular Ski and Snowboard Day, which is moving online as a comedy evening on Thurs., Feb. 25th. The show will feature a star-studded cast of Canadian comedians along with inspirational messages from Paralympians.
"Together," note organizers, "we will triumph on the virtual slopes against barriers to accessibility!"
An organization like SCIO counts on donors to be able to continue their work on behalf of those with spinal cord injuries. The group runs several fundraisers throughout the year, including the extremely popular, and well-attended, Ski and Snowboard Day, which has been running for 20 years.
The event has seen skiers of all abilities, including those in sit skis, tackling the hills. One sit skier with a spinal cord injury commented at last year's event that "it's important in so many ways for people like myself physically, mentally to get out, meet new people and experience something that they maybe thought they would never ever try and push their boundary."
Every day, at least one person in Ontario sustains a new spinal cord injury. The pain is both physical and mental, with patients often feeling overwhelmingly helpless with little hope for their future.
This is where the work of the caring, compassionate, and accomplished staff and volunteers from Spinal Cord Injury Ontario (SCIO) comes in to change the focus from impossible to possible.
From hospital, to rehab, and beyond, SCIO helps patients transition to a life filled with more accessibilities than disabilities.
Headquartered in the Toronto Rehab Lyndhurst Centre at the north end of Sutherland Drive in Leaside, SCIO has been working with patients with spinal cord injuries for over 75 years.
Before the end of World War II, most soldiers who sustained spinal cord injuries didn't make it home, and of those who did, only 10 per cent lived longer than a year. In 1945, a group of determined veterans, all of whom had sustained such injuries, founded the Canadian Paraplegic Association, a national network dedicated to creating a world where those with spinal cord injuries could live with the same opportunities as those without disabilities.
From this national group grew provincial organizations all focused on the same vision.
SCIO provides ongoing support both in, and beyond, a person's stay in rehab, including training and employment services, peer support programs, assistance in navigating government aid programs such as attendant services and access to mobility and assistive devices, assistance with modifications of homes or help finding new housing, tips on travelling, nutrition, vehicle modifications, mental health, and more. With 36,000 Ontarians with spinal cord injuries, SCIO's work is indispensable.
Dr. Stuart Howe, CEO of SCIO, comments, "our volunteers are second to none in their commitment to our clients and their families. Our supporters have an enormous impact on our work. And our staff go above and beyond, every day. We are always moving forward, working to high standards."
If you would like to "attend" this virtual event, see the silent auction items which will be available on the SCIO website from Mon., Feb. 22nd, or make a donation to the organization to help them continue their crucial services, visit sciontario.org.