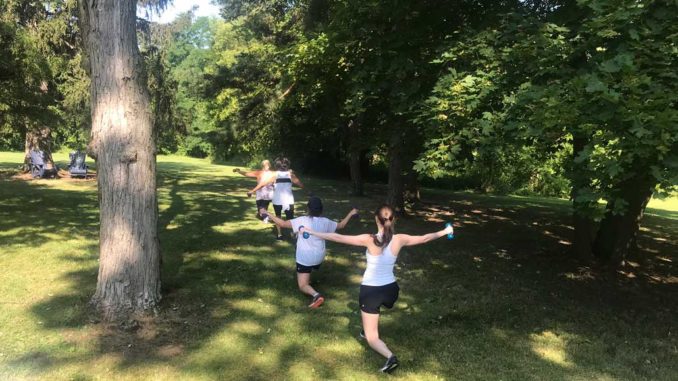 When it comes to parks, trails, and bootcamps, Leaside is situated in a nature-lover's paradise. You may think of outdoor fitness as running, cycling or team sports, but you can also get personalized fitness training outdoors, in Leaside's parks. Think Sunnybrook, Crother's Woods, Trace Manes, and even smaller green gems. My personal bent is bootcamps, and here are some top reasons why:
1. You can challenge yourself
Your body needs to challenge itself in different ways. Bootcamp-style outdoor training may seem intimidating at first, but persevere and soon you'll be an outdoor fitness pro. A good coach can assess your current fitness level and set you up for success by modifying your exercises to be easier or more difficult to match your abilities. For the best results, aim to work out two to three times per week along with some additional exercise (e.g. walking, running or cycling) on your own.
2. Escape from indoor pollution
An hour in the fresh air trumps pounding the treadmill. We spend roughly 90% of our time indoors, where concentrations of pollutants are often two to five times higher than outdoor concentrations. Recent studies also concluded that fatigue and reduced physical and cognitive performance resulted from spending time indoors with reduced air flow.
3. You can't beat the feelgood factor
Exercise in a natural environment provides a mental health boost and 'feelgood factor' beyond that of indoor gyms. It has been shown to reduce anger and depression and improve mood. Exposure to sunlight enhances vitamin D production, which may have mood-enhancing effects. We also tend to exert more effort outside likely from the oxygen or maybe the healthy competition in small close-knit groups.
Leaside bootcamper Juliet agrees. "Small groups allow an individualized approach while adding fun by working out with others. I seem to work harder and get fit faster when I train outside."
4. They save money
No extra gym fees means outdoor classes can be affordable and personalized. The cost of private sessions can add up, but in small groups, you don't have to compromise the personal attention that makes workouts safe, effective and fun.
Tony, a Leaside bootcamper, agrees. "My outdoor group sessions cost far less than a trainer at the gym."
5. They offer a total body workout
Lots of space and a wide variety of exercises ensure your body and your brain are kept stimulated. "The large outdoor space and variety of fitness equipment (including the dreaded 120 stairs) allow me to get both a cardio and a strength-training workout," says super-fit 60-something Gloria, who's been attending bootcamp for almost 10 years, often bringing one of her three daughters.
Whether it's completing a circuit workout at Sunnybrook, mountain biking through Crother's Woods, or joining a bootcamp, any movement counts, so what are you waiting for?
Nanci Guest is a registered sport dietitian, personal trainer and athletic conditioning coach. She is a Leaside resident who provides in-home personal training and outdoor bootcamps. www.nanciguest.com.