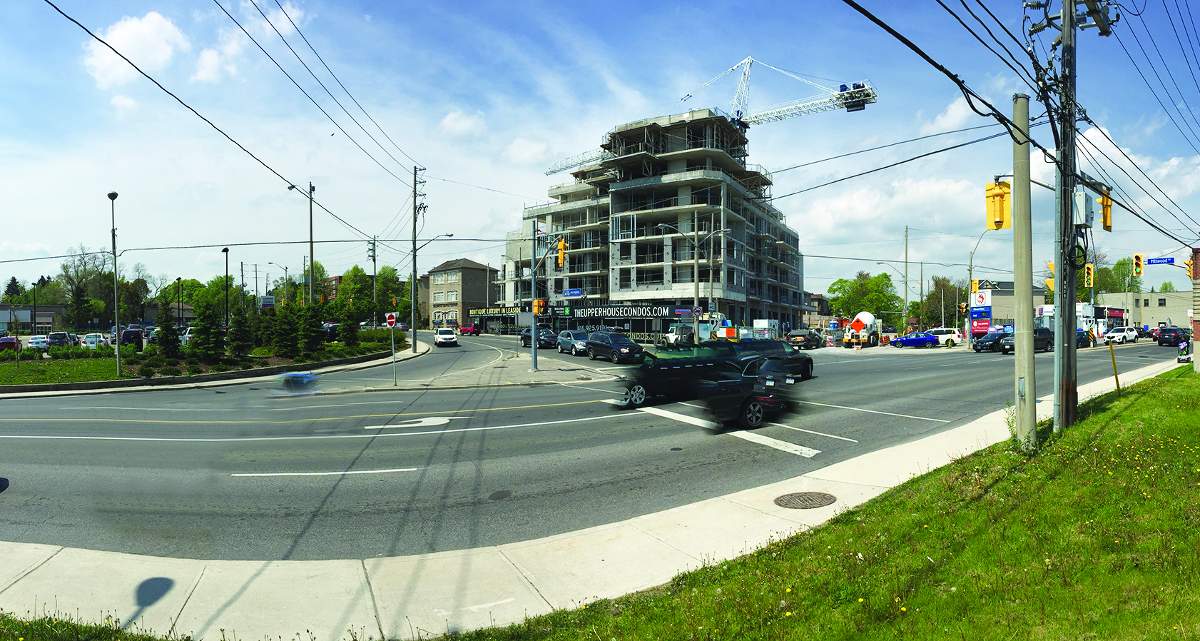 Leasiders no doubt will recall the massive delays and congestion of a year or so ago, when the Bayview Extension was being repaved between Rosedale Valley Rd. and Moore Ave.
Southbound traffic along Bayview Ave. was clogged, as were all access streets (Moore, McRae and Merton among them). On one otherwise lovely evening it took the Fripps over an hour to get from Southvale Dr. to the Evergreen Brickworks.
When it comes to traffic, long-term gain often means short-term pain.
So prepare yourselves. This summer the City plans extensive reconstruction at and around the Laird/Millwood intersection. Their aim is to reduce congestion, unsafe turning conditions, speeding and poor visibility where Malcolm Rd., Millwood Rd. and Laird Dr. converge.
The City will be eliminating the (east to southbound) right turn yield lane from Millwood, and removing the cement median. Reshaping this intersection involves reconstruction of sidewalks, and relocation of hydro poles and bus stops. There will be wider sidewalks to improve street-crossing safety for pedestrians, and the overall look will be enhanced with what is called "soft landscaping," such as plantings and trees.
Work is scheduled to begin in July and finish in late September or early October.
How will traffic and buses get through?
Slowly.
We've been advised that there will be one lane for each direction during construction. First one side will be built, then the other. Turning movements will be maintained. There will be signage warning of delays; the LPOA is requesting that warning signs be located far enough away from the intersection to give drivers the time and distance to adopt alternate routes. Otherwise the construction site could come as an unpleasant surprise…not to mention a source of road rage.
We are concerned with the effect the project will have on streets intersecting with Southvale, such as Southlea, Astor, Rolph, Hanna and Rutherglen, and streets parallel to Laird and Southvale, such as Leacrest, Sutherland and Randolph, particularly in the evening rush hour. There is no question traffic will be backed up. Preventing or discouraging drivers from turning onto these adjacent streets and weaving through Leaside will be a challenge, to say the least. The LPOA has already expressed concern to City staff and we hope to have a formal meeting with them soon.
The City plans to keep Leasiders informed and up to date with pre-construction and construction notices (mailed, emailed, and posted online). The TTC will post details on bus stops and the TTC website. The LPOA will put all of the information and updates we receive on the LPOA website as well.
Stay tuned……
One of the first questions the LPOA is asked when we are at the Ontario Municipal Board or City committees is: "How many people do you represent?"
We have a better chance of successful outcomes if it's evident that the neighbourhood supports our positions. That is why we continue to urge Leasiders to join the LPOA as members. With your annual dues of $25 you empower us. Your membership gives us strength as your representative.
It also gives the LPOA financial security, so we know in advance that, if need be, we can afford to hire legal and planning consultants to help us win on issues that are important to the community. Legal and planning advice is expensive, but all too often essential and unavoidable. A case fought or mediated at the OMB can cost at least $40,000. Even for non-OMB matters there are expenses to cover, reports to write, information to gather.
For those reading my column who are already members, thank you! We very much appreciate your membership and your generous donations.
For those who are not (yet) members, please take a moment to consider joining the LPOA. Go to lpoa.ca and show your support!
The next monthly LPOA Board meeting is at 7:30 p.m. on Wednesday, June 7th, at the Trace Manes building. These meetings are always open to the public, and take place on the first Wednesday of each month. We invite you to attend, whether for help or advice on local matters, or just to listen.