Now that spring has arrived, our thoughts turn to our gardens, especially here in leafy Leaside. Not coincidentally, the City of Toronto has released an online survey to find out how Torontonians feel about allowing garden suites to be built in their, or their neighbours', back yards. Garden suites, small houses built in the back yards of homes, may be permitted city-wide, as part of the City's response to the provincial policy promoting increased housing options in residential neighbourhoods.
On one hand, making them legal may lead to more affordable rentals. On the other hand, I think we will all agree that a number of criteria should be considered.
For instance, how large should a garden suite be? How much impact might a one- or two-storey suite have on your or your neighbours' gardens, sunlight, or privacy? What about environmental issues (green space, water drainage, tree cover)? How would parking and emergency access be handled? Would garden suites affect your or your next-door neighbour's property taxes or value? These are only a few of the questions which could arise. As always, the devil is in the details.
The City's Garden Suites survey is intended to collect your opinions and suggestions. April 30th is the date by which the city has requested replies, although your comments, whenever you send them in, will be of interest and influence. There are many aspects to contemplate, and too many details to get right (or wrong), for the City to deal with the matter too briefly.
For the survey, write Toronto Garden Suites Survey in your browser. The LRA has also included a link to the survey in a recent e-blast to members (and you can find it on the LRA site, www.leasideresidents.ca). Councillor Jaye Robinson () also is interested in Leasiders' input, so have your say.
Mt. Pleasant Cemetery crossing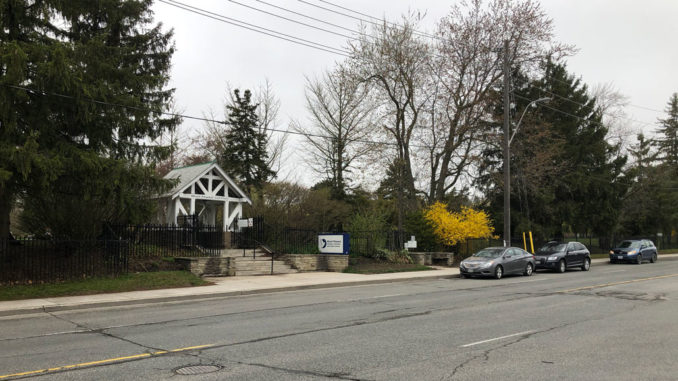 Now that the weather is so much better, lots of people are out and about, enjoying walks and bicycle rides through Leaside and in Mt. Pleasant Cemetery's botanical garden. It's a wonderful way to escape the pandemic-provoked sense of house arrest….But those who wish to cross Bayview Avenue, to or from the cemetery's gate across from Sutherland Drive, are taking their lives into their hands. Recently, in a four-hour period, more than 200 people were counted dashing across Bayview through four lanes of traffic. There is no crosswalk or traffic signal of any kind at this location to make crossing safer. The LRA and Cycle Don Valley Midtown have contacted Councillor Robinson and asked for a meeting with her and the City Traffic Department. We have suggested some possible remedial action to both increase safety for pedestrians and cyclists, and discourage car traffic turning into Leaside from Bayview. Stay tuned!
Next board meeting
Our next monthly (Zoom) meeting is on Wed., May 5th, at 7:30 p.m. If you'd like to come and watch, or participate, please let us know by that date so we can send you the access details.