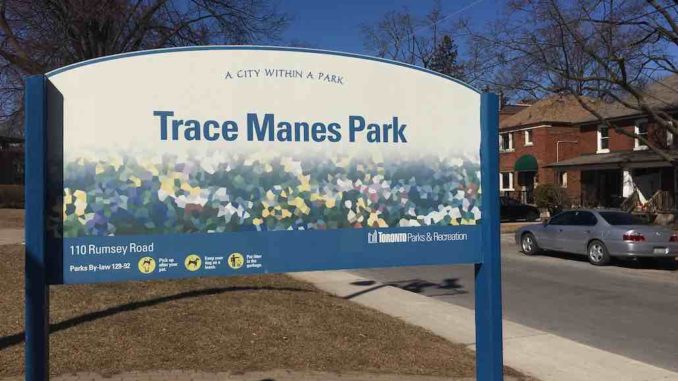 At the end of March, with the much dreaded winter litter peeking out from melting snow banks, I donned rubber boots and gloves for my first spring clean-up of Trace Manes Park. I filled three grocery bags with soggy stuff while dodging numerous mounds of doggy doo.
Feeling frustrated and disgusted with the state of the park, I contacted library and park staff, and Councillor Jon Burnside's office.
Lynda Buch, branch head of our Leaside Library, promised to continue the three times a week litter abatement program on their grounds that started in 2014.
"I want to assure you that this has continued during the winter and will be done throughout 2015," she writes.
Asked about the beer bottles found on weekends at the south side door, she said, "We will check the library stairwell for evidence of weekend partying on Saturdays after opening. However, as the library is not open on Sunday, we are unable to do so at that time.
Doug Jones, the city supervisor for Trace Manes Park, is also pitching in.
Asked if wading pool attendants could extend their responsibility to the whole of the children's park area, he promised to "ask the recreation and facility supervisors if the pool staff would do a quick walk about of the area and litter pick."
To make sure the sports groups that use the park continue to clean up after themselves, he wrote, "I will be meeting with the sports groups and permit holders for the upcoming season and will remind them of their responsibilities regarding litter.
Speaking with Councillor Burnside, a dog owner himself, he suggested that he visit the park and hand out letters to dog owners, in addition to investigating the installation of pet waste stations.
The Leaside Litterati is making strides, so why not join and reap the rewards?
High school students can earn up to 40 hours of community service. Personal fitness levels can be improved, including increased lung capacity, bone density, flexibility and range of motion in knees, hips, wrists and fingers. You may meet new neighbours or find a quarter or two.
Best of all you will feel proud of a clean neighbourhood.
Many thanks to city staff, our new councillor and the other kindred spirits who work tirelessly in their own neighbourhoods to keep Leaside litter free.
___
I found my first discarded e-cigarette in Trace Manes Park recently. I applaud the city for making smoking illegal within 10 meters of a city building. However this has caused the removal of the butt disposal containers, which in turn has caused a plethora of butts littered outside the 10-meter perimeter of the entrance to the Trace Manes Community Centre. Could a new receptacle with a butt disposal be placed there?