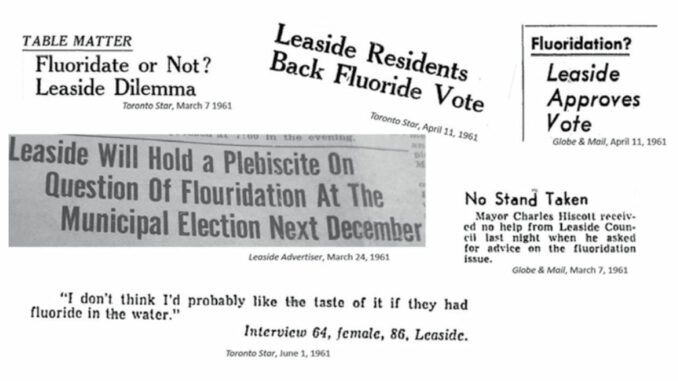 As the COVID pandemic has shown, some people will always suspect – and resist – public health measures. This was certainly true in Leaside during the mid-20th century. The issue was fluoridation – adding fluoride to water to help prevent tooth decay. On Jan. 1, 1956, Toronto's Municipal Council planned to introduce the substance into the city's water supply. This seemed like sensible public policy. But it quickly became an eight-year ordeal – and Leaside was in the thick of it.
The appeal
From the start, several Metro municipalities opposed the plan, arguing that Metro Council had no authority to impose fluoridation across all of Toronto. Forest Hill led the fight and was strongly supported legally and morally by Leaside and East York – with Leaside mayor Howard Burrell stating that Leaside was opposed to "mass medication." As a Metro Municipal Council member, Burrell had voted against fluoridation when Council approved it in May 1955. Backed by Leaside and East York, Forest Hill mounted an appeal to block fluoridation that effectively stalled Metro's launch date. The appeal went all the way to the Supreme Court of Canada, which in June 1957 ruled in favour of the three municipalities – further preventing Metro Council from implementing its plan.
The petition
Metro Chairman Fred Gardiner responded by imploring the Ontario government to pass legislation empowering Toronto Council to mandate fluoridation. After several years of delay, the province passed legislation in early 1961 giving Metro's 13 municipalities – including Leaside – the option to: (1) enact fluoridation; (2) hold a referendum on the issue; or (3) launch a petition to force a referendum. By now, Leaside had a new mayor, Charles Hiscott. He, too, opposed fluoridation, but was not supported by Leaside Municipal Council, which was split on the issue. Anti-fluoride Leasiders took matters into their own hands and organized a referendum-petition of their own. In just one night – on April 10, 1961 – canvassers visited households across the community and obtained more than 1,170 of the 1,248 required signatures. The rest were obtained soon thereafter, for a total of over 1,800 signatures. Other municipalities had similarly successful campaigns. Since only 10 per cent of eligible voters needed to be signed, a plebiscite was assured.
The referendum
A Toronto-wide referendum was set for Dec. 3, 1962. Leasiders were divided. Those opposed to fluoridation believed it would make the water impure, taste funny and even harm teeth. Many simply didn't like the idea of being forced to put something into their bodies they didn't want. These people tended to be older, less educated and have lower incomes. Pro-fluoride residents tended to trust government and the experts more – especially their dentists. They were often professionals, better educated and more affluent.
When all the votes were tallied, fluoridation won by a handy margin of more than 3,700 votes. Ironically, both Leaside and Forest Hill were among the municipalities that voted in favour of the measure – despite their earlier opposition. This was attributed to the relative wealth, education levels and professional status of many of their residents. The people had spoken.
Note: The Leaside Heritage Preservation Society is pleased to announce that starting in September it will be displaying historical artefacts and memorabilia at its new location at Apple Self Storage at 20 Research Rd.
This article was guest contributed by Ted DeWelles, Leaside Heritage Preservation Society.