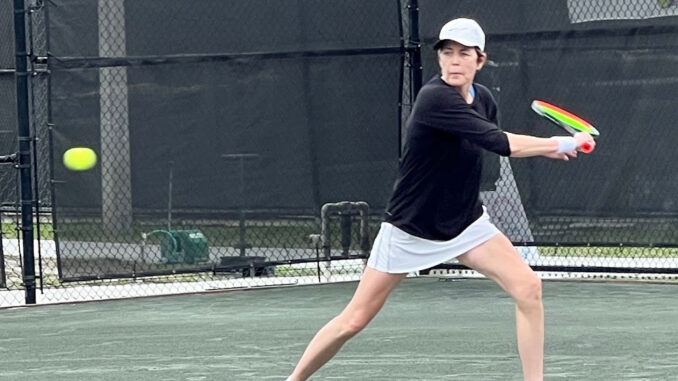 At a Tai Chi class earlier in the fall, one of the participants wanted us all to hear about a Bennington neighbour of hers and this woman's emphasis on the importance of physical movement for everyone.
Dr. Erin Boynton is one very accomplished woman. To name just a few of her achievements: she became an orthopedic surgeon when just two per cent of specialists in this field were women; she co-authored 30 academic papers, lectured in hospitals, universities, conferences worldwide; became an expert medical witness; worked with athletes in the NHL, CFL, WTA, National Ballet, Major League Baseball. Oh, and did I mention that she is a championship tennis player representing Canada on multiple World Cup teams, 18th in the world in the W55 category.
Erin's first degree was in Phys Ed from McMaster, but she always knew medicine was where she wanted to end up. With early acceptance to the University of Toronto, she was on her way. While she says she "did okay in high school," she "blossomed in university – loving to learn, and wanting to educate." A practical learner, "(Erin) loved the anatomy lab, but found it hard to sit in lectures."
At the time her son was born, she was asked whether she would be returning to work. Her answer – "Of course. I've spent 16 years so far studying." She was given four weeks' "vacation" in place of maternity leave. The same happened a few years later at the birth of her daughter. Both are now young adults, away from home, on their way in professional careers – her son, following his mother into orthopedic surgery and her daughter a lawyer.
Three years ago, Erin shifted her career from working as a surgeon and being an assistant professor at the University of Toronto. She now works with Eric Wong on a variety of initiatives designed to keep people moving, active and pain free. Erin uses the analogy of the car that is misaligned. When the tire blows, if all you do is replace the tire, it will blow again. You need to fix the misalignment. Exercises are designed to do just that – through the platforms of Precision Movement, a PM YouTube channel, Movement Longevity Show, and a downloadable app, the ROM Coach.
Throughout her career, Erin has "always found it a challenge to break barriers." Quoting "The Fix" by Michelle P. King, she says "the problem is the attitudes and beliefs. We turn a blind eye to the inequities." Erin is putting her energies into changing that by doing research, developing a plan, getting data and presenting to leaders with practical steps on what needs to change to "create an environment of equality and equity" for girls and women.
And as she is doing this, she is also maintaining that for everyone, "life is motion." Even if we only do 15 minutes of "something" a day, we'll be better off. Now there's a New Year's challenge for us all!