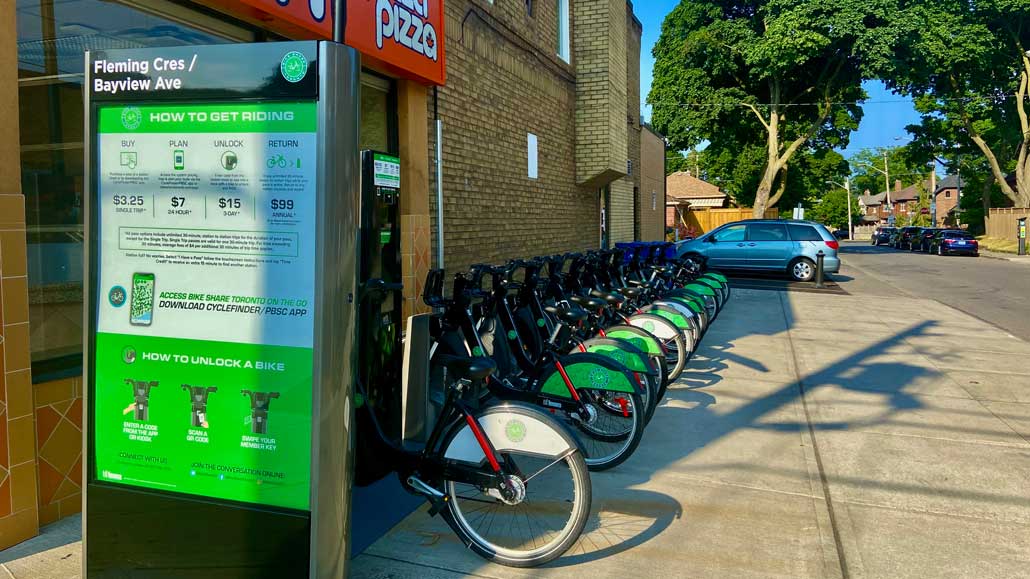 Bike Share is rolling out 160 new stations this summer and recently two of them landed in Leaside. Operated by the Toronto Parking Authority, Bike Share now boasts 625 stations and 6,850 bikes in the city and is beginning to expand into the suburbs. With one station located on Fleming Crescent at Bayview Avenue and another on Roehampton Avenue at Bayview Avenue, Leasiders, whether they live in North or South Leaside, can now take advantage of the growing network.
Bikes on demand
Everywhere you look this summer, people are out on bikes, and bike retailers are reporting demand is far outstripping supply. Bike Share offers a solution by providing bikes on demand for 30 minutes of travel. That may not seem like a lot of time, but it's all you need for trips of 5 km or less. From Leaside, that's enough time to bike down to the ROM, over to Yonge Street, into Serena Gundy Park and down the Lower Don Trail to Pottery Road – all of which feature Bike Share stations.
Mind the time limit
Bike Share is likely the most affordable travel option in Toronto after walking. An annual pass costs $99, and passes are also available for 72 hours ($15), 24 hours ($7), and a single 30-minute trip ($3.25) (all prices before HST). With passes, the number of trips is unlimited but not the duration of each trip. If you have a bike out for more than 30 minutes, overage fees apply, and these can quickly add up.
"Dock and unlock"
For Bike Share to be an effective sharing network, the bikes must be in circulation, hence the 30-minute time limit on trips. If you have to travel longer, simply find a station with an empty dock and available bike, dock the bike and then unlock another to start the 30-minute timer ticking. Bike Share's official app, CycleFinder PBSC, will help you out – showing station locations and real-time updates about the number of bikes and docking spaces available.
Bayview as a destination
The Bayview Leaside Business Improvement Area was eager to bring Bike Share to the area. With so many great local shops, restaurants and services, the Bayview main street is a popular destination. "Our board has long been interested in connecting to the Bike Share network and bringing more people to shop by bike, so we're pleased to have the new station located conveniently in the middle of the BIA," said Henry Byres, coordinator, Bayview Leaside BIA. Recently, high capacity bike racks were added on the southwest corner of Millwood Road and Bayview Avenue and on the southeast corner of Fleming Crescent and Bayview Avenue, making it easy for people on bikes to park and shop.
Where next?
On Bayview Avenue, institutions such as Holland Bloorview, Sunnybrook Hospital and Glendon College are obvious destinations that could be well served by Bike Share. But if Bike Share wants to optimize usage, the company will need more than new stations – it will also need a protected cycling route on Bayview Avenue.