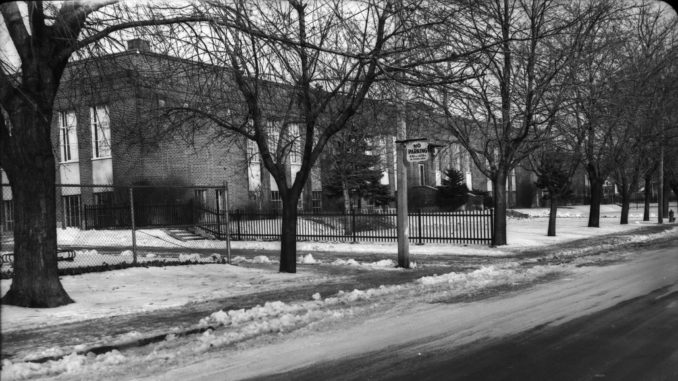 Last November, as part of my niece's wedding celebrations, our families gathered in the Bessborough schoolyard for an hour or so of chucking the football, baseball, and frisbee around before digging into a takeout dinner from a family favourite, China Food, on Millwood (Piping Hot!).
My twin brother, Tim, and I can't go anywhere near Bessborough without reminiscing about our eight years at that august institution. We stood there in the schoolyard pointing out our classrooms, not to mention the shop class where we took Industrial Arts. I'm not sure in today's liability-conscious world whether we'd be allowed to use the bandsaw, blowtorch, drill press, and all manner of metal-mangling devices as we did all those years ago.
But 2023 is an important year for Bessborough. Yes, this year, Bessborough turns 100. Construction of the school was completed in December of 1923. That is an achievement worthy of recognition and celebration. I just learned that when the school opened, the municipal offices and police department were actually located in the basement. Who knew?
Tim and I started there for Grade 1 in 1965 (ack!) and managed to graduate in 1973 without too many blemishes on our record. Luckily, by that time, the police were no longer resident in the building. We have such fond memories of our Bessborough years, many of which have been previously recounted in this column, for better or worse. Boys Cooking, school dances, our aforementioned Industrial Arts classes, to name a few. And did I mention school dances? We had a wonderful time there.
Until writing this column, I'd managed to suppress the memory of a particular episode in Grade 7 Art class wherein Tim and I wrestled over an Exacto blade. Okay, so we weren't gifted students. The predictable results included blood, a partially severed tendon, and a plaster cast for six weeks. I believe the Exacto blades were kept under lock and key thereafter. (That's probably more than you wanted to know about that particular incident.)
I perhaps only realized in hindsight that some of my teachers at Bessborough were quite influential in my life. Miss Taylor taught me Grade 8 English and strongly reinforced my father's dedication to grammar and proper use of our language. I still rely on what I learned in Miss Taylor's class in my writing life. Mr. Dufton was a wonderful science teacher who ignited and animated my own interest in the subject. That led to the construction and testing of three full-size hang gliders and a hovercraft, not to mention an engineering degree. Even later in life, our Bessborough teachers were there. In 1994, when, somehow, I was named president of Berger & Associates, a Toronto PR agency, our Grade 5 and 6 teacher, Mrs. Holt, happened to see the Globe and Mail appointment notice and wrote me a lovely note.
We also made lifelong friends in our Bessborough years. We may not see as much of them as when we all shared a classroom, but the bonds are strong, and when we do connect, at least annually at informal reunions, it's as if no time has passed at all. That's an important part of Bessborough's legacy. Good friends and great memories in a wonderful community.
As we threw the ball around in the schoolyard last November, I realized we'd come full circle. Now, nearly 50 years later, I live a 15-minute walk from Bessborough. Tim actually lives on Crandall and can see Bessborough school from his front porch less than a block away. Both his kids roamed the school's halls just as we once did.
When you have the kind of childhood we had – eight years of it at Bessborough – it's perhaps not surprising that we haven't strayed too far. Happy centennial, Bessborough. Here's to the next century of memory-making.
A two-time winner of the Stephen Leacock Medal for Humour, Terry Fallis grew up in Leaside and is the award-winning writer of eight national bestsellers. His most recent, Operation Angus, is in bookstores. You can also subscribe to his newsletter: https://terryfallis.substack.com.