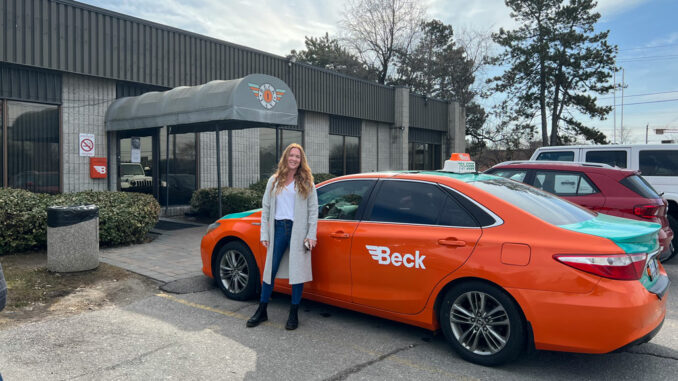 In 1967, Jim Beck, the owner of a small fleet of taxis driving for a large taxi company, by happenstance ended up as a passenger in a cab driven by someone else at the company. He was less than impressed with the service, and decided he could do better. Thus, Beck Taxi was born, originally operating in the Beach neighbourhood.
He chose bright, distinctive colours for his new fleet – Omaha Orange (Pantone P30-8C) and Banana Green (Pantone 142-5C), so his cabs could be seen from a distance and stand out from other taxis. He also set up his new company so Beck Taxi is the marketer of the cabs, which are independently owned with the driver licensed by the City of Toronto. The owner paints the car and pays a monthly subscription fee to Beck.
Jim's daughter, Gail Beck-Souter, now mostly retired from the business, is fond of saying that at Beck "there are two customers – one in the driver's seat in the front and one in the back. You need to keep them both happy." This system obviously works, as Beck boasts of being the "largest and most successful taxi brand in Canada."
So, why are we writing about this in Leaside Life? Because Jim Beck's granddaughter Kristine Hubbard, the firm's operations manager, along with her husband and daughters, is a Leasider. In considering a residence, Kristine said it was important to be within range of Beck Taxi's office on Credit Union Drive. More important was that it be a neighbourhood where the kids could walk to school and feel safe. From the day they first looked at what became their house, and they walked over to Bayview to stroll around, saying "how amazing it would be to live here." As Kristine says, "we couldn't be happier." And yes, it's only 20 minutes, by Beck, of course, for her to get to work.
Always painted in the distinctive colours, Beck taxis come in many forms – from standard sedans and accessible vehicles, to vans – so you can call Beck not only to transport people and pets, but to bring you and your large screen TV or big comfortable chair home from the store. And as you might expect, it's a "multicultural staff" and people in the call centre and driving the cabs understand and speak many languages.
Kristine describes the company's employees as "hard-working people, doing thankless work" in a "job that comes with quite a bit of risk." She makes a point of "making people understand how it all works," including telling stories of Beck drivers going "above-and-beyond" in their work day. Corporately as well, the company gives back – delivering turkeys at Christmas or donating rides to charities. In these cases, the drivers are paid, but by Beck instead of the customer.
So, when you see the distinctive orange and green taxis driving by, take a moment to consider Beck's Leaside connection. Taxi!