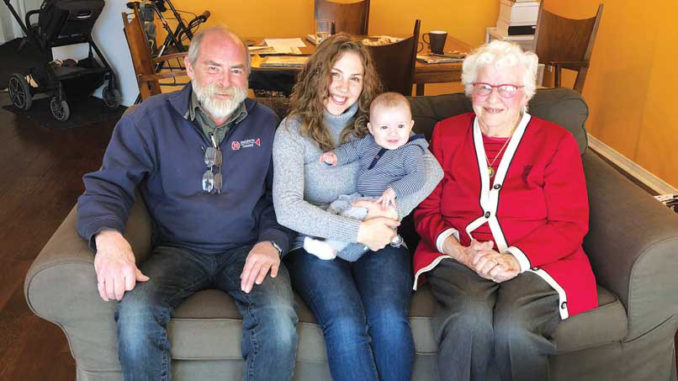 "Get involved like I got involved" is sage advice on how to live a fulfilling life from 96-year-old Leaside resident Mrs. Jean Hill, who has been volunteering with a variety of organizations since the 1940s. In fact, Jean is such a devoted volunteer that she was the recipient of the Lieutenant-Governor's Award for Outstanding Volunteer Service in 1990, in recognition of her years at Toronto Rehab-Lyndhurst Centre where she still spends one afternoon a week.
Jean got her start as a volunteer at the Red Cross canteen downtown for soldiers on leave during World War II. She chose the Red Cross because one of her brothers died of hemophilia. A few years later, she became a registrar for blood donor clinics at the Leaside branch of the Red Cross.
At the same time, Jean was working as the executive assistant in the family electronics and appliance business, Reid & Campbell, on Yonge St. According to her nephew, Peter Campbell, Jean showed early signs of creativity with her window displays. One introduced dryers by featuring clotheslines, birds and a sign saying "Clotheslines are for the birds," a slogan that was adopted by Westinghouse.
During their retirement, Jean and her husband, Dennis, became involved in the operation of the Hospital for Special Needs, arranging transportation for patient excursions. Dennis became the general manager of the organization in 1971, and both were on the board of directors, focusing on fundraising, until 2012.
Jean's most enduring volunteer experience, however, has been with Lyndhurst Centre, which specializes in spinal cord injuries. When she started there in 1976, she fed patients, did crafts and helped with outings. But when Lyndhurst's seamstress retired, Jean was asked to take her place and started making "assistive devices," such as "utility cuffs" to enable patients to use utensils and toothbrushes, and "flexion mitts" to help with physiotherapy and sporting activities.
She also worked on "bed ladders" to enable patients to sit up and get out of bed, "stretch towels" to help with exercising, and clothing alterations. Jean enjoys it all and says, "I feel rewarded when I see someone's face light up or when a former patient expresses surprise that I am still there."
Jean's enthusiasm for voluntarism has spread to the rest of the family, who are involved in various causes, most notably her great nieces Joanna Hickey and Carlye Campbell, who help with "Operation Raise a Flag" at Sunnybrook Hospital for Remembrance Day. Joanna cites the influence of Jean's "lifelong commitment to the community with her volunteer efforts that are still going strong."
While Jean's happiest times were travelling with Dennis and driving in their red convertible, she still lives a full life in her Leaside home, enjoying her time at Lyndhurst, her twice weekly trips to Fallsview Casino and her visits to Olde Yorke Fish and Chips and the Leaside Pub.